Here's Some Of What Decades of Far Right Scheming Have Brought You
Voter suppression through:
extreme gerrymandering;
voting rights suppression;
throwing out voter registrations for obscure reasons – especially in poor and minority areas;
eliminating voting places;
restricting ballot drop box access;
School vouchers for private and parochial schools that starve public schools of money and violate the freedom of religion guarantee of the First Amendment;
Attacking and eliminating healthcare rights;
Cheating on Supreme Court confirmation hearings to get a polarized Court;
Cultivating a power base by appealing to racism and hatred – no more need for dog whistles;
Book banning and book burning;
Stoking fear of the "other;"
Promoting supply side "voodoo" economics for over 40 years, which has served only to make the wealthy wealthier and more powerful and make all others poorer and less powerful;
Packing the Supreme Court to engineer the Citizens United decision into a grotesque monster that allows enormous sums of money from hugely wealthy individuals and corporations to control our elections. This was accomplished by expanding the original case into something not in contest – in effect, making up a new case to ensure power for the wealthy;
Denial of truth and embrace of cruel fictions that stick a spoke into the wheels of progress in Congress and state houses, then complaining that government can't do anything. Example: spouting lies about the safety and efficacy of the coronavirus vaccines and demonizing public health officials, while well over a million people died and our healthcare infrastructure (hospitals) failed, leaving millions without healthcare at all – and at the same time complaining that the government grossly mishandled the pandemic;
A Trump appointed Texas judge overruling the FDA to eliminate Mifepristone, this on a foundation of boundless ignorance and vacuous reasoning. That compliments what appears to be his whitewashing of his extremist views that he hid during his lifetime appointment judgeship confirmation process;
Challenging election results on the basis of absolutely no facts or evidence – but the false claims have accomplished the undermining of citizen confidence in our elections;
Stoking fear and hatred of LGBTQ citizens and inciting violence;
Ignoring the overwhelming public will on issues like gun safety, abortion, healthcare and more. Here is an example in a chart from the April 11 STAT report, based on a Kaiser Family Foundation study.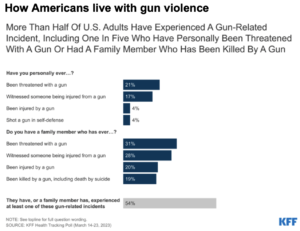 These are shocking numbers and the story is actually worse than it appears. Read the full Kaiser Family Foundation report. This is what happens when a minority is in control and they ignore what the rest of us want. It's deadly.
The extremists have been at this for decades, applying billions of dollars and enormous political pressure and their scheming has paid off in their minority control and their fantastic self-enrichment. Decide for yourself if this stuff works for you. If it doesn't, then perhaps we should be scheming to set things right.
DNC: I don't hear a thing from you except solicitations for my money. Is that your best shot?

---
Today is a good day to be the light.
______________________________
Our governance and electoral corruption and dysfunction and our ongoing mass murders are all of a piece, all the same problem with the same solution:

Fire the bastards!

The days are dwindling for us to take action. Get up! Do something to make things better.




Did someone forward this post to you? Welcome! Please subscribe – use the simple form above on the right. And pass this along to three others, encouraging them to subscribe, too. (IT'S A FREEBIE!) It's going to take a lot of us to get the job done.


And add your comments below to help us all to be better informed.

Thanks!


The Fine Print:

Writings quoted or linked from my posts reflect a point I want to make, at least in part. That does not mean that I endorse or agree with everything in such writings.
There are lots of smart, well-informed people. Sometimes we agree; sometimes we don't. Search for others' views and decide for yourself.
Errors in fact, grammar, spelling and punctuation are all embarrassingly mine. Glad to have your corrections.

Responsibility for the content of these posts is unequivocally, totally, unavoidably mine.
Book links to Amazon are provided for reference only. Please purchase your books through your local mom & pop bookstore. Keep them and your town or neighborhood vibrant.

JA
Copyright 2023 by Jack Altschuler
Reproduction and sharing are encouraged, providing proper attribution is given.