This Headline Gave Me Hope
.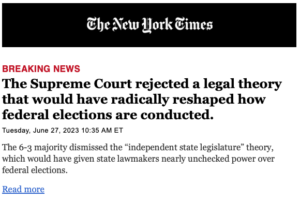 I wrote here about the terribly dangerous M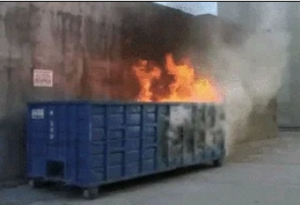 oore v. Harper case from North Carolina. That law threatened to take the votes of We The People, throw them into a dumpster, set them on fire and allow a hyper-partisan legislature to hijack elections – a classic case of theft of our rights and the destruction of our democracy. The good news is that this law was rejected by a 6-3 decision of the Supreme Court.
That ugly North Carolina law was a threat to democracy everywhere. It was promulgated by the autocrat wannabes in the NC legislature, those little minds that covet their very own fiefdom. Had the despotic "independent state legislature theory" law been upheld by the Court, all the Republican controlled states would have followed suit and crafted their own version of this democracy crushing stinker. The legal contest worked out right this time, but another attempt at election theft, the end to your voting rights and our democracy, will surely come along.
The bad news is that the usual suspects, Alito, Thomas and Gorsuch, voted for the autocracy and despotism promised by that anti-Constitution North Carolina legislation. Do bear in mind that if Mitch McConnell had not stonewalled for 341 days President Obama's nominee to replace Ruth Bader Ginsburg on the bench, Gorsuch wouldn't be there and Merrick Garland would. McConnell has said that he is very proud of his anti-Constitution larceny.
If the Senate Judiciary Committee had believed Anita Hill's claims about Clarence Thomas and not fallen for Thomas' lame "high-tech lynching" victimhood rant, we would have been spared his massive ethics violations and his extremist votes. I say we set that right by removing him and putting Anita Hill on the Supreme Court.
Click the headline above for the Times story and read Prof. Heather Cox Richardson's explainer. For more insight into this, read Diana Dobrovolny Hefter's comment below my post last Sunday. She gets it and is a fine explainer.  Betcha you'll have something to say, too.
With this vote to smack down the democracy killing "independent state legislature" theory, it looks like it's possible that the Republican-packed, stolen, extremist Court might not be entirely reprehensible about rights and democracy. Just mostly.
This Oughta Have a Headline
We've always had liars, thieves, cheats and scoundrels in our politics. We've always had injustice in our justice system. And we've always had poverty, disease and avoidable death. What's most interesting is how red states seem to excel at all of that and how the people in those states don't seem to see how they are being manipulated and abused. They're even dying younger due to Republican policies, but they're allowing that to happen, too. Your required reading is Thom Hartmann's report of June 28, where he writes:
"It's undeniably true (and documented with each hotlink below) that Republican-controlled "Red" states, almost across the board, have higher rates of:"
and he goes on to document a Pandora's box of awful stuff. Why do otherwise common sense Americans not have the sense to refuse to tolerate that?
If you're in a blue state, don't imagine you get a free pass. Read this. You're getting ripped off, too, by being forced to subsidize red states.
This Headline Made Me Laugh Out Loud

This is for real. Click the headline to read the article to meet your minimum daily requirement of eye rolling.
Here's Another "Oughta Have a Headline"
Let's be clear about our military veterans. These people volunteered to put their lives on the line for us, even when they knew that the reasons for doing so were stupid, dishonest or hypocritical. They still kept their word to follow orders and to protect and defend. They did that while we went about our regular lives with nobody shooting at us. And some of our vets have lost their way.
A large number of them are homeless. For them, life is far more than hard. A crazy number of them live in a PTSD despair that drives many to commit suicide. It's the same for teens who are in a mental health crisis of pain and hopelessness.
So, here are a couple of phone numbers to keep handy:
Veterans Crisis Hotline:    800-273-8255
Suicide Hotline:                    988
.
It turns out that the biblical ques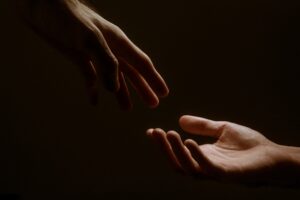 tion, "Am I my brother's keeper?" doesn't apply only to male siblings. It's about "brother" in a much broader sense. It's about a moral obligation to help our fellow human beings when we can.*
The answer to the question is a resounding "YES!" And sometimes your help, our help, is desperately needed. Opportunities to reach out to someone who needs a hand are all around. And as Neil Diamond told us decades ago, that's what your hand is for. Click the audio below and listen to the words for a reminder.
.
Taking This "Hand Thing" One Step Further
On the night of the 4th we went to the concert in Highland Park, IL to see Highland Park native Gary Senise and the Lt. Dan Band. It was a stunning display of generosity, caring and real deal patriotism. Plus, that's a most wonderful and entertaining band.
The key point is about what those folks do for our military people. The put their lives where their hearts are and give to our active duty and retired vets. They've done over 550 concerts and countless visits to our wounded and they've donated gobs of money to benefit and honor the people who keep us safe from bad guys.
They were in town for the Highland Park concert, so the day before that they went to the Great Lakes Naval Training Base in North Chicago and did a gig for our new recruits. Those men and women volunteered to go into harms way for us and many will soon be there. Senise and his band showed up to honor them.
There were police from 27 towns around Highland Park to secure the morning dedication and memorial walk, as well as the concert in the evening. There were Secret Service folks, too, and sniffer dogs. They all gave up their day off, their 4th of July with their families, to be of service to all in the community. All stood in the heat and humidity guarding us. All served and protected.
Think about 9/11 and a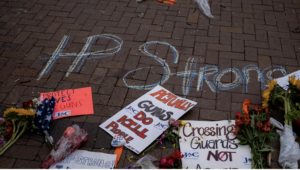 ll of our horrific shootings, like in Highland Park last year. These first responders show up in places where you wouldn't go and they do the dangerous and grisly things that must be done. So, Gary Senise and the Lt Dan Band remember and honor our first responders, too.
Here's an NBC report about what Senise and the band members do. Because you'd like to support the people who support our troops, here's a link for that. It's a good way to say "Thank You" to the people who say "Thank You" as their mission in life. Through Senise and the band, your hand will reach all the way to our brothers and sisters in need.
One Last Fourth of July Follow Up
From Heather Cox Richardson's July 5 Letters From an American:
"Yesterday the official account of the Republican National Committee tweeted Independence Day greetings with a graphic of the Liberian flag, which has one star, rather than that of the United States, which has fifty.
"Even more troubling was the tweet from Senator Josh Hawley (R-MO) attributing to founder Patrick Henry a false quotation saying that "this great nation was founded, not by religionists, but by Christians; not on religions, but on the Gospel of Jesus Christ." Historian Seth Cotlar noted that the quotation actually came from the April 1956 issue of a virulently antisemitic white nationalist magazine, The Virginian."
Ignoring the impressive Josh Hawley ignorance factor for the moment, his is not the United States of America envisioned by the Founders, who bristled at the notion of being controlled by any religion. Neither is the America that today's White supremacists demand.
So, Josh the Sloppy Opportunist, you can take your phony patriotism and religiosity and .  .  .
________________________________
* From Rabbi Hillel:
If I am not for me, then who will be for me?
And if I am for myself alone, what am I?
And if not now, then when?
Copyright 2023 by Jack Altschuler
Reproduction and sharing are encouraged, providing proper attribution is given.