Dominion Voting Systems v. Fox

I wanted this case to go to trial to see Carlson, Hann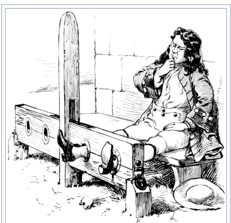 ity, Murdoch and the rest humiliated on the witness stand for their lies and their traitorous exhortations to sedition. That comes from the same driver as putting wrongdoers into the stocks in the town square in colonial days.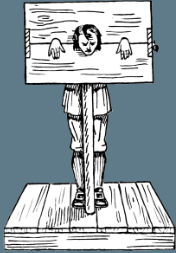 That isn't just for the schadenfreude.* It's for metering full punishment and sending a strong message to other liars. It's a righting of the teeter-totter of fairness and justice over lying and cheating. It's a re-dedication to right over wrong.
I'm not alone in that disappointment, yet there's still a possibility. We may get the full meal deal as a result of the pending Smartmatic defamation lawsuit and the individual defamation lawsuits in queue against Fox and its larcenous mouthpieces. One can hope.
Shed no tears for Tucker Carlson for his departure from Fox. He will find a new White supremacist platform from which to spout his hatred and his lies. Let's hope that he is penalized severely by the pending defamation lawsuits. Again, one can hope.
While We're At It
Self-promoting blowhard Mike Lindell, the pillow pushing attention addict, just got his ears pinned back. According to the Washington Post, in August 2021,
He called the challenge "Prove Mike Wrong."
And somebody did just that. Then the guy applied to collect his $5 million. Oddly enough, Lindell didn't keep his word and instead refused to pay, so the application to collect went to arbitration, per Lindell's contest rules. Lindell lost and has to pay the $5 million. That's the ear pinning.
WaPo reports further,
Lindell also faces a $1.3 billion defamation suit from Dominion Voting Systems and a defamation lawsuit from one of Dominion's former executives.
That's two separate defamation lawsuits walking up to Lindell's front door and ringing his bell. It's looking like this is going to be a very difficult year for Mike Lindell. O' happy day!
While it doesn't always happen on the timetable we'd prefer, what goes around often does come around. Watch for this same sentence following each of the guilty verdicts against Trump.
It's a good thing when our justice system says "NO!" to liars and cheaters.
But We Need a Lot More Than That
In a stunning piece by Josh Dawsey and Amy Gardner in the Washington Post, they detail a presentation at a Republican donor retreat by Cleta Mitchell. She is a lawyer, a fundraiser and she was neck deep in Trump's 2020 election steal BS.
She told Republican donors that they have to eliminate early voting, vote by mail, early voter registration, and most clearly, she says the party must restrict access to the vote for young voters.
That's what today's Republican Party stands for – repression of opponents. Not policies that help We The People or which strengthen our country. Not new ways to meet our challenges or move us toward a more perfect union. All they have is bullying, violence and repression of opponents.
The Republicans are losing old White voters at a fast rate and soon the oppressors will be overwhelmed by Millennials and Gen-Zs, a fact which led to that exhortation for repression. Indeed, the Wisconsin Supreme Court seat 11-point election victory is evidence that our Millennials and Gen-Zs are the people we've been waiting for. That's why the Republicans need to stomp on their rights and why we need to stop them from doing that.
It will take a lot of muscle to stop the oppressors and to protect our fragile democracy – our rule by all the people, not just old White guys.
Signing petitions is nice and protesting in the streets can be helpful and can feel empowering, but
ALL OF THE POWER COMES FROM THE VOTING BOOTH!



.
It's long past time for tens of millions more of our voices to be heard from that powerful place saying, "NO!" Mark your calendar to do that on November 5, 2024.
A Little List of "NO!s"

Rachel Maddow's A-Block story last Monday was about right wing broadcasters beginning with Father Charles Coughlin in the 1930s. He had what was far and away the largest broadcast audience ever. He spewed antisemitism, anti-democracy, calls to violence and at last the embrace of fascism. Then his plug was pulled.
Modern day right wing broadcasters have included Rush Limbaugh, Glenn Beck, Bill O'Reilly, Alex Jones and yet more spewers. Each was at the top, right until they weren't. Tucker Carlson is the latest right winger to fly high and then crash. Maddow's report got me to thinking.
Other than their dedication to themselves, what these men have in common is a fountain of hatred. They stoked fear and hatred of the "other" and they fomented hatred in their audiences.
Sad but true: Fox News will have no difficulty finding a suitable White supremacist to replace Carlson and who will continue the hatred broadcasts that feed the fire in their audience and keep advertisers buying airtime.
That leads to Number 1 on our
Little List of "NO!"s
.
"NO!" to the haters and the discriminators – you know who they are
"NO!" to the liars and cheaters – you know who they are, too
"NO!" to attacks on abortion services
"NO!" to debt ceiling hostage taking extortionists
"NO!" to cuts to SNAP (food stamps) and to Medicaid and to other programs that help our poor
"NO!" to cuts to veterans' benefits
"NO!" to gerrymandering
"NO!" to de-funding fighting the fentanyl/opioid crisis
"NO!" to all voting suppression actions
"NO!" to all who oppose gun safety improvement
"NO!" to systemic wealth inequity practices
"NO!" to fascism and autocracy
"NO!" to school vouchers
"NO!" to attacks on our democracy
"NO!" to glorification of the Confederacy
"NO!" to the NRA and its cowardly army of sycophants in Congress and statehouses
"NO!" to the book burners and the enemies of education, learning, knowledge, truth and reality
"NO!" to suppressing the teaching of the full American history
"NO!" to Trump and Trump wannabees. I can't believe it's necessary to write that.
"NO!" to judges blocking our federal agencies from doing what we created them to do, like protecting our air and water and vetting our medications
"NO!" to attacks on citizen-led ballot measures like the one proposed by democracy thieves in Ohio right now
"NO!" to global warming and climate crisis deniers
"NO!" to those who opposed the Bipartisan Infrastructure Law, the Inflation Reduction Act, the CHIPS and Science Act, three sweeping laws that include investments in transportation and clean energy and that aim to promote American manufacturing of things like memory chips and electric vehicle components, and laws protecting same-sex marriage and cancelling student debt.
Fun Game: List all the Republican policies that deal with our challenges and help us to be a better country.
Okay. See if you can list just one.
Put your additions to this "NO!" list in the Comments section below.
___________________________
* schadenfreude – noun:

pleasure derived by someone from another person's misfortune

     Apple Dictionary, v2.3.0 (284)
---
Today is a good day to be the light.
______________________________
Our governance and electoral corruption and dysfunction and our ongoing mass murders are all of a piece, all the same problem with the same solution:

Fire the bastards!

The days are dwindling for us to take action. Get up! Do something to make things better.

Did someone forward this post to you? Welcome! Please subscribe – use the simple form above on the right. And pass this along to three others, encouraging them to subscribe, too. (IT'S A FREEBIE!) It's going to take a lot of us to get the job done.


And add your comments below to help us all to be better informed.

Thanks!


The Fine Print:

Writings quoted or linked from my posts reflect a point I want to make, at least in part. That does not mean that I endorse or agree with everything in such writings.
There are lots of smart, well-informed people. Sometimes we agree; sometimes we don't. Search for others' views and decide for yourself.
Errors in fact, grammar, spelling and punctuation are all embarrassingly mine. Glad to have your corrections.

Responsibility for the content of these posts is unequivocally, totally, unavoidably mine.
Book links to Amazon are provided for reference only. Please purchase your books through your local mom & pop bookstore. Keep them and your town or neighborhood vibrant.

JA
Copyright 2023 by Jack Altschuler
Reproduction and sharing are encouraged, providing proper attribution is given.