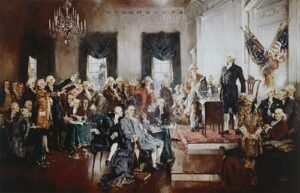 What do you think about the Framers, the guys who hammered out the Constitution in a locked room with windows nailed shut and, obviously, no air conditioning, this over the course of the very hot Philadelphia summer of 1787? Are they the forebears of all national bedrock, the seers with the ability to establish the true way for whatever might come over the course of centuries? Or were they just normal men, each with his own foibles, stumbling along just as you and I do, simply doing the best they could do to conjure the needs of a new nation?
If you think the former, then you'll surely align in some measure with the so-called "originalists" on the Supreme Court, who imagine they can see into the minds of the Founders and that we should adhere to what these justices see. That isn't entirely unsupported, as the Federalist Papers contain a wealth of insight into their intentions, as do the the letters and other writings of some of the Founders.
If you think the latter, then you likely believe that the Constitution was intended as a series of guideposts and was intentionally left incomplete and subject to modification. The amendment process supports that view, as does the obvious fact that nobody in 1787 could have envisioned many, perhaps most, of the inventions, world changes and societal needs that have arisen over the course of the intervening 236 years.
Now, though, we are at a terrible crossroads, where many are openly denying reality, some are committing violence and a screeching minority is doing its best every day to eliminate the very democracy envisioned by the Founders. Worse, some of the howlers have their hands on the reigns of power and, worst, some howlers sit on the Supreme Court. That puts us in danger of losing what the vast majority of We the People want and believe in. The demand that this country should adopt Christian nationalism is a prime example of the danger we face, and that's just a smoke screen for what the howlers really want.
Whatever one's individual beliefs and practices regarding religion or God, we are intended to be a secular country. The Founders wrote about that and the First Amendment is its legal foundation, as it says,
Congress shall make no law respecting an establishment of religion or prohibiting its free exercise thereof; [emphasis mine]

The courts have established that the First Amendment also intends that we have freedom from religion. It's a right, as in: guaranteed. But we haven't been completely faithful to refraining from wedging religious beliefs into our public rules.
"Under God" was inserted into the Pledge of Allegiance in 1954. "In God We Trust" has been on every piece of our currency since 1957. We were in the Cold War then and had to differentiate ourselves from the godless commies to show that we were the good guys. Clearly, those insertions meant that God was on our side.
So, since 1957, every time we pay a buck for goods or services we're confirming that we believe in and trust in God. That's quite unfair to a lot of our people and is a self-evident violation of the intent of the First Amendment.
We violate the First Amendment every time we give public money to religious organizations. George W. Bush called them "Faith-based institutions" and doled out taxpayer cash to them. Issuing school vouchers to redirect money from public education to private schools, many parochial, is another example. More on that in a minute. There's something very hinky about those freedom of and from religion violations, but there they stand, wearing the imprimaturs of our laws and of the Supreme Court. The drafters of the First Amendment would be baffled by that. It appears the some justices aren't the originalists they claim to be. That malleability goes further.
In Jessica Mason Pieklo's piece, How Conservative Justices Are Driving Us Toward Theocracy, she writes of the Court,
First, they have responded in kind to the Republican Party's lurch to the far-right and open embrace of anti-democratic principles by issuing more and more substantive decisions on its shadow docket. Second, the Court's conservatives, led by Justices Samuel Alito and Clarence Thomas, have started actively rewriting decades of legal precedent to help pave the path for even more regressive anti-democratic policies to emerge from states that are held in conservative gerrymandered capture.
She goes on to make the point that efforts to establish this country as a Christian nationalist theocracy are a giant step toward eliminating democracy altogether and to the establishment of autocracy – religious fascism.
Katherine Stewart was quite direct in making this point in her op-ed in the New York Times, posted on the heels of the Supreme Court stomping on our rights in its Dobbs v. Jackson Women's Health Organization opinion:
Breaking American democracy isn't an unintended side effect of Christian nationalism. It is the point of the project. … Its purpose is to hollow out democracy until nothing is left but a thin cover for rule by a supposedly right-thinking elite, bubble-wrapped in sanctimony and insulated from any real democratic check on its power.
The democracy attackers use many means to warp our country. A favorite is the aforementioned de-funding of public education, as by vouchers. They use these to transfer public cash to private schools, including the funding of religious schools. Perversely, they then attack the very pubic education system they have then under-funded, saying it is failing, claiming privatization is the cure. That's your tax money transferred to religion and to very rich guys.
Postmaster General Louis DeJoy is doing the same thing to the Postal service by having trashed all the high speed sorting machines and hobbled mail delivery. The theocracy thumpers now claim that The Postal Service should be privatized because it doesn't work properly. I'm guessing that these guys think God is on their side and that a theocracy would deliver the mail on time. Regardless, privatization would deliver the cash to rich guys. Even without full privatization, the logistics (i.e. delivery) company DeJoy used to run has been paid over $286 million by the Postal Service, and he still has a 30% stake in the company.
Snap your brain onto the most important issue: the point of all the sanctimonious Christian nationalism talk isn't about Jesus. Indeed, the point of killing Roe and threatening to ban contraception isn't about religion or pro-life.
They're tools for ending our democracy for the benefit of rich and powerful people and for those who baffle themselves with their own BS, believing they'll be sitting at the Big Kids' table.
Back to the opening question about your belief in what the Founders intended.
If you think of yourself as an originalist, you're forced to believe in democracy and a secular country, because the Framers specifically wrote the framework for democracy and excluded the possibility of Christian nationalism.
If you think of yourself as believing in choice number two, working to conjure the needs of our nation within the Constitutional framework, begin your thinking with the clarity that we Americans don't like having others' views jammed down our throats.
Either way, it's clear that this is supposed to be a secular democracy. We the People really do believe as Thoreau advised,
"If a man does not keep pace with his companions, perhaps it is because he hears a different drummer. Let him step to the music which he hears, however measured or far away."
That pretty well cautions against destruction of our democracy or establishment of a Christian or any other theocratic nationalism forced on We the People. Indeed, the Framers specifically didn't want any part of that, having escaped the yoke of King George III and the Anglican Church.
In the acts of primitive rage of our extremists, they make it clear that they want to establish Christian nationalism and destroy democracy. Well, you know,
.  .  .  when you talk about destruction
Don't you know you can count me out
– Revolution, John Lennon
To sin by silence when we should protest makes cowards out of men.
______________________________
Our governance and electoral corruption and dysfunction and our ongoing mass murders are all of a piece, all the same problem with the same solution:

Fire the bastards!

The days are dwindling for us to take action.

Get up!

Do something to make things better.




Did someone forward this post to you? Welcome! Please subscribe – use the simple form above on the right. And pass this along to three others, encouraging them to subscribe, too. (IT'S A FREEBIE!) It's going to take a lot of us to get the job done.


And add your comments below to help us all to be better informed.

Thanks!


The Fine Print:

Writings quoted or linked from my posts reflect a point I want to make, at least in part. That does not mean that I endorse or agree with everything in such writings, so don't bug me about it.
There are lots of smart, well-informed people. Sometimes we agree; sometimes we don't. Search for others' views and decide for yourself.
Errors in fact, grammar, spelling and punctuation are all embarrassingly mine. Glad to have your corrections.

Responsibility for the content of these posts is unequivocally, totally, unavoidably mine.
Book links to Amazon are provided for reference only. Please purchase your books through your local mom & pop bookstore. Keep them and your town or neighborhood vibrant.

JA
Copyright 2023 by Jack Altschuler
Reproduction and sharing are encouraged, providing proper attribution is given.