Reading time – 1:22; Viewing time – 2:32  .  .  .
"First they came for the Socialists, and I did not speak out because I was not a Socialist.
"Then they came for the Trade Unionists, and I did not speak out because I was not a Trade Unionist.
"Then they came for the Jews, and I did not speak out because I was not a Jew.
"Then they came for me and there was no one left to speak for me."
It always arrives wrapped in a flag and starts small. We humans are nearly insensitive to and largely tolerate small changes, but small changes accumulate and become an avalanche that overwhelms. Pastor Martin Niemöller knew that as he railed against the cowardice of German intellectuals when the Nazis came to power. Note that the Nazis arrived on a wave of German frustration and rage over terrible economic circumstances and that they were democratically elected. Does that pattern sound at all familiar?
When I was a young teenager I confidently told my mother that the human atrocity that was the Nazis couldn't happen here – not here in America. She looked me in the eyes fiercely and told me that it could. I didn't believe her, even as her words scared me.
Now Donald Trump has told us that he will be coming for the Hispanics and then he said he'll come for the Muslims. Who do you suppose will be next? And next after that? This pattern has been followed repeatedly throughout history, so it should come as no surprise to any of us that an unrestrained populism of angry people led by a sociopath always has catastrophic results. It's already started. Watch for the guest essay on Wednesday and you'll see. And Trump has already begun his excuses.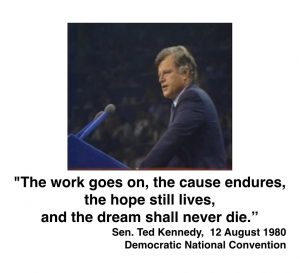 This is your country, so what will you do to prevent that from happening? What will you do to ensure that this is a country of hope and inclusion, the kind of America you believe in? We have seen that phantom idealism in the form of protest votes and abstaining from voting produce nothing more than a temporary illusion of self-satisfied purity, even as they allow the worst to happen. I assure you that ignoring the situation, refraining from speaking up and waiting for others to take action will not help. In fact, being passive will make things far worse.
What will you do?
————————————-
Ed. note: There is much in America that needs fixing and we are on a path to continually fail to make things better. It is my goal to make a difference – perhaps to be a catalyst for things to get better. That is the reason for these posts. To accomplish the goal requires reaching many thousands of people and a robust dialogue.
YOUR ACTION STEPS: Offer your comments below and pass this along to three people, encouraging them to subscribe and engage.  Thanks!  JA
Copyright 2023 by Jack Altschuler
Reproduction and sharing are encouraged, providing proper attribution is given.