That was a new word to me, too. From Dictionary.com: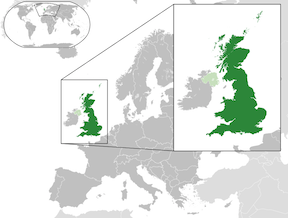 Antipodian – adjective: 1. of, relating to, or originating from places on the opposite side of the globe, especially Australia and New Zealand
That sounds suspiciously similar to "the Orient" – meaning the East. Like Antipodean, it's an area defined by its location relative to the West, specifically, Great Britain. Defining places relative to the Brits is so very 19th century. Seems rather self-important of them. But it's the antipode that is the focus for us today.
The Economist reports that
Antipodean anti-vaxxers are learning from America's far right
.
More than 85% of Australians and New Zealanders are vaccinated and some of the strictest pandemic prevention efforts have combined with that to make for pretty good COVID statistics relative to the rest of the world. But, of course, not even all Kiwis and Aussies can tolerate such good news for long and instead they balk at restrictions and being told what to do, just like Americans. Clearly, that visceral, primitive reaction isn't continent limited. The worse news is how Australians and New Zealanders are learning from our very own anti-vaccine extremists.
The death threat spewers, those calling for reform via rifle and shotgun, the hystericals over imagined theft of their freedom are in the minority but they are loud and vocal. Reports The Economist,
"'Protesters are taking inspiration from America's far right,' says Mr Spoonley. Some wave flags featuring Donald Trump, wear red hats and threaten journalists. They have started calling politicians 'traitors' and calling for lynchings. Placards mentioning QAnon, an incoherent conspiracy theory which is taking off in the Antipodes, are increasingly common."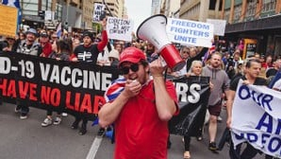 The red hat on the guy with the bullhorn in the pic to the left reads "Make Adelaide Great Again" – MAGA. I'm sure the power trip he appears to be on helps him to feel more in control; same for the sign carriers and those just yelling.
Protesters in New Zealand on November 9 chanted and carried signs reading, "Kiwis are not lab rats." That's a valiant effort to characterize their protest, but it's more than a bit upside down. What they seem to be missing is that refusing vaccinations and rebelling against public health safety restrictions essentially puts everyone into a lab experiment – rats in a box with infection stalking them at all times. Indeed, the resistors are making themselves into those lab rats by openly sharing the dangerous variants of the virus. So, those Kiwis really are lab rats. They volunteered for the experiment and their rage will not protect them from sickness or death.
That's what we Americans do in our spreader and super-spreader events, like the Harley Davidson mash up last summer in South Dakota and our football games and going unmasked indoors among strangers.
What's at stake is life and death and our pandemic problem is made much worse by the human "You can't tell me what to do!" riddle.  Who do you suppose has a good idea how to solve that riddle?
And That's Related To
Hatred is hatred, no matter its origin or excuse or self-righteousness or self-satisfying justification. People who want to hate will find both a way and a target.
The example above is, on the surface at least, a tantrum over individual liberty and rage over imagined victimization. That it casts aside any vestige of good sense or duty to others is quite beside the point. People have found a way to feel wronged and they are venting their rage, hating whatever phantom bad guy they can conjure, like vaccine mandating politicians, the media, imaginary fascists or socialists or communists and more. It's very little different than burning at the stake women imagined to be witches, this in order to cast away evil spirits or those believed to be summoning them. For some, it's just hatred and rage for the feeling of power that their rage gives them.
So, it will come as no surprise that hatred based on race and religion is pretty much the same as any other. In America we have a multi-centuries long trail of duplicity, subjugation and violence against anyone whose ancestors were not from northern European countries or England and who were not Christian.
That has continued most proudly in what has passed as the Republican Party since the Voting Rights Bill became law in 1964. It carries on today in voting restrictions and other efforts to maintain minority control of power and money. You saw it in Charlottesville, on January 6 at the Capitol Building and in hateful, incoherent blogs and brainless attacks on people and on reality in Congress and from the twice-impeached, disgraced former president and his sycophants.
This is not new, but it has reached a critical point in this country. For clarity about this, today's required reading is from Thom Hartmann in his piece, Revealed: The Racist Plot To Tear America Apart.
Finally
Ten Republican controlled states have successfully prohibited the President's vaccine mandate for healthcare workers.
Eleven Republican controlled states have filed suit against the President's vaccine mandate for employees of private companies with over 100 employees.
Nine Republican controlled states have banned school mask mandates.
An uncountable number of Republican legislators, operatives, pundits and TV, cable and radio blabbers have had tirades of faux patriotism against masks and vaccinations. With false propaganda – lies – they have exhorted the public to rage and to refuse to comply. Never mind the risk to health and even survival.
These are the very same people who are publicly criticizing President Biden for poor performance in combating the pandemic and, in consequence, the economy. Indeed, if their lies can maximize the pandemic suffering and death for another 11 months, that should keep inflation high and the economy doing poorly. Then perhaps Republicans can retake power in Congress.
It's nearly all unvaccinated people who listen to that propaganda and are dying from COVID at the rate of about 1,000 per day. There are 342 days until the 2022 election, and that leads to the key question:
Is it okay for over 300,000 more Americans to die so that Republicans can rule?
Like I said, hatred is hatred, no matter its origin or excuse or self-righteousness or self-satisfying justification. And it takes a lot of Republican hatred to view 300,000 additional deaths as just collateral damage in their selfish, diabolical quest for power and money.
Here's a question I heard posed not long ago: Are you okay with the way things are now? If not, what needs to be changed and in what way?
I'll be posing those questions periodically, hoping to trigger your critical thinking.
————————————
The days are dwindling for us to take action. Get up! Do something to make things better.
Did someone forward this to you? Welcome! Please subscribe – use the simple form above on the right. And pass this along to three others, encouraging them to subscribe, too. (IT'S A FREEBIE!)

And add your comments below to help us all to be better informed.
Thanks!

The Fine Print:
Writings quoted or linked from my posts reflect a point I want to make, at least in part. That does not mean that I endorse or agree with everything in such writings, so don't bug me about it.
There are lots of smart, well-informed people. Sometimes we agree; sometimes we don't. Search for others' views and decide for yourself.
Errors in fact, grammar, spelling and punctuation are all embarrassingly mine. Glad to have your corrections.

Responsibility for the content of these posts is unequivocally, totally, unavoidably mine.
Book links to Amazon are provided for reference only. Please purchase your books through your local mom & pop bookstore. Keep them and your town vibrant.
JA
Copyright 2023 by Jack Altschuler
Reproduction and sharing are encouraged, providing proper attribution is given.