You already know about the Supreme Court decision striking down Roe and it's important to put that decision into context.
Be clear that this decision will result in Daisy, raped at age 13 by her father, having to take that incest-caused pregnancy to term. It means that Maryanne, raped in a laundromat by an unknown thug, will have to carry that baby, too. And 53 year old, diabetic Lucy will have to carry her surprise  pregnancy all the way to the point that it kills her. None of these women or any other woman is in charge of her own body any longer. The Supreme Court has established government mandated pregnancy, putting politicians in control women's bodies.
Clearly, women no longer have autonomy of themselves or full citizenship.
At least since John Roberts was being vetted by the Senate Judiciary Committee in 2003, he and all subsequent candidates have been questioned about their views regarding Supreme Court precedent. Every candidate has declared their belief in stare decisis – "to stand by things decided" – which directs that settled law should not be re-litigated. And every candidate has given clear enough indication that they believed that Roe is settled law. But it turns out that their most serious declarations of fidelity to settled Supreme Court decisions just weren't true.
And the Republican controlled Senate has consistently allowed that dishonesty.
Roe was decided in 1973 by a 7-2 vote and was unsuccessfully challenged many times (see this ACLU Timeline). The Court repeatedly upheld Roe. That's a lot of settled law, a lot of precedent, but that was of no consequence to the liars now on the court. Roe is gone.
Also this week, the Supreme Court overturned a 109 year old law that prohibits carrying guns in public in the State of New York. It's yet another example of extremist Justices ignoring precedent – violating stare decisis, which they claimed they adhered to – and moving us backward to a far more dangerous time.
Keep monitoring your shock response, as more decisions come down criminalizing all aspects of abortion. That includes criminal penalties for an Uber driver who brings a woman to a clinic; against friends who lend her money for an abortion; and against supportive husbands and boyfriends. Expect criminal penalties heaped upon women who live in states banning abortion and who travel to a state that allows abortion. Bear in mind that Texas has already empowered vigilantes to spy on neighbors – really, on anyone – and report them to the Texas Gestapo to collect bounties and for the state to levy fines and pile on criminal prosecution.
Expect challenges to Griswold, which will result in the outlawing of birth control. Justice Clarence Thomas, he of the "high-tech lynching," has already invited such challenges. And don't be the least bit surprised as this extremist Supreme Court attacks same-sex marriage by overturning Obergefell; or bans inter-racial marriage by overturning Loving; or even bans private consensual sexual activities; encourages more gun violence; and incrementally inserts religion into yet more government arenas.
One exception to that: Loving probably won't be overturned, because Thomas is in an inter-racial marriage. He wouldn't want to penalize himself. Penalties are for other people, so expect to hear a proud shout out for stare decisis on that one, as that expected primitive attack on freedom is defeated. Just that one shout out to precedent. It's personal to Clarence.
Bear in mind that roughly 80% of Americans did not want Roe reversed. This Court is all about minority-enabled bullying of the rest of us, so don't be surprised at the loss of yet more rights.
The true context and diabolical meaning of the overturning of Roe is the elimination of stare decisis, which opens the floodgates to Republican Party extremist and Supreme Court attack on our freedoms, protections and traditions. Credit for that goes to the decades-long efforts of Republicans to return us to the very worst of American Puritanical, "insecure male" tyranny, accompanied by the continuous drone of self-righteous Bible thumping and the strutting of loud, little men.
The Chicago Protest
Rage was in the air. The fury driven by the theft of rights and a very personal betrayal dominated the Federal Plaza in Chicago on Friday, June 24. It was a day that will be remembered for a very long time, with a permanent distrust of the Supreme Court its lasting legacy. The perfidy of the Republican Party, the cheats who crafted this vehicle for betrayal, will be long remembered as well.
Here are pics of some of the signs from that demonstration. The more foul messages have been excluded, but don't imagine even for a moment that anger didn't dominate the event. So did the commitment to vote and to support others in abortion ban states.
This isn't over.
---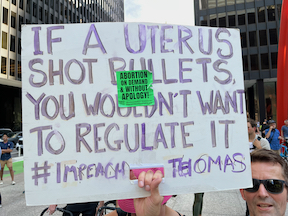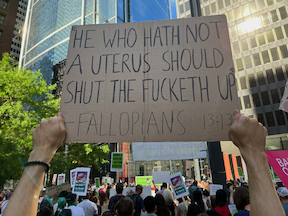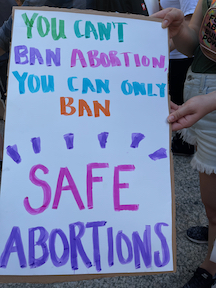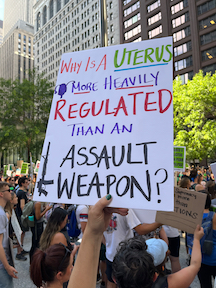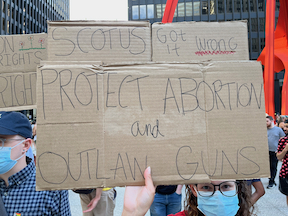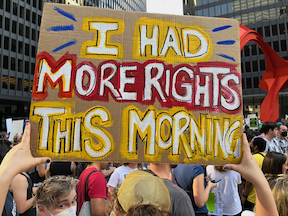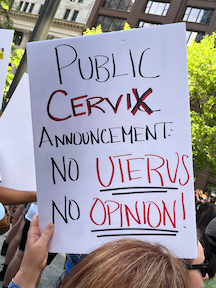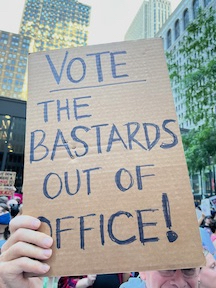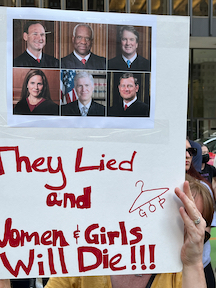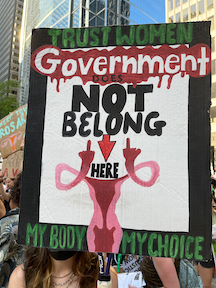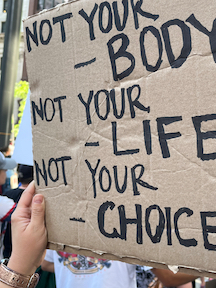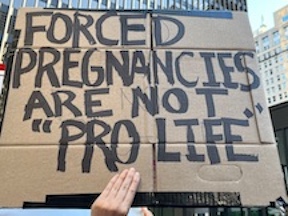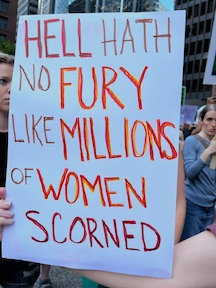 ————————————
Our governance and electoral corruption and dysfunction and our ongoing mass murders are all of a piece, all the same problem with the same solution:
Fire the bastards!
The days are dwindling for us to take action. Get up! Do something to make things better.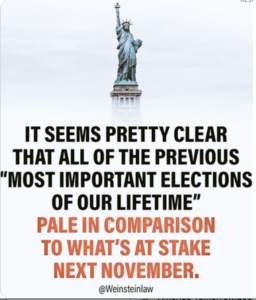 Did someone forward this to you? Welcome! Please subscribe – use the simple form above on the right. And pass this along to three others, encouraging them to subscribe, too. (IT'S A FREEBIE!)

And add your comments below to help us all to be better informed.
Thanks!

The Fine Print:
Writings quoted or linked from my posts reflect a point I want to make, at least in part. That does not mean that I endorse or agree with everything in such writings, so don't bug me about it.
There are lots of smart, well-informed people. Sometimes we agree; sometimes we don't. Search for others' views and decide for yourself.
Errors in fact, grammar, spelling and punctuation are all embarrassingly mine. Glad to have your corrections.

Responsibility for the content of these posts is unequivocally, totally, unavoidably mine.
Book links to Amazon are provided for reference only. Please purchase your books through your local mom & pop bookstore. Keep them and your town vibrant.
JA
Copyright 2023 by Jack Altschuler
Reproduction and sharing are encouraged, providing proper attribution is given.