An Open Letter to Christian Haters
Did you go to Sunday School when you were a kid? Or at least attend a church service now and then? Here's what you did with that.
They told you the stories and the lessons from long ago, like to be kind to strangers. They said to be generous to others, especially those less fortunate than you. You remember that stuff, right?
Do you remember the day they told you what Jesus said about hatred? I'm pretty sure they said that Jesus instructed, "Don't hate," although they wrapped a lot more words around the message. You sat in your chair and you heard the words.
Then you walked out of the building and said to yourself, "No way, man. I'm gonna do whatever I want, whatever makes me feel good and powerful and in control." Whatever message or teaching or directive Jesus had for you was cast aside, forgotten, crushed under your heel. In that moment you rejected Jesus completely.
And you've been living without Jesus ever since.
Oh, you put up a Christmas tree and you do the other performative stuff and claim you're a Christian, but you don't follow the rules. You live under only your own rules and who cares about what those ancient guys said? You like to hate others. It makes you feel good.
This nation has been hating non-Whites for over 400 years. Asians are squarely in the center of the bulls eye again and antisemitism is up 34 percent (seven incidents per day), according to the most recent data a year ago. The count of those acts of hatred is almost certainly higher now. So, with all that hatred infecting people, tell me again how this is a Christian nation.
Bible thumpers, holier than thou types, those wearing beatific masks, please don't even imagine you're fooling anyone. There is a universe of issues on which you try to paint your non-Semitic image of Jesus, but it's just your ongoing dishonesty.
When you invade a prayer meeting at a Black church and shoot the people there, when you blast away the congregants in a synagogue, when you make death threats and distribute hate literature, when you make laws that crush your out-group, you're refusing, denying and even giving the finger to Jesus.
That's your truth that you hide from. But know this: we see you for what you are. So, don't tell us you want this to be a Christian Nationalist country, because you wouldn't be allowed to live there.
The Constitution
Now that I've inflamed a lot of people, let's take this one step further.
The Articles in The Constitution primarily describe how our government is intended to work. The Amendments primarily define the rights we have as citizens. Here's a link so that you can review all The Amendments to understand your rights. And everyone else's, too.
What neither the Articles nor the Amendments offers is an opportunity to check a box next to the parts you like and ignore the rest.
So, if you are an ardent believer that the Second Amendment gives you the unlimited right to own and carry whatever guns or other armament you like, you would surely check the box next to that Amendment. But in calling yourself patriotic, a true American, you also have to check the box next to the First Amendment, which gives everyone, even the people you hate, the right of freedom of religion. That precludes the possibility of this becoming a Christian Nationalist nation. This country was never meant to be that. Get over it.
The First Amendment also gives us the right of freedom of speech. That means that the people you hate can say what they like, just as you can. And they can publish what they want, even if it goes against your rigid principles. There are limits to what anyone can say, but the limits have nothing to do with whether you like what they're saying.
The First Amendment also gives us freedom of the press, the right of peaceful assembly and the right to petition the government for redress of grievances. These are for everyone, not just for you. Nobody gets to pick and choose those rights or deny them to anyone else.
We have senators and representatives who rail every day against the Bill of Rights, the first ten Amendments. They want to leave some of those imaginary boxes unchecked because it's inconvenient or annoying that others whom they hate have the same rights as they have. The same goes for millions of ordinary citizens.
Show me the patriotism in that. Show me how demanding that this be a Christian Nationalist country comports with our founding document.
Right. You can't.
So, Just For You .  .  .

.
Here's a link to become a card carrying member of the American Civil Liberties Union. Click it and join to protect and defend our Constitution. You're patriotic and want to protect and defend the Constitution, right?
Question Of The Week
Since we're talking about hatred, the Supreme Court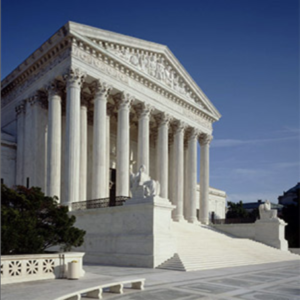 consistently decides cases in ways that negatively impact Americans. They call themselves conservatives, but I'm wondering what they're conserving. Think:
Citizens United – gave corporations and rich people the right to distort our elections in their favor and against yours
Dodd v. Jackson Women's Health – killed abortion rights. And don't even think of imputing your supposed Christian judgments on that – see the last paragraph below.
Various gun safety laws like Heller and MacDonald – effectively made it easier for haters to kill others
A swamp of voter suppression laws (e.g. closing polling places, eliminating ballot drop boxes, gerrymandering, removing voters' registrations) and they all seem to be decided in favor of the haters
So, our Question Of The Week is,
Why do the so-called conservatives on the Supreme Court hate Americans?
Supreme Court Fallout

If you're a woman, they stole your reproductive rights. If you're a man, they stole those rights from your wife, your sister, your daughter, all the females in your neighborhood, extending from sea to shining sea plus you know where else. Almost as bad, that theft of rights is being imputed into other organizations, driven by far right pressure.
Take Walgreen's, for instance. They just announced that they will no longer sell Mifepristone, the abortion pill. Not just in states where they've been outlawed, but in states where it is still quite legal to sell them. They have allowed themselves to be intimidated by far right big money pressure and they're caving in.
I'm wondering if enough pressure can be applied the other way by we consumers, who have choices. We can explain to Walgreen's that those choices include CVS, Rite-Aid and the rest.
Here's a plea from an activist friend:
We hope you will take five minutes today to contact Walgreen's headquarters at (800) 925-4733 (press 5 at the prompt) to make clear that those who want to strip away women's fundamental rights are in the minority.
Women make 85% of all consumer purchases in the US (Forbes), and drive 70-80% of spending among consumers (Entrepreneur, Mar 19, 2021). We demand that our medical decisions be respected. We will not spend our dollars at institutions that do not protect us.
I'll add that right-to-choose voters poll over the falsely named pro-life voters (the guys who hate abortion but love the death penalty) by 24 percentage points. Seems like we Americans like our rights.
Go call Walgreen's.
---
Today is a good day to be the light.
______________________________
Our governance and electoral corruption and dysfunction and our ongoing mass murders are all of a piece, all the same problem with the same solution:

Fire the bastards!

The days are dwindling for us to take action. Get up! Do something to make things better.




Did someone forward this post to you? Welcome! Please subscribe – use the simple form above on the right. And pass this along to three others, encouraging them to subscribe, too. (IT'S A FREEBIE!) It's going to take a lot of us to get the job done.


And add your comments below to help us all to be better informed.

Thanks!


The Fine Print:

Writings quoted or linked from my posts reflect a point I want to make, at least in part. That does not mean that I endorse or agree with everything in such writings, so don't bug me about it.
There are lots of smart, well-informed people. Sometimes we agree; sometimes we don't. Search for others' views and decide for yourself.
Errors in fact, grammar, spelling and punctuation are all embarrassingly mine. Glad to have your corrections.

Responsibility for the content of these posts is unequivocally, totally, unavoidably mine.
Book links to Amazon are provided for reference only. Please purchase your books through your local mom & pop bookstore. Keep them and your town or neighborhood vibrant.

JA
Copyright 2023 by Jack Altschuler
Reproduction and sharing are encouraged, providing proper attribution is given.