I was thinking about what the term "MAGA" means. I don't mean the words; rather, the reference point.
If the goal is to make America great again, the construct requires an antecedent when America was deemed to be great, a glory from which we've foolishly slipped. That's what the MAGA folks want to restore, it seems. Okay, when was that?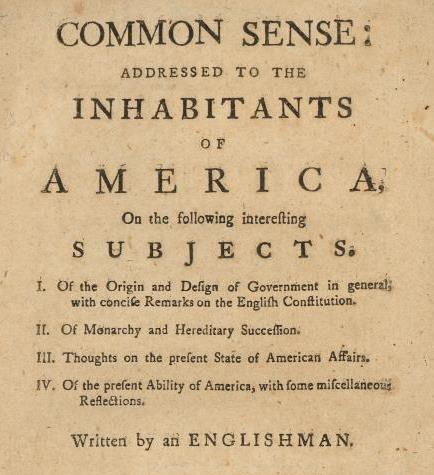 Could they be thinking about the Revolutionary War period, when the inhabitants of the Colonies were all engaged, shoulder to shoulder, in the great quest for freedom from King George III? If so, that's misguided, because about 20% of the colonists were loyalists to the King and the vast majority were fence sitters. The revolutionaries were a small minority. That's why Thomas Paine had to exhort colonists to enlist in the fight. Was America great then? There were heroics, to be sure, but probably not overall greatness.
It's hard to imagine the Civil War period as great, as we killed 620 thousand Americans. Or perhaps that was a great time for some, proudly enslaving others and reaping the benefits and when poor Whites were pretty much our national trash. The White land owners were the undisputed kings of their realms. Maybe that was when America was great.
I'm not confident that the Reconstruction and Jim Crow periods qualify. Not a lot great there, if "liberty and justice for all" means anything, although we did manage to kill and displace uncounted numbers of Native Americans in our westward expansion and lynching was a semi-national past time.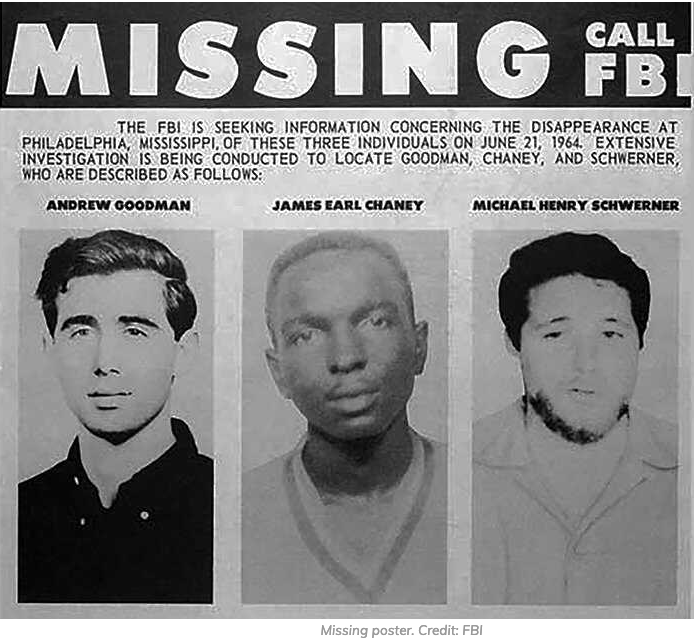 Same problem with Freedom Summer in 1964, when Michael Schwerner, James Chaney and Andrew Goodman were tortured and murdered in Philadelphia, MS. They were there for the very American activity of registering citizens to vote. Their murders still stand as a symbol of the period. Was that a proud epoch in our history – a MAGA idealized period – when brutality ruled over civics and basic decency?
Maybe the MAGA folks think of the 1950s as the time when America was great. It did work pretty well for Whites. Ours was the only industrial economy left intact after WW II. Jobs were plentiful and wages were good. It was a time when "others" knew "their place." And it was well before the radical Blacks and college kids were making trouble with all those pesky protest marches for civil and voting rights and against the Viet Nam war. Yeah, that was a great time to be White in America. That must be the MAGA reference point.
It seems to me that when the almost completely White* MAGA crowd spouts "Make America Great Again" what they really mean is to make the country great for them. Just them. This is the very definition of White supremacy, selfishness and the refusal of equal protection. It's all for me and who cares about anyone else?
That's what the enslavers said until the Civil War. They continued to believe all their lives that "The South will rise again!" touting their "Lost Cause" totem, and it seems to have done just that with our current insane far right populism. That's what the Jim Crow South enforced. That's what hundreds of years of cruelty and broken promises to native Americans were all about. That's what Reagan worked to create, albeit with carefully written and highly choreographed terms that made selfishness sound patriotic.
And that is what Trump and all the ideological, far right extremists in Congress and elsewhere want to create. It's about the absolute right of the individual over the common good. All for them and who cares about anyone else?
I should have told you that there will be a pass-fail exam. To prepare, you must watch the history lesson from Professor Heather Cox Richardson, as she digs into the deeper meaning of the Roe-killing Supreme Court Dobbs decision. It's likely much farther reaching than you now realize. So, grab your cup o' joe and listen up.
To close this section, here's a fine and insightful, pre-massacre comment from the July 4th weekend:
"Even though our politics is toxically polarized right now, we don't need fewer arguments right now; we just need less stupid ones."
Eric Liu, CEO, Citizen University
PBS News Weekend, July 3, 2022
Time For A Moon Shot
Surely, there can't be many doubters left that we are at the whim of the fossil fuel industry. The craziness of U.S. gas prices that have gone over $6 per gallon is actually dwarfed by what customers are paying in Europe. So, let me say this with as much clarity as I can muster: We travel about and stay warm in the winter at the pleasure of and discretion (if any) of oil producers, and many of them have no interest at all in what works best for us. Think: Russia; Saudi Arabia; Iran – and even the myopically focused, shareholder and  C-suite-centric U.S. fossil fuel companies, still selfishly thinking Milton Friedman got it right. **
Add to that the actual, real life fact that we are in the process of cooking our planet, making huge areas uninhabitable, reducing crop yields, killing people in freak storms that are so common that they aren't freaks anymore and incrementally drowning coastal land areas. It's possible that the smart move is to let go of our petty insecurities and short term thinking that lead to nothing good and instead do something about what matters. Like staying alive.
This just might be the moment to rally the U.S. and perhaps the world to a moon shot, a dramatic shift from fossil fuels to renewables that won't kill all of us. This just might be the time to create incentives for solar panels on every roof, for far more fields of wind generators, for the development of power from tides and all the rest of the things that we will eventually do anyway. The only question is when our circumstances will have become sufficiently dire and scary for us to break out of our denial and do the obvious.
Right now is the time for that moon shot. We can start with a Presidential call to action and by firing all politicians who refuse to accept reality. I'm thinking about you, Joe Manchin (D-WV), as you abandon any concern for your grandchildren (see the graphic to the left). You, too, Marco Rubio (R-FL), as you mealy mouth about climate warming, while the Mayor of Miami Beach is on Highway A1A and the sea water is over his ankles. Read a related CBS story here.
In the face of Manchin's Luddite refusal to support fighting global warming and the Supreme Court having hamstrung the EPA's power to regulate, read Four Ways the United States Can Still Fight Climate Change. It's not enough, but it's something.
——————————–
* Don't let a few Black faces in the audience behind MAGA speakers fool you. They're placed where they are to make these hate rallies look more inclusive for TV viewers, but there are actually very few non-Whites attending. If you want to test that, watch any video of the January 6 insurrection and count the non-White faces.
** Friedman Doctrine: "An entity's [corporation's] greatest responsibility lies in the satisfaction of the shareholders." Friedman's tortured logic said that focusing solely on maximizing return to shareholders would result in the best outcomes for all stakeholders (employees, customers, suppliers, the community, etc.).
Today's era of high inflation is caused, in part, by whimsically puffed up prices (whatever the market will bear) for energy, transportation, food and more. Per corporate reporting, this has resulted in greatly inflated corporate profits and, therefore, a far greater return to shareholders.
Is that resulting in the best outcomes for all stakeholders, as Friedman predicted? How is Friedman's notion working for workers and small businesses? How is that working for you, as you stand at the gas pump and watch the numbers climb?
I really don't think that Gordon Gecko ("Greed is good") was entirely right. Self-interest is fine, but not in the absolute and certainly not to the exclusion of everyone and everything else. If we're to keep this planet habitable, it's going to require us all to work for the common good, irrespective of shareholder satisfaction.
————————————
Our governance and electoral corruption and dysfunction and our ongoing mass murders are all of a piece, all the same problem with the same solution:
.
Fire the bastards!
.
The days are dwindling for us to take action. Get up! Do something to make things better.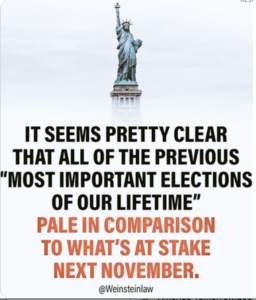 Did someone forward this post to you? Welcome! Please subscribe – use the simple form above on the right. And pass this along to three others, encouraging them to subscribe, too. (IT'S A FREEBIE!)

And add your comments below to help us all to be better informed.
Thanks!

The Fine Print:
Writings quoted or linked from my posts reflect a point I want to make, at least in part. That does not mean that I endorse or agree with everything in such writings, so don't bug me about it.
There are lots of smart, well-informed people. Sometimes we agree; sometimes we don't. Search for others' views and decide for yourself.
Errors in fact, grammar, spelling and punctuation are all embarrassingly mine. Glad to have your corrections.

Responsibility for the content of these posts is unequivocally, totally, unavoidably mine.
Book links to Amazon are provided for reference only. Please purchase your books through your local mom & pop bookstore. Keep them and your town vibrant.
JA
Copyright 2023 by Jack Altschuler
Reproduction and sharing are encouraged, providing proper attribution is given.