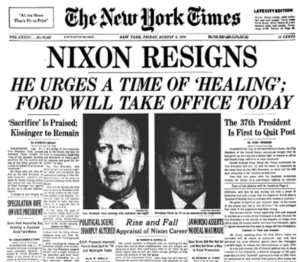 After the flood of lying, cheating, whining, denying, abandoning of his criminally loyal co-conspirators and all the rest of the cover up deceit, we at last learned for certain that Nixon had lied when he declared, "I am not a crook." His "opening of China" might have been a good thing in itself and it might have been useful to make him look like he was a world statesman, but he lied. He lied about everything, especially the crook part.
It took a lot to get to that camel-load collapse to resignation, the final straw of which was the Supreme Court deciding against his hording of evidence. He was begging and pleading that the subpoena for his secret tapes be quashed because of some imagined presidential right to keep the incriminating materials out of the hands of Congress. "Nope," the Justices unanimously said. The president has no privilege when the items in question are part of a criminal cover up.
Poof! Nixon's protection from the disclosure of his wrongdoing dissolved with just a few signatures. All of it, except for the magically missing 18 minutes of recording that his ever faithful secretary, Rose Mary Woods, erased via gymnastic contortions. Choose your own description of what key evidence disappeared through her supposed abuse of her transcription device.
But with that Supreme Court decision it just wasn't tenable for Republicans to stand by their felon, so Sen. Barry Goldwater and a few more Republican senators paid a visit to the Oval Office. They made it clear that they would vote to convict Nixon in an impeachment trial. The headline above is what happened next. Nixon got out of Dodge just ahead of the jury.
We can imagine that those senators were imbued with fine, upstanding moral convictions. It may be that they saw their duty to the Constitution and to their constituents and uprightly insisted upon honoring that duty.
And we can also look at the pragmatics of the situation and recognize that the vast majority of Americans were sick of the demoralizing spectacle of inane presidential excuses and the plodding pace of Congress in the face of his obvious criminality. We wanted Nixon gone.
Failure of the senators to make that happen by continuing to support Nixon was just not a good re-election strategy for Republican legislators who craved re-election, so they were forced to tell Nixon the truth: they would dump him in a public vote. I suspect that the dumping was less an exercise in doing the right thing and more an exercise in self-preservation. Voters have a way of making the path to lose an election quite clear.
Here's the connective tissue to today.
We have over 6 years of elected Republicans succumbing to a plague of self-deception. It's a near certainty that most of them know better, but they refuse to speak out against Trump and extremism, and they do so for practical reasons.
We've seen that those who did speak out lost their primary races to radical candidates, so staying mum about Trump or any extremist is a fine primary election strategy for Republicans with Wimpy Spine Syndrome. After all, it's the extremist voters who show up in Republican primaries. Moral rectitude has no place there, it seems.
It was the voters, We The People, who at last forced the stalwart Nixon supporters to do the right thing 50 years ago.
And it is the voters, We The People, who, conversely, haven't turned out to vote in big enough numbers to defeat the crazies and to ensure that our rights, our democracy and our Constitution are protected and defended. It is our failure to vote that has kept a minority of extremists in power over all of us.
Yes, it's pleasing to blame and castigate Trump and his wild-eyed, angry sycophants worshiping at the Shrine of Hatred, but we are the ones who put them in a place to harm us all. The remedy for this terrible disease is as plain to see as it can be.
---
Today is a good day to be the light.
______________________________
Our governance and electoral corruption and dysfunction and our ongoing mass murders are all of a piece, all the same problem with the same solution:

Fire the bastards!

The days are dwindling for us to take action.

Get up! Do something to make things better.




Did someone forward this post to you? Welcome! Please subscribe – use the simple form above on the right. And pass this along to three others, encouraging them to subscribe, too. (IT'S A FREEBIE!) It's going to take a lot of us to get the job done.


And add your comments below to help us all to be better informed.

Thanks!


The Fine Print:

Writings quoted or linked from my posts reflect a point I want to make, at least in part. That does not mean that I endorse or agree with everything in such writings.
There are lots of smart, well-informed people. Sometimes we agree; sometimes we don't. Search for others' views and decide for yourself.
Errors in fact, grammar, spelling and punctuation are all embarrassingly mine. Glad to have your corrections.

Responsibility for the content of these posts is unequivocally, totally, unavoidably mine.
Book links to Amazon are provided for reference only. Please purchase your books through your local mom & pop bookstore. Keep them and your town or neighborhood vibrant.

JA
Copyright 2023 by Jack Altschuler
Reproduction and sharing are encouraged, providing proper attribution is given.