Read to the end for some fun.
Bang-Bang
Have a look at this Everytown graphic: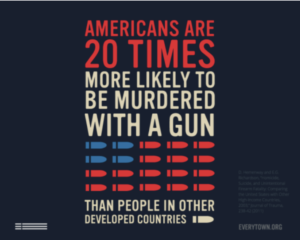 Is that something we should be proud of? Perhaps we should be chanting, "We're number one!" Because with over 20,000 dead and 320 mass shootings already this year, it occurs to me that I may have missed the change in our national values. Maybe murders, brutality and bullying are what we value most now.
A friend recently emailed saying that he lives in a pretty safe, low crime community. I replied that is exactly what the people of Highland Park would have said on July 3rd of last year. The Parkland kids would have said the same thing on February 13, 2018 and the Sandy Hook parents would have used those very words on December 12, 2012. The shoppers at Tops Friendly Markets in Buffalo felt just like that on May 13, 2022, same as the shoppers and employees at the Allen Premium Outlets Mall in Texas on May 5 of this year. Those dates were the day before each massacre. Maybe your safe neighborhood doesn't protect you quite like you think it does.
We've known for many years that lobbying congress won't deliver the gun safety we want. That's for two reasons. The first is that legislators in the pocket of the gun industry would have to act against their own immediate best interests to deliver what you want, and they just won't do that.
The second reason you're not getting what you want is because most of the legislation that affects you is state driven and most of us don't pay attention to that locus of power until we're being beaten up – or shot up – by it.
The net of that is that if you are to get the gun safety legislation you want (or legislation for anything else you want), we'll have to first vote replacement legislators into office at both the state and federal levels, people who believe in what you believe in.
You and I have less than 500 days to make that happen.
In a fundraiser email last week .  .  .

.  .  .  Adam Schiff told of the MAGA Republican House censure of him for the dastardly deed of doing his job. He's too stand-up a guy to use the word "dastardly," but I'm not above such a thing. Neither was the House Democratic caucus, which chanted "SHAME! SHAME! SHAME!" at the MAGA flame throwers and their spineless Speaker, Kevin McCarthy. Of course, the shame accusation aimed at those people fell on their deaf ears, because they are incapable of recognizing their shame, so Schiff wrote,
President Franklin Roosevelt once said, "I ask you to judge me by the enemies I have made." I have been called a liar by the architects of the Big Lie, a fraud by fraudsters from Donald Trump to George Santos, and an enemy of the state by those who cheered on the insurrection on our Capitol.
I wear their enmity, their falsehoods, and their censure like a badge of honor. [emphasis Schiff's]

Read Schiff's paragraph again to fully appreciate this dreadful display of MAGA hypocrisy.
It's a damned shame that so many Americans long ago sold out and lost their ability to feel their shame. We need a lot more stand-up people and we're most unlikely to find them in that shame incapable MAGA crowd.
For a clear demonstration of what patriotism looks and sounds like, give a listen to what Schiff had to say just before the shameful, MAGA party-line censure vote, which included both extremists and the cowards afraid to stand up for what they know is right. Also note that 13 representatives failed to register a vote on this faithless resolution.
The Divine Right of Justices
Emperor Samuel Hirohito's – I mean Alito's – hand has been caught in the fancy, enormously expensive vacation cookie jar. It appears that he, like Clarence Thomas, believes that his lofty judicial position puts him above financial reporting requirements. Since Alito has already been attacking the Constitution by forcing his religious views on everyone, perhaps his next move will be to attack Pearl Harbor.
Havin' a Little Fun
Representatives Marjorie Taylor Greene and Lauren Boebert, founders of the Sisters of Perpetual Desperation for Attention, have announced that they have joined with the members of the Brotherhood of Low Self-Esteem Over-Compensation and its charter members Jim Jordan, Louis Gohmert, Matt Gaetz, Tommy Tuberville, Ted Cruz and Josh Hawley. The new, combined organization is called The Flaming Order Of Nya-Nya.*
The need for the coupling of these MAGA-stacized orders became clear after they had individually demanded that President Biden resign and turn over the country to the disgraced, twice impeached and multiply indicted Donald Trump.
Biden's press secretary issued this statement:
"The President gave these demands his partial attention for the entire duration of his snapping closed the case for his aviators and then said, 'Nah. I don't think so.'"
That was the trigger moment to merge the groups.
In their first public announcement they declared that the new order will exert great nya-nya pressure on Speaker McCarthy such that they will fully emasculate him not later than the end of this year. They promised to leave nothing but his gavel. "No skeletal structure is expected to remain," they predicted, "especially back bones."
In a press conference held on Juneteenth in hopes of distracting White people from the important meaning of that date, they announced that The Flaming Order of Nya-Nya will raise the necessary funds for their work by knitting sweaters for assault rifles and selling them at school board meetings in red states. They are also expecting dark money contributions from Billionaires Against Democracy (BAD), as well as from vacation buddies of Supreme Court Justices.
The stated mission of this new order requires absolute obedience to:
The sacred vow to never allow reality to distract them
The Nya-Nya imperative to always loudly shout something or other
To commemorate the founding of this new order, leaders met in a secret ceremony held behind a Port-a-Potty in a construction zone at the edge of the Ellipse. There, standing in a circle with hands joined in their secret handshake of middle fingers hooked together, they vowed eternal fidelity in their fight to eliminate higher brain functioning everywhere. Most movingly, they knelt, bowed their heads and pledged a holy paean to their hallowed motto:
Hoc Locus De Stultus Est

**
.
Late Addition
Focus For Democracy: Zoom Briefing – 2022 Impact Event
Focus for Democracy is a pro-bono donor advisory that approaches political investment in an effective, dynamic, data-driven way.  Learn about the effectiveness of its 2022 Midterm programs and hear the network leaders' thoughts on the road ahead.
.
This is NOT a fundraiser.

_____________________________________
* These orders do not exist. They and the reported statements and actions of the individuals named in this section are solely a product of the author's imagination.
But, hey, given the reality of MAGA, this sounds plausible.
** Literally, "This is the place of stupid."
---
Today is a good day to be the light.
______________________________
Our governance and electoral corruption and dysfunction and our ongoing mass murders are all of a piece, all the same problem with the same solution:

Fire the bastards!

The days are dwindling for us to take action. Get up! Do something to make things better.

Did someone forward this post to you? Welcome! Please subscribe – use the simple form above on the right. And pass this along to three others, encouraging them to subscribe, too. (IT'S A FREEBIE!) It's going to take a lot of us to get the job done.


And add your comments below to help us all to be better informed.

Thanks!


The Fine Print:

Writings quoted or linked from my posts reflect a point I want to make, at least in part. That does not mean that I endorse or agree with everything in such writings.
There are lots of smart, well-informed people. Sometimes we agree; sometimes we don't. Search for others' views and decide for yourself.
Errors in fact, grammar, spelling and punctuation are all embarrassingly mine. Glad to have your corrections.

Responsibility for the content of these posts is unequivocally, totally, unavoidably mine.
Book links to Amazon are provided for reference only. Please purchase your books through your local mom & pop bookstore. Keep them and your town or neighborhood vibrant.

JA
Copyright 2023 by Jack Altschuler
Reproduction and sharing are encouraged, providing proper attribution is given.