Idiotic Theories and Your Rights

Trump's infamous attorney general, Bill Barr, is an enthusiastic proponent of the radical "unitary executive theory." He promoted it in his 19-page suck-up application to be Trump's suck-up AG.
Jeffrey Clark, the mental lightweight DOJ supporter of Trump's attempt to make himself Permanent Emperor of the United States, is also a unitary executive theory bobblehead.
The New York Times wrote:
Like other conservatives, Mr. Clark adheres to the so-called unitary executive theory, which holds that the president of the United States has the power to directly control the entire federal bureaucracy and Congress cannot fracture that control by giving some officials independent decision-making authority.
That idiotic theory is related to the "independent state legislature doctrine," which would effectively eliminate elections, allowing radical state legislatures to select office holders instead of We The People doing that. Both notions are efforts to crush democracy – i.e. your rights.
Imagine if extremist state legislatures or Trump were awarded dictatorial powers. That would be the end of this as a nation of laws. Instead, this would be a nation at the whim of tyrants with fever dreams of grandiosity. Good thing the Supreme Court just smacked down some of that extremist garbage. More on that next week (and see the Comment about this below).
You know that dictatorial power is what Trump wants. So does Ron DeSantis. That alone should motivate you to make sure that nobody who isn't an enthusiastic promoter of rights and democracy ever gets his/her hands on any public power. Those extremist – not conservative – schemes are exactly how the far right crazies intend to take away your rights and end your democracy. They want to end majority rule in America.
You've played by majority rule since you were on the grade school playground. I'm betting you can't think of a single reason to do things differently, but the bad guys in the minority can. Their reason is that they want everything – all the money and all the power – for themselves. And they most certainly don't want any non-Christian, non-White "others" to have power or rights, Constitution and Bill of Rights be damned. Plus, they don't care a bit about you.
Good thing you know what to do about those guys who want to steal your rights.
Clarity About Rights
For the moment, consider abortion as a placeholder for all rights. First, you must read Prof. Heather Cox Richardson's explainer, which follows her opening section about the recent Russian drama.
While nobody likes abortion and most agree with a ban following 24 weeks of gestation (meaning fetal viability), a huge majority of Americans believe abortion is sometimes necessary and should be a right. And we Americans love our rights. You remember that "Land of the Free" business, don't you? That means rights.
And that's true, even as some believe that you should not have all the same rights as they have, like voting rights. Some Supreme Court justices think you shouldn't have a right to birth control. Some autocrat wannabes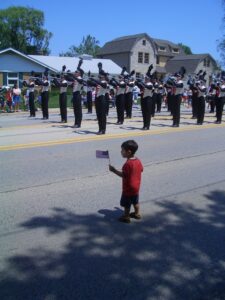 want to impose their might and their religious beliefs on you to further limit your rights. Are you feeling good about that?
No, you're not. You don't want anyone putting their knee on the neck of your rights, George Floyd murder style.
So, wave the flag on the 4th of July for your rights, for everyone's rights, for majority rule, all of which means democracy. Yeah, that's a good thing to wave the flag for. Here's how to do that.
Grit For Rights

I've been an enthusiastic fan of Michigan state Senator Mallory McMorrow since her take down in April 2022 of a hatred spewing Michigan state legislator. See why here.
And because you care about murderers killing children, watch her commentary following the Uvalde massacre. Her message is a good one, too, for the anniversary of the Highland Park massacre. And the Little Rock nightclub massacre. And the massacre of Dallas police officers. And the Aurora, CO movie theater massacre. And the Grand Rapids, MI massacre.
Right, you don't quite remember all of those. That's because there is a mass murder every day, so only the ones that are spectacular in some way stand out.
Like little kids shredded so badly by assault weapon bullets in Uvalde that DNA samples were needed to identify them. That massacre happened while cops had an unscheduled rest period in the school hallway for an hour while listening to the murderer's gunfire.
But every one of those people who were shot, regardless of whether we remember the events, had a right to live. I know you remember that life, liberty and the pursuit of happiness thing. That's about rights. And the right to life was taken away from every one of those murdered people.
Then our leaders stood, with drooping heads, pathetically mumbling something about some damned thoughts and prayers and that this isn't the time, or some such cowardly drivel. And they DID NOTHING to prevent the next mass killings, so those happened and they keep happening.
The reason for providing those McMorrow links is for you to see what standing strong for what you know is right looks like. Our country needs lots more of this power from you and from me and from all of us. It's time for moderation in our messaging to end. No more Mr. Nice Guy.
Mr. Nice Guy – n. a verbal construction connoting powerlessness; devoid of strength; lacking backbone; avoiding necessary confrontation.
– Disambiguation Dictionary, 2023
So, risk having the tough, necessary conversations. Your model for that is in those McMorrow links.
Tell it strong. Tell it from your heart and from your gut. T
ell it for your children and your grandchildren who are terrified that they're next. Tell it for all the people who can no longer tell it for themselves.
And tell your Democratic candidates to reach down, grab their power and wake up their woke. Nice guy milquetoasts are of no use to us at all. This is our time to stand strong.
Wave the flag for that on Tuesday.
Late Friday Extra: Jim Crow Rights
Many rotten tomatoes go to the Supreme Court for its recent decisions on: 1. an entirely hypothetical scenario of a website developer refusing service for a gay couple's wedding website (they had not asked for one); 2. striking down Affirmative Action in higher education admissions, and; 3. striking down student loan forgiveness. Jim Crow discrimination and segregation have officially been brought back and expanded. Here is a pair of snapshots of facilities with updated signage to accommodate the Court's decisions.
It's a new day, but it sure looks a lot like the old days.
---
Today is a good day to be the light.
______________________________
Our governance and electoral corruption and dysfunction and our ongoing mass murders are all of a piece, all the same problem with the same solution:

Fire the bastards!

The days are dwindling for us to take action. Get up! Do something to make things better.

Did someone forward this post to you? Welcome! Please subscribe – use the simple form above on the right. And pass this along to three others, encouraging them to subscribe, too. (IT'S A FREEBIE!) It's going to take a lot of us to get the job done.


And add your comments below to help us all to be better informed.

Thanks!


The Fine Print:

Writings quoted or linked from my posts reflect a point I want to make, at least in part. That does not mean that I endorse or agree with everything in such writings.
There are lots of smart, well-informed people. Sometimes we agree; sometimes we don't. Search for others' views and decide for yourself.
Errors in fact, grammar, spelling and punctuation are all embarrassingly mine. Glad to have your corrections.

Responsibility for the content of these posts is unequivocally, totally, unavoidably mine.
Book links to Amazon are provided for reference only. Please purchase your books through your local mom & pop bookstore. Keep them and your town or neighborhood vibrant.

JA
Copyright 2023 by Jack Altschuler
Reproduction and sharing are encouraged, providing proper attribution is given.