Reading time – 5:10  .  .  .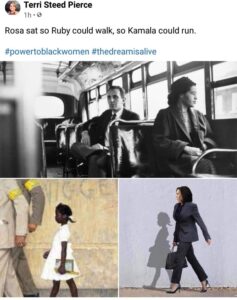 The win for Joe Biden and Kamala Harris was more than a citizen endorsement of the future promised by Biden; it was a repudiation of Trump's attempt to make a toxic waste dump of our democracy, as well as a visceral rejection of his cruelty.
For four years Trump was aided and abetted by Republicans in Congress who know right from wrong, yet refused to stand up against Trump's wrongs. They deserved to be made available for employment elsewhere, which is why a Blue Wave election was expected.
It didn't happen.
Most of the spineless Republicans were re-elected and the Rs even picked up a bunch of seats in the House. It is left to us is to determine how that happened concurrently with the Biden win. A divided government likely will result in Biden being encumbered by four years of the champion obstructionist, the Great Hypocrite, Mitch McConnell or, at best, a 50-50 Senate split. That split would leave blue dog Democrats always a potential threat to the progress of the Biden agenda.
How did that happen?
The saying in the TV news business has long been, "If it bleeds, it leads." In other words, whatever is sensational gets the first and the most news coverage. In the political arena, we've had gobs of sensationalism for decades. The problem is that when that's what we're shown, we tend to imagine that extremism is mainstreamism.
For example, when Newt Gingrich was going googly-eye self-righteous against Bill Clinton in the 90s it was easy to imagine that all of America was Puritanical crazy. Surely, a lot of people figured that most of us were that way, but it was mostly just Newt and his nitwits making a lot of noise through mass media megaphones. Nevertheless, it took years and an ethics investigation to get Newt to shut up. His baseless claim, though, that America is center-right continues to be believed by millions.
The Tea Party Caucus arrived in 2009. These were the right-wing extremists who seemed to magically convince themselves they were somehow akin to the courageous tea protesters in Boston in 1773. And wasn't it an odd coincidence that these bile spewing Tea Partiers announced themselves just after a Black man became president?
They stimulated self-deluded citizens to wear tricorn hats and carry "Don't Tread On Me" flags. These are the same people who carried signs saying, "Keep your government out of my Medicare" and "Keep Government out of Medicade."[sic] Yes, really. Righties aren't all that way, of course, although you couldn't divine that from the sensationalist news.
The Tea Party spawn of the devil, the Freedom Caucus, has been and is full of self-righteous accusations, proclamations and demonizations. We hear a lot of their blather, lies and distortions for reasons similar to Gingrich's: it's sensational. Remember: if it bleeds, it leads. It would be easy to imagine that all Rs are as extreme as Mark Meadows and as hate-mouthed as Jim Jordan.
What about the far left?
So far I've picked on far right extremists, but it works the same way for extremists on the far left, and this is where this stuff intersects our recent election.
AOC and some of her pals did an excellent job of creating an extremist agenda and making a lot of noise about it. They self-promoted like champions, drafting the Green New Deal (download a copy here), a litany of extreme left ideas that they promoted with the fervor of the Spanish Inquisition: convert or die.
And that led to week after week of Democratic presidential candidates brainlessly swearing during the primaries that there should be an end to private insurance, we should have open borders and provide healthcare to all undocumented people. Taxing the rich will pay for everything and butterflies will flit among ever-blooming flowers. Okay, forget the butterflies and flowers bit. The extremist lefty stuff has garnered enormous attention from our news and opinion outlets because it's sensational. Also, counter-productive.
Do you doubt that? Here's highly respected opinion writer Peggy Noonan in a Wall Street Journal piece explaining why voters chose divided government:
Lots of things, but one was a year of Democratic presidential debates, in which week after week the party painted itself as deeply progressive. The candidates were down with identity politics, would ban private health insurance, were for essentially open borders. I wrote wonderingly after the first debate that the entire party seemed to have picked itself up and placed itself down outside the mainstream and apart from the center.
Clearly, Noonan is a genius because she agrees with me. So does Ira Leavitt – have a look.
I watched all the debates and cringed visibly and painfully every time the candidates swore obeisance to the far left, knowing they were alienating middle America.
This story got worse.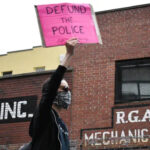 Following the murder of George Floyd people were and still are in the streets demanding that we "Defund the Police!" Cooler heads are doing the, "What they really mean is . . . " dance, but however justifiably impassioned people are, the words are clear. And idiotic. And off-putting to voters in the middle.
All of that has provided the manure-fertilized feed stock needed by the radical right. For example, they said that if Biden were to win, the extremist elites will force socialism on your country, your taxes will soar, criminals will pour across our borders to harm you, bloated central government socialism will dictate your children's future, you'll dial 9-1-1 and nobody will answer and did I mention socialism? Wait, you're doubting that claims like these – scare tactics – were made over and over and that they terrified moderates and convinced even some informed people to vote against the Democrats? Look it up and horrify yourself.
That stuff scared the hell out of the 6 – 18% of moderate voters who decide our elections. They are – did I mention? – moderate. They don't like extremism or extremist ideas. If you want to drive them away, tell them you're going to turn their world upside down. They will immediately turn to whatever or whoever is familiar, however spineless they know him/her to be, because it feels stable and safe.
Adios Blue Wave.*
Democrats almost never miss an opportunity to miss an opportunity.
Biden won, but absent the abhorrent Trump, he would have lost in a landslide. Now he'll have to figure out how to govern with one or two hands tied behind his back, thanks to the far left noisy stupiditude that kept the Senate from being blue.
If you'd prefer not to have four more years of Mitch McConnell's obstructionism and hypocrisy in your news feed, make a contribution to the Democrats in the Georgia Senate run-off elections to be held on January 5. Here's a link.
That Blue Wave had the potential to sweep over the shore and reshape the land. Then the Ds killed it with their extremism and it turned into just a little swell lapping at the shore. It didn't have to be that way. So, Democrats, next time try not scaring the hell out of the people in the middle who will decide the election.
————————-
*Read this to understand our national polarization.
—————————————-
Ed. note: We need to spread the word so that we make a critical difference, so,
Did someone forward this to you? Welcome! Please subscribe and pass this along to three others, encouraging them to subscribe, too. (IT'S A FREEBIE!) Use the simple form above on the right.

Engage in the Comments section below to help us all to be better informed.
Thanks!
The Fine Print:
Writings quoted or linked from my posts reflect a point I want to make, at least in part. That does not mean that I endorse or agree with everything in such writings, so don't bug me about it.
Sometimes I change my opinions because I've learned more about an issue. So, educate me. That's what the Comments section is for.
Errors in fact, grammar, spelling and punctuation are all embarrassingly mine. Glad to have your corrections.

Responsibility for the content of these posts is unequivocally, totally, unavoidably mine.
JA
Copyright 2023 by Jack Altschuler
Reproduction and sharing are encouraged, providing proper attribution is given.