Guns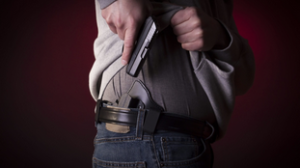 After I had delivered a leadership workshop to an executive group we went to lunch at an upscale suburban restaurant not far from the meeting venue. I sat across a small table from a guy who had a pistol in a holster clipped to his belt. I'm not a gun guy and I felt profoundly at risk, but I tried to be cool about it.
"Why do you carry a gun?" I asked. You could reasonably expect him to have said that he carries it in case a bad guy shows up or an argument became dangerously heated or in case he sees a crime in progress. None of that is what he said.
He said – and I'm quoting him – "Because I can." As in: because it's legal; because the Second Amendment says he can. He was letting me know he has rights.
In fact, everyone I've encountered who is carrying an easily spotted gun and to whom I've posed my question has answered the same way. "Because I can." It's always said with some degree of chip-on-the-shoulder and with bravado bordering on defensiveness.
I can push a broom in a crosswalk on 5th Avenue – that's legal – but the right to do so hardly explains why I would do such a thing. Same for the gun carrying business.
So, I leaned into my questioning of the guy across the table from me at that restaurant, acknowledging he does have a right to carry and asking why he would do so. I then got a series of statements that can be collected in a bucket labeled, "In case something happens." But I don't think that's much more than a small part of his truth.
I think his truth is that carrying a pistol makes him feel strong and powerful and in control. While wearing his pistol he can wear his "Don't even think of messing with me" tough guy attitude with ease.
He's prepared to be a hero – the good guy with a gun who will stop bad guys with guns. He'll be the protector of grannies wheeling their shopping carts across the suburban parking lot. He's ready for a return to the Wild West when people believed that a good old fashioned shoot out solved all problems. Bummer he wasn't on the Michigan State University campus that night to confront the murderer. Pay no attention to the kids who would have been killed in the cross fire.
That's just one of the problems – the price we pay – for that guy carrying in order to feel strong and powerful and in control. Even if he really is a good guy – and I'm pretty sure he is – there are plenty of others who carry a gun for less honorable reasons than protecting those grannies and those students.
They carry firearms and always say, "Because I can," as though saying so makes it sensible for them to have a killing machine strapped to themselves. But every choice has consequences. One of the choices we've made is to let people do that. One of the consequences of that choice played out in East Lansing, Michigan last week.
Nikki Haley

To her cheering attendees, rah-rah sign wavers and applause line clappers at the kickoff rally for her presidential candidacy race on February 15, Nikki Haley said of Republicans,
"We've lost the popular vote in 7 of the last 8 presidential elections. Our cause is right, but we have failed to win the confidence of a majority of Americans."
She was right about all of that – except for the four words about Republicans' cause. The American voting public keeps telling them that their cause is wrong, not right, but Republicans act as though they're deaf. Or perhaps they just don't care about We the People.
Consistently, over 92% of the American public wants universal background checks on all sales of firearms. Half of all Americans want assault weapons, high capacity magazines and more to be outlawed. But Republicans block such legislation from coming to a vote or they vote against it. Republicans never ask Gen-Zs what it's like to go to school feeling like they have a bulls eye on their backs. It wouldn't matter if they did ask, because the Republicans aren't listening to the answers. They're completely wrong on this.
61% of Americans want abortion to be legal, yet Republicans continue to wave their holier-than-thou flag and oppose We The People. They're completely wrong on this.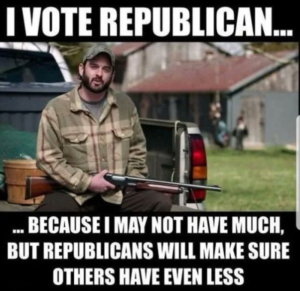 63% of Americans want universal medical insurance – single payer, Medicare for all, just like in all the other first world countries – but Republicans block legislation or vote against it every time. They're completely wrong on this.
85% of the American public wants Social Security but Republicans launch sneaky back stabs to kill it, using dishonest, patriotic sounding names. But a theft of people's security through Republican treachery remains just that. They're completely wrong on this.
Haley is flat out – let's call her "mistaken." Republicans have failed to win the confidence of a majority of Americans and they keep losing the popular vote because their cause is wrong. And only gerrymandering, the theft of voting rights and the existence of the archaic, anti-democratic Electoral College allow them to win any elections at all.
Quotes Making The Point
"Mr. Trump didn't change the Republican Party; he revealed it. Ms. Haley, for all her talents, embodies the moral failure of the party in its drive to win at any cost, a drive so ruthless and insistent that it has transformed the G.O.P. into an autocratic movement." [emphasis mine]
Also,
"There is a great future behind Nikki Haley."
"Haley, like [Lindsay] Graham, House Speaker Kevin McCarthy, Ohio Senator J. D. Vance, and so many others, sees principles as disposable, making her yet another example of why the GOP cannot be trusted with power. Haley knows how to say the right things about how the violence of January 6 was bad, but to this day she refuses to hold Trump accountable, and so there is no way to know if she or any other candidate will withstand the antidemocratic demands of Republican primary voters. For Republicans in elected office, the GOP base is now so hostile to our democratic institutions that loyalty to the Constitution has become an unaffordable political luxury." [emphasis mine]

Tom Nichols, The Pointless Nikki Haley Campaign
The Atlantic Daily, February 15, 2023
"'Absolute Hypocrisy': GOP Unveils Bill to Make Trump Tax Cuts Permanent While Howling About Debt"
Jake Johnson, CommonDreams.org 
February 16, 2023

Addendum

On Friday, February 17 Governor Mike DeWine (R-OH) signed his political death warrant. He's term limited by Ohio law for the post of governor, but whatever other political posts he might be interested in, they are now permanently closed to him.

He spoke in a monotone from the state capitol in Columbus about the massive train derailment that occurred in East Palestine, OH two weeks earlier, one of well over 1,000 derailments we experience each year. His message to residents was largely a pat on the hand, saying that it's safe to breathe the air in town and it's safe to drink water from the municipal water supply and its 5 wells.
That didn't go down well for the residents of the town who were witnesses to thousands of dead fish in the Ohio River, or with some of their fellow citizens with significant skin rashes and respiratory irritation, or with people suffering from strange diseases that somehow coincidentally showed up immediately after the train crash. It wasn't reassuring for citizens who use private water wells and who were terrified for the safety of their little kids. Nobody felt safer about the long term carcinogenic effects of the burning vinyl chloride that spewed black clouds over their town.
Note that DeWine did not drink a big glass of water from the East Palestine municipal water supply during his address to Ohioans. He appeared to do that 4 days later. There has been no reporting on his health following that drink.
His presentation came across as a limp-wristed cave in to the Norfolk Southern Railroad.
I have been a fan of this moderate Republican for a while, but that relationship is over. I'm on the side of the people of East Palestine, OH.
______________________________
Our governance and electoral corruption and dysfunction and our ongoing mass murders are all of a piece, all the same problem with the same solution:

Fire the bastards!

The days are dwindling for us to take action.

Get up!

Do something to make things better.




Did someone forward this post to you? Welcome! Please subscribe – use the simple form above on the right. And pass this along to three others, encouraging them to subscribe, too. (IT'S A FREEBIE!) It's going to take a lot of us to get the job done.


And add your comments below to help us all to be better informed.

Thanks!


The Fine Print:

Writings quoted or linked from my posts reflect a point I want to make, at least in part. That does not mean that I endorse or agree with everything in such writings, so don't bug me about it.
There are lots of smart, well-informed people. Sometimes we agree; sometimes we don't. Search for others' views and decide for yourself.
Errors in fact, grammar, spelling and punctuation are all embarrassingly mine. Glad to have your corrections.

Responsibility for the content of these posts is unequivocally, totally, unavoidably mine.
Book links to Amazon are provided for reference only. Please purchase your books through your local mom & pop bookstore. Keep them and your town or neighborhood vibrant.

JA
Copyright 2023 by Jack Altschuler
Reproduction and sharing are encouraged, providing proper attribution is given.