Required Reading of the Week
John Pavlovitz writes a regular column and his post this week is entitled, One Day to Save America. He's asking the key question, "How much is America worth to you?" Your answer is critically important and, no, it hasn't anything to do with a dollar sign. Read the entire essay and then answer John's question. Your grade on this mid-term exam will be your grade for the entire semester. And the next 4 semesters.
Regret of the Week

Puerto Rico has been slammed by yet another hurricane and power is out over most of the island. There is flooding everywhere. It's so very regrettable that Donald Trump isn't there to benevolently throw paper towels to residents. If only that election hadn't been stolen .  .  .
Pic of the Week
Finally, a special pic for Senator Lindsay Graham, the Official Weather-vane of the United States Senate.
————————————
Our governance and electoral corruption and dysfunction and our ongoing mass murders are all of a piece, all the same problem with the same solution:
.
Fire the bastards!
.
The days are dwindling for us to take action. Get up! Do something to make things better.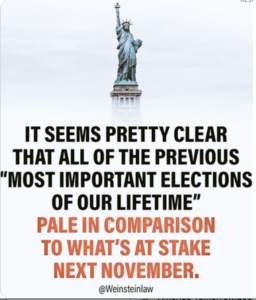 Did someone forward this post to you? Welcome! Please subscribe – use the simple form above on the right. And pass this along to three others, encouraging them to subscribe, too. (IT'S A FREEBIE!) It's going to take a lot of us to get the job done.

And add your comments below to help us all to be better informed.
Thanks!

The Fine Print:
Writings quoted or linked from my posts reflect a point I want to make, at least in part. That does not mean that I endorse or agree with everything in such writings, so don't bug me about it.
There are lots of smart, well-informed people. Sometimes we agree; sometimes we don't. Search for others' views and decide for yourself.
Errors in fact, grammar, spelling and punctuation are all embarrassingly mine. Glad to have your corrections.

Responsibility for the content of these posts is unequivocally, totally, unavoidably mine.
Book links to Amazon are provided for reference only. Please purchase your books through your local mom & pop bookstore. Keep them and your town vibrant.
JA
Copyright 2023 by Jack Altschuler
Reproduction and sharing are encouraged, providing proper attribution is given.