In a stunning cave-in to thug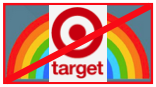 s, Target, the retail department store, chickened out and pulled some of its LGBTQ-friendly merchandise from its shelves. The company has been offering such things for 10 years, typically in June, which is Pride Month. But stores have received threats of violence from LGBTQ haters, which puts both employees and customers at risk.
In a PR scrubbed statement, company spokeswoman Kayla Castañeda said, "Given these volatile circumstances, we are making adjustments to our plans, including removing items that have been at the center of the most significant confrontational behavior." That is to say, they surrendered to the thugs. This all came shortly after Brian Cornell, CEO of Target, had bragged about company actions regarding diversity, equity and inclusion (DEI).
I'll say it differently: Target self-censored not because of law, but because of fear. Score one for the thugs.
We all understand the decision to pull merchandise that extremists apparently think warrants threats of violence. Both such threats and even violence itself are not uncommon experiences in the LGBTQ world. And make no mistake: threats of violence are themselves violence. But, Houston, we have a problem, because the thugs have figured out how to get their way using violence. And it's worse than that.
Leaders in politics, religion, punditry and those performing public temper tantrums have instructed Americans to fear and hate LGBTQ people. People like Ron DeSantis, governor of the hate state of Florida, uses words like "indoctrinate" to make parents afraid of the existence of people who are different from them. With all that stoking of passions of hatred it's little wonder that extremists have amped up both their violence and their threats of violence.
After all, we have politicians publicly encouraging the extremists to hatred and violence. Ask Ruby Freeman and her daughter Shaye Moss about that. All they did was to be election workers and they were besieged with threats from the haters. The thugs banged on their doors, parked their lookout cars in front of their houses for hours in stakeouts and did even more to intimidate these women, to the point where they could no longer keep their jobs or even feel safe shopping for groceries. The thugs threatened them because Republican politicians lied, claiming a stolen election. Now those women live in fear all the time because the street thugs were incited by the Republican political thugs to threaten violence against innocent people.
Thugocracy. That's what we have and as far as I can tell, nobody has a fix for this unless the inciters can be redirected or muzzled. But that's a First Amendment problem that the haters deftly use to continue to stoke hatred.
And all the while they tell us they're Christians. They hate and threaten and do violence just the way Jesus taught them, right?
No, not right! Jesus didn't give any such instruction.
These false Christians do the kind of thing that Bill Maher warns us about. Some of the very worst atrocities in history have been religious wars or violence justified and incited by religion. Think: 9/11; The Crusades; our violence against indigenous people; hundreds of years of slavery.
Self-justification using religion is just the thing to justify getting one's way and now it's being used against LGBTQ people and Target by today's thugs. If fascism comes to America – thugocracy – these guys will make great Storm Troopers.
If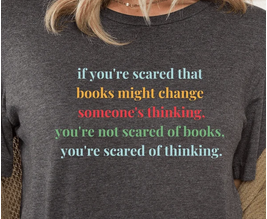 this progresses, expect lots of murders and your own self-censoring, as  you succumb to thugs, just as Target has done. Today's nearly bare library shelves in some Republican controlled states have been made that way by self-appointed, ego-puffing guardians of extremist, delusional versions of correctness. The shelves will be restocked with new publications that have been scrubbed of anything that isn't strictly White and Christian. The new books will contain nothing that even hints at actual history.
Just understand that this thugocracy business is real. It is vexing and it will not go away until we as a society demand that it go away and some strong and determined people strand up for truth, justice and the professed American way. You know: values, like democracy, human rights – all that messy stuff that makes our way of life possible. It's quite unlike thugocracy.
Thugocracy Is The Official Platform

Thugocracy is the formally sanctioned, enthusiastically practiced, democracy crushing policy of the Republican Party. It smells a lot like fascism. See the next section of this post for more.
Their so-called negotiations with President Biden were in actuality designed to ensure that we will become the world's biggest driver of economic and political pandemonium and its biggest economic cheat. Republicans tried to make this more likely by proposing to dump all the pain of budget cuts on low income Americans, which is now Republican dogma.
David Corn of Mother Jones, reports of their proposal that:
"The GOP position literally was this: We will allow the US government to pay its bills—which includes those run up by the Trump administration and a Republican Congress—and avoid an economic calamity, if you stick it to Americans who need help."
But that's just a bleeding heart liberal saying that, right? Not so fast.
Matt Gaetz, (R-Sex Trafficking Accusations) openly described Republican "negotiations" as hostage taking. And the budget proposal Republicans have offered refuses tax increases for the wealthy, cuts the ability of the IRS to go after high wealth tax cheats and it cuts programs for poor and middle class Americans.
And it is all done under the watchful eye of 20 ultra-extremists (not conservatives), any one of whom can bring down McCarthy's speakership and all of whom want to bring down our government and our democracy.
That's thugocracy in action by a Republican minority that has been given enormous leverage by a public minority of haters and grievance whiners.
Can you spot the thugs in this picture?
The Must Read of These Fraught Times
Thugs are working their fascist best to crush all you hold dear.
.
History Professor Heather Cox Richardson has found a way to get the message through to all of us. Her clear explanation is sourced from a U.S. government War Department pamphlet distributed to our troops in 1945, Army Times, Orientation Fact Sheet 64. It is titled:
FASCISM! [emphasis original]
.
There is chaos all around us, including the ongoing assaults on our freedoms and our rights and the minority control by thugs who refuse what We the People want. What do you suppose that's really about?
Read Prof. Richardson's piece quoting the original publication. If you would like to read the full, original 8-page pamphlet just the way our fighting men and women did when they risked their lives in 1945 to save our lives, you can find it here.
Course Note
To pass today's course in citizenship and save our democracy for your children and grandchildren, you must know this material!
There will be a test.
---

Today is a good day to be the light.

______________________________

Our governance and electoral corruption and dysfunction and our ongoing mass murders are all of a piece, all the same problem with the same solution:

Fire the bastards!

The days are dwindling for us to take action. Get up! Do something to make things better.

Did someone forward this post to you? Welcome! Please subscribe – use the simple form above on the right. And pass this along to three others, encouraging them to subscribe, too. (IT'S A FREEBIE!) It's going to take a lot of us to get the job done.


And add your comments below to help us all to be better informed.

Thanks!


The Fine Print:

Writings quoted or linked from my posts reflect a point I want to make, at least in part. That does not mean that I endorse or agree with everything in such writings.
There are lots of smart, well-informed people. Sometimes we agree; sometimes we don't. Search for others' views and decide for yourself.
Errors in fact, grammar, spelling and punctuation are all embarrassingly mine. Glad to have your corrections.

Responsibility for the content of these posts is unequivocally, totally, unavoidably mine.
Book links to Amazon are provided for reference only. Please purchase your books through your local mom & pop bookstore. Keep them and your town or neighborhood vibrant.

JA
Copyright 2023 by Jack Altschuler
Reproduction and sharing are encouraged, providing proper attribution is given.