Sen. Edward "Ted" Kennedy died in 2009, leaving a vacant Senate seat, which triggered a special election in Massachusetts for someone to serve out his term. Massachusetts Attorney General Martha Coakley became the Democratic nominee to face Republican Scott Brown. He had respectable credentials but – and I say this without snark – he won Cosmopolitan Magazine's 1982 "America's Sexiest Man" contest and it's my belief that's what put him over the top to win the Senate race. That, along with the nude photo and pretty face. Elections are nearly all about the visceral.
Plus Martha Coakley was a dreadfully bad campaigner. However capable she might have been on the job, she couldn't inspire a fly to enter a dumpster behind a restaurant. That sounds a lot like Hillary.
It's undeniably true that Hillary was unfairly and dishonestly pummeled by Republicans (the "vast right-wing conspiracy") for decades. It's also true that she has the intellect, skills and experience to have been a really good president. What she didn't have were strong campaigning skills. She was a dreadful campaigner. Like Martha Coakley. And they both lost.
If you think most people vote based on logical reasoning you need to get out more. Our primary motivation is visceral and you can see that in any MAGA crowd. The Proud Boys and 3-Percenters don't use logical argument to recruit. They recruit on emotion, stoking feelings of unfairness, betrayal and victimhood to turn their prospects into fanatical, prepared-to-murder extremists.
Kansas is another example. That huge turnout against the proposed abortion ban change to the state constitution wasn't just about logical arguments. People were outraged over an abusive state legislature's attempt to take rights from them. It was about anger over betrayal. That emotion gets people out to vote.
Those January 6 insurgents weren't yelling, "I object to Biden's domestic policy proposals." They were all about primitive emotion. That's why they get out to vote in primaries and that gets us their extremist candidates. And Democrats pounding out wonk is what loses elections.
Which gets us back to the quality of campaigning. Trump was terrific at that. He was all gut punches to his opposition and calls for frothy-mouthed hate. In contrast, Hillary put crowds into deep, dreamless slumber.
Her forced cackle of a laugh and stiff delivery, her terrible presentation timing and lack of visceral motivation made for enough obstacles to pull the rug out from under her quest for the presidency, with or without James Comey's stabs in her back. That she got 3 million more votes than Trump is testament to how bad her campaigning was. She could have stomped him out of the country had she had only slightly better campaigning skills.
All of which is to say that we better hope we have strong Democratic campaigners with visceral appeal to beat the democracy stealing extremist Republicans in 2022 and 2024. If you hear Democrats stinking up the campaign stump, putting voters to sleep, tell them to get some presentation coaching so that we don't inadvertently hand the nation over to Viktor Orbán wannabes.
Trumpy Corner
On Monday, August 8 the FBI executed a search warrant on Donald Trump's residence and private club at Mar-a-Lago. Good start.
Here's hoping the next stop is Trump Tower in New York to collect all phones and other electronic devices, boxes of stolen government documents and paper shreds from the plumbing.
————————————
Our governance and electoral corruption and dysfunction and our ongoing mass murders are all of a piece, all the same problem with the same solution:
.
Fire the bastards!
.
The days are dwindling for us to take action.

Get up!

Do something to make things better.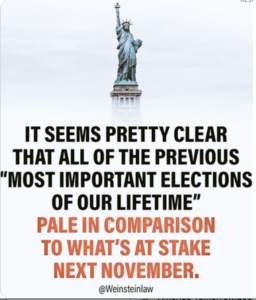 Did someone forward this post to you? Welcome! Please subscribe – use the simple form above on the right. And pass this along to three others, encouraging them to subscribe, too. (IT'S A FREEBIE!)

And add your comments below to help us all to be better informed.
Thanks!

The Fine Print:
Writings quoted or linked from my posts reflect a point I want to make, at least in part. That does not mean that I endorse or agree with everything in such writings, so don't bug me about it.
There are lots of smart, well-informed people. Sometimes we agree; sometimes we don't. Search for others' views and decide for yourself.
Errors in fact, grammar, spelling and punctuation are all embarrassingly mine. Glad to have your corrections.

Responsibility for the content of these posts is unequivocally, totally, unavoidably mine.
Book links to Amazon are provided for reference only. Please purchase your books through your local mom & pop bookstore. Keep them and your town vibrant.
JA
Copyright 2023 by Jack Altschuler
Reproduction and sharing are encouraged, providing proper attribution is given.