Reading time – 3:36; Viewing time – 4:44  .  .  .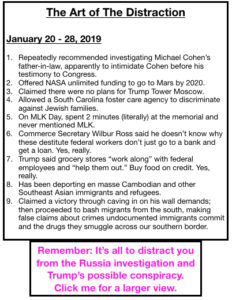 There was massive anger on the part of Bernie supporters after the DNC took several steps that assured that Hillary Clinton would be the Democratic nominee for president in the 2016 election. The result of that was a lot of Bernie voters who protested by refusing to vote for Hillary. Some voted for a 3rd party candidate who had no chance to win; some just stayed home.
Separate from the Bernie protesters, there are huge numbers of people who never vote. When asked why, a common explanation is, "My vote doesn't matter." But is that claim about one person's vote not counting really true? I wondered about that notion, so I did some investigating. The chart below is the result.
The last column shows the number of additional votes it would have taken per precinct in each of three swing states in order for Hillary to have won the election. That's not votes switched from Trump to Clinton; switching votes would cut in half the number of votes needed per district to defeat Trump. This is simply the very small number of voters per precinct in three states – 6 maximum- which would have changed the election, the country and the trajectory of the entire world. And our federal workers would not have been unpaid for over a month.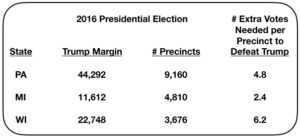 The FBI would have been functioning at full strength and with full resources to protect our country. Coast Guardies and their families wouldn't have had to eat handouts. Children wouldn't have been going without medical care. Renters wouldn't be facing eviction. TSA agents wouldn't have been sleeping in their cars or skipping meds. But all that happened because we got Trump and all the drama and destruction he's caused.
It seems that just a handful of people who thought their vote didn't matter were wrong; their vote mattered a lot. That's one dot.
Do you remember the Steele Dossier? It's the work product of former British MI-6 agent Christopher Steele. The dossier is an intelligence report that contains raw (i.e. un-analyzed) information about Trump and his links to Russia. Some of the material is quite sensational and it's no surprise that Trump and all who supported him have attacked and ridiculed the dossier. But there's just one thing: none of it has been found to be in error.
In a detailed review in Lawfare released in mid-December and written by Chuck Rosenberg and Sarah Grant, they step through the dossier and compare it to what has been learned through public documents, Robert Mueller's pleadings and various other sources. Steele's work stands up. Item by item his raw intelligence has proven to be true.
Let's be both clear and fair: Not everything in the Steele Dossier has been confirmed. It's just that everything that has been reviewed for verification has been confirmed. Nothing has been disproven. Not the conspiracy to affect our election. Not the suspicious money movements. And not the Trump Tower Moscow project and its connections to the Kremlin.
You're well aware that Donald Trump will say and do anything that he thinks serves him and he never lets truth or reality stand in the way of his mouth. So, you can be confident that there will be more denials from Trump and his administration and his transition and campaign personnel about the content of the dossier as more details are confirmed. The facts, though, consistently tell us that the dossier is true and accurate, leaving us with the inescapable conclusion that Donald Trump really is far worse than you think. That's the second dot.
Let's connect all of that to a third dot to see a picture.
We learned in the run up to the the election that Steve Bannon, Trump's chaos whisperer and closest advisor, was wanting to "tear down" the entire establishment of the United States. Can you think of a more effective, non-lethal way to "bring it all crashing down" – Bannon's words – than to paralyze the FBI, the Justice Department and all the rest of government that makes our country function?
It seems that the dossier is true and the events detailed in it led to the intermediate step of a shutdown of our government. That's just what Steve Bannon and Vladimir Putin would have ordered Trump to do. And sadly, we let that happen.
That's the third dot that makes this picture really scary.
————————————
Ed. Note: I don't want money (DON'T donate) or your signature on a petition. I want you to spread the word so that we make a critical difference. So,
YOUR ACTION STEPS:
Pass this along to three people, encouraging them to subscribe (IT'S A FREEBIE!).

Engage in the Comments section below to help us all be better informed.
Thanks!
Copyright 2023 by Jack Altschuler
Reproduction and sharing are encouraged, providing proper attribution is given.