Michelle Goldberg had an interesting piece in the New York Times last Sunday entitled "To Understand The Midterms, Meet Joe and Marie." They are the Republican and Democratic candidates for Washington state's 3rd congressional district seat and, as you likely suspect, they are quite different from one another.
Goldberg explains that Joe Kent has
.  .  . attempted a dance that's become common in today's G.O.P.: remaining in the good graces of the far right while putting some distance between himself and its most abhorrent avatars.
It's like the now common, phony Republican candidate dance around abortion, attempting to mask how foamy-mouth wacko they're against it. Then, having pulled a fast one on voters to get elected, they plan to let fly their true inner goggly-eye wacko.
In contrast, Marie Gluesenkamp Perez is running a straight campaign, saying what she believes and giving indication of how she will represent the voters, emphasizing abortion rights and protecting democracy.
Goldberg uses the entire center spread of the Opinion section of the Sunday paper to flesh out what's happening in Washington's 3rd . Not surprisingly, the fuller reality is freakier than the short paragraphs above suggest. Goldberg reports:
Here's what Kent [said he] intends to do in his first two years in office:
"Impeachment, obstruction and oversight. The Biden agenda dies off in the crib."
In his speeches Kent promised to impeach
"Biden on Day One, and then Vice President Kamala Harris ('one of the lead fund-raisers for antifa and B.L.M. during the summer of 2020'), Attorney General Merrick Garland and the Secretary of Homeland Security, Alejandro Mayorkas."
At [a] town hall, he emphasized his willingness to shut down the government: "I used to work in the federal government," he said [he is a former Green Beret]. "It can shut down. It's really not a big deal."
Kent promised to hold Anthony Fauci "accountable" for the "scam that is Covid." "Criminal charges," said Kent. But what charges, I asked. "Murder," he replied, as if it were the most obvious answer in the world.
It's messy and awkward quoting someone who is quoting someone else, so apologies to Goldberg for my quotation mark clumsiness.
Meanwhile, you've just read a fine litany of the insanity and dishonesty that is today's G.O.P. It's a continuous loop of imagined and contrived grievances and absurd, tough guy payback. I mean, does Kent actually believe that Congress will impeach all those people? What are their high crimes or misdemeanors? Wait – scratch that last question. That was my mistake – I was being logical.
And Kent says he wants to go back to a full court press of obstruction so that nothing We The People want will come about. Welcome back to the Obama years dealing with the GOP Congress, the party of NO:
NO to all Democrats and Democratic policies, even if they're identical to Republican ideas
NO to anything that will deal with our substantial national challenges
NO to everything that supports democracy
NO to kids being safe in school
NO to reproductive freedom for pregnant women and NO to anyone who wants to use any form of contraception other than the rhythm method
Old Joke:
Q. What do you call people who use the rhythm method of contraception?
A. Parents
Just get used to NO. If the Republicans gain control of even one house of Congress, NO is what we will have voted for.
And wait: Anthony Fauci is a murderer?
Just to be clear, having been a Green Beret doesn't make Kent a congressional or budgetary genius or an expert on the price that is paid when the G.O.P. shuts down the government – AGAIN! – basically giving the finger to all 330 million of us.
But he's right about one thing: Blathering this angry, baseless, stupid stuff in red and red-leaning areas, then being Jim-Jordan-Marjorie-Taylor-Green inflammatory is the way to get and stay elected. But that leaves us with having to deal with the Trump manipulation contrivance:
They spew a continuous fire hose of reality-free absurdity (commonly called bullshit) at a pace that prevents factual refutation – like the Kent idiocy listed above. Besides, their inflammatory lunacy appeals to voters driven by victim-hood.
So, how does one campaign against these Loony Tunes cartoon candidates? How can a reality-based candidate engage with voters poisoned by hateful G.O.P. fantasies? How can you even have a conversation or debate with people who believe the unreal and who wear a chip on their shoulder as though it's a badge of honor?
These are the people vying to take control of our school boards, our library boards and our local, state and federal governments. They want to subjugate the rest of us in their puritanical, totalitarian horror show. That's what's at stake in the November midterm election and in every election for the next "who knows how many?" years. This is no sprint. This is a marathon of colossal duration and monumental consequences and we must win every race or everything you hold dear will be lost.
————————————
Our governance and electoral corruption and dysfunction and our ongoing mass murders are all of a piece, all the same problem with the same solution:
.
Fire the bastards!
.
The days are dwindling for us to take action. Get up! Do something to make things better.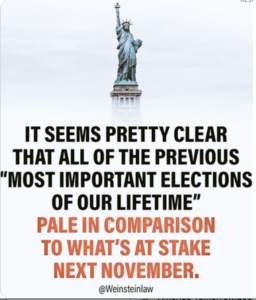 Did someone forward this post to you? Welcome! Please subscribe – use the simple form above on the right. And pass this along to three others, encouraging them to subscribe, too. (IT'S A FREEBIE!) It's going to take a lot of us to get the job done.

And add your comments below to help us all to be better informed.
Thanks!

The Fine Print:
Writings quoted or linked from my posts reflect a point I want to make, at least in part. That does not mean that I endorse or agree with everything in such writings, so don't bug me about it.
There are lots of smart, well-informed people. Sometimes we agree; sometimes we don't. Search for others' views and decide for yourself.
Errors in fact, grammar, spelling and punctuation are all embarrassingly mine. Glad to have your corrections.

Responsibility for the content of these posts is unequivocally, totally, unavoidably mine.
Book links to Amazon are provided for reference only. Please purchase your books through your local mom & pop bookstore. Keep them and your town vibrant.
JA
Copyright 2023 by Jack Altschuler
Reproduction and sharing are encouraged, providing proper attribution is given.