Did You Ever Wonder .  .  .
.  .  . how the former Criminal-in-Chief has gotten away with so much obvious lawlessness for so long? Here's an excerpt from Sheila Markin's explainer, One Two Punch for Donald Trump:
Of course, the reason he has gotten away with so many travesties is that he was shielded by Republicans who were eager to use his power as president to get power for themselves and benefits for their ultra wealthy funders [emphasis mine]: tax cuts for the wealthy, right wing judges on the federal bench to protect corporate interests, culture war victories, a border wall instead of a reasonable border policy, the end of women's reproductive rights to keep evangelicals loyal voters and an undercurrent of threat from white supremacy mixed with militias to keep low information aggrieved white men happy. Next, Trump knows how to talk out of both sides of his mouth as every good crime boss does, which allows him plausible deniability. And third, it takes time for investigations to be carried out when they are done thoroughly, factually, and investigators follow the rules which they must do to have an unbeatable case.
More is needed to explain Trump's years of alleged money laundering, stiffing of contractors and lawyers, bribing skin dancers and calling it a campaign expense and far more, but you get the idea. Meanwhile, I find the part about his Republican shields (a.k.a. cowards and jellyfish) to be most interesting, what with the lying and reality denial. If you want to understand more of how lying became not just acceptable to, but required of Republicans, be sure to read Carlos Lozada's piece, The Big Joke That Became the Big Lie.
Lozada defines the Big Joke as, "the idea that American politics is, in essence, a joke, and that it can be treated as such without consequence." He goes on to give examples of the Big Joke, as when,
"politicians publicly defend positions they privately reject"
"they give up on the challenge of governing the country for the rush of triggering the enemy" ["own the Libs"]
"they intone that they must address the very fears they have encouraged or manufactured among their constituents"
"their off-the-record smirks signal that they don't really mean what they just said or did"
Read the piece. I promise that you will not laugh at the joke.
Meanwhile, the good news is that our very own supremely bad guy – the former Criminal-in-chief – is going down in at least a half dozen really nasty ways. Be patient and be ready to celebrate. I already have a special post prepared for his first of many courtroom defeats. And that's no joke.
Speaking of Criminals
Republicans have entered a new phase of national sabotage by threatening to refuse to fund the government unless President Biden and the Democrats reverse all their policies.
Yes, really: All!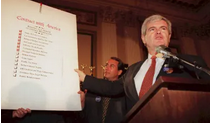 This refusal to raise the debt ceiling is a favorite bludgeon Republicans use to try to get their way with Democrats. Basically, they threaten to hold their breath until they turn blue (fine with me) unless they get what they want. They've been playing this self-destructive game since Newt "Mr. Amoral" Gingrich was Speaker of the House in the 1990s, slyly fingering his never executed "Contract With America". He and his phony, power grabbing posse acted as though there weren't always a contract, an obligation of Congress to the American people. But there was and there is. Back then Clinton was president and he was a Democrat, so the extremist Republicans shut down the government. Twice.
To review, raising the debt ceiling (done over 100 times since it was first a thing roughly 100 years ago) is simply allowing our government to pay its debts that it has already incurred. It's like paying your credit card bill. Raising the debt ceiling is not more government spending. It's avoiding being a deadbeat. Congress did it 18 times under Reagan and 3 times under Trump. But last year under Democratic President Biden the Republicans refused to pay our bills and they're refusing again this year. Are you seeing a pattern?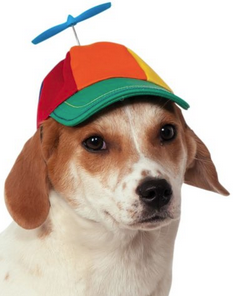 But that's not important to Republicans. Their propeller hats are spinning wildly now, as are their eyeballs, glorying in this wonderful opportunity to show everyone how testosterone-y they are.
The Senate passed a short-term extension of government funding to December 16. During the week prior to that date look for a most entertaining spectacle of Republicans wildly
grabbing the big gun to see who can shoot more holes in America's foot, telling the world that we are a most undependable nation. "Don't trust us," they'll tell the world, "because we'll Trump you with non-payment of our debts."
This is yet another example of why Republicans must be defeated at the polls. That happens in just 37 days and you are the engine that will make that happen.
Speaking of Criminals – Again

22-year-old Mahsa Amini died while in the custody of the Morality Police in Iran following her arrest for improperly wearing the hijab last month. As I understand it (let me know if I have this wrong), the requirement for wearing the hijab is based on the well known fact that the very sight of a woman's hair can cause men to go mad with lust. Anything they might do under such a spell is the fault of the uncovered woman. It's quite like the rapist's defense, claiming that the way she was dressed or acted caused his assault.
Shifting to a national perspective, our insurrectionist thugs and our Republicans would have us believe that their malfeasance, like sedition, is someone else's fault.
I think I've been clear on these pages that accountability – personal responsibility – is a real thing and that there is a price that must be paid for wrongdoing.
So, MAGA boys, even if you think there are elites controlling poor, oppressed you, even if you're the most absolutist pickup truck driving, AR-15 toting, Jim Crow loving cowboy, you may not threaten, attack or kill others and claim that the elites or Democrats made you do it. You're just a criminal thug blaming someone else for your crimes.
Hey Merrick! Make those guys pay the price.
On the other hand, perhaps we can export the "blame somebody else" types to Iran. I'm sure they'll love it there. Maybe the rest of the Republicans will go, too. They can blame any women who are not wearing the hijab and get away with their cruelty.
Hypocrisy of the Week
Ron DeSantis was elected to Congress in 2013 and proudly voted against a $9.7 billion federal flood insurance assistance package for the victims of Hurricane Sandy in New York and New Jersey. Now, as governor of Florida, he's begging President Biden for emergency help for his state. DeSantis explained, "We all need to work together, regardless of party lines."
Funny how things work differently when DeSantis is the one in need. Insert your own label for him in the Comments section below.
DeSantis is a "drown government" guy. Leave everything to the private sector – "the market," he believes. I'm just wondering what part of "the market" is going to pony up $90 billion to glue Florida back together and help all those suffering people.
Required reading on this topic: The White Man's Burden, Revisited, by Ed Gurowitz.
————————————
Our governance and electoral corruption and dysfunction and our ongoing mass murders are all of a piece, all the same problem with the same solution:
.
Fire the bastards!
.
The days are dwindling for us to take action. Get up! Do something to make things better.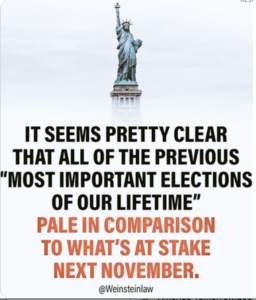 Did someone forward this post to you? Welcome! Please subscribe – use the simple form above on the right. And pass this along to three others, encouraging them to subscribe, too. (IT'S A FREEBIE!) It's going to take a lot of us to get the job done.

And add your comments below to help us all to be better informed.
Thanks!

The Fine Print:
Writings quoted or linked from my posts reflect a point I want to make, at least in part. That does not mean that I endorse or agree with everything in such writings, so don't bug me about it.
There are lots of smart, well-informed people. Sometimes we agree; sometimes we don't. Search for others' views and decide for yourself.
Errors in fact, grammar, spelling and punctuation are all embarrassingly mine. Glad to have your corrections.

Responsibility for the content of these posts is unequivocally, totally, unavoidably mine.
Book links to Amazon are provided for reference only. Please purchase your books through your local mom & pop bookstore. Keep them and your town vibrant.
JA
Copyright 2023 by Jack Altschuler
Reproduction and sharing are encouraged, providing proper attribution is given.