Gov. "Bang-Bang" Abbott of the Shooting Gallery of Texas said he was livid at his press conference following the Uvalde massacre, this because he didn't get the full, straight story about police actions, if there were any. His cops and his hand picked public safety officials had essentially snow jobbed him, he told us. Of course, we understand anger over not getting a straight story, because most of the time it's impossible for us to get a straight story from Abbott. That makes lots of people livid.
If he's livid it may be because this time he got caught as an accessory to the murders of school kids by a really well equipped, Texas authorized shooter. You know, body armor, two AR-15s and lots of ammo, stuff that Abbott wants troubled 18 year olds to have. Of course, Abbott didn't have what it takes to give us the straight story about that. What we know is that he was livid about looking foolish, mouthing bad information – so very sad for his ego. He gave no indication that he was livid about 19 dead kids and 2 dead teachers. In fact, when he told us he was livid they were still trying to identify those little corpses and eventually had to resort to DNA matching, but he didn't mention that.
Still, right then and there Abbott promised mental health services for survivors in Uvalde. That's great, because those people are hurting terribly. It will be generations before the people of that town get over this catastrophe, if, indeed, those folks ever do.
It's wonderful that Gov. Abbott is promising mental health assistance right there in Texas, which ranks 4th in the nation in prevalence of mental illness, but last in access to care. Plus it's going to be tougher and extra awful for the suffering people of Uvalde, because Abbott can't possibly provide the help he bragged about. That's because he recently chopped the state budget for mental health services by $211 million. It seems we're back yet again to that business of not being able to get a straight story from Gov. Greg Abbott.
Besides his phantom mental health support, it's noteworthy that last year Abbott boasted of having signed at least 7 new laws making it easier for Texans to get guns, including one that allows people to carry handguns without a background check, without training and without a permit. Just buy, load and go. More recently he urged Texans to buy more guns because a report said that there were more guns in California than in Texas. Gotta love his competitive spirit. Bang bang.
All of that is in the wake of 23 shoppers killed at a Walmart in El Paso, 10 kids killed in their school in Santa Fe and 26 churchgoers shot dead in Sutherland Springs. Now 19 kids and 2 teachers in Uvalde have been murdered. Read this and this if you want to understand how deeply objectionable this guy is and exactly why people like you and dead gun victims simply don't matter to him.
I pick on Gov. Abbott for several reasons, chief among which is that he deserves it. I want to be bigger about this, but the truth is that I enjoy verbally beating the snot out of this guy – or any guy – who's all about promoting himself in the face of the ghastly price paid by others for his bravado. He's a placeholder for all the "real man" chest thumpers and the "my rights and my freedom" guys who still have not figured out that there are a lot of other people just beyond their noses who also have rights.
Like the right to not get murdered. We'd like for our kids to have the right to stop having to do active shooter drills and for our elderly loved ones to have the right to go shopping without it being a death defying act. We'd like for all the you-and-me regular folks to have the right to go to the entertainment district and not get killed by a monster with weapons in his hands made possible by Gov. Greg Abbott and others just like him. I pick on Gov. Abbott because he is a self-righteous tyrant and promoter of death who deserves a verbal thrashing.
We'll do well to admit that Gov. Abbott and other officials like him, as well as ordinary citizens described in the above paragraphs, are people who we'll never persuade, so we'll have to over-power them. That means that way more of us will have to vote.
To our gun culture enthusiasts:
.
I get that having and firing a handgun or hunting rifle or assault rifle is fun. It makes young men and lunatic congressmen and women feel powerful, in charge, important. Gun culture is intoxicating. But here's the thing: If I care at all about the pleasure you or anyone gets from owning, handling and firing guns, it isn't even in the same universe as my care for little kids sitting at their desks at schools or grannies shopping or people in church or doctors and nurses at their hospitals.
Your right to own and fire your guns isn't even remotely as important as our right to life, as described in the Declaration of Independence as an unalienable right. That means that you are not allowed to kill anybody. Your puffed chest Second Amendment right is way behind others' right to safety.
.
Quoting Peggy Hamburg, former FDA commissioner, "If you don't see the light, you will soon feel the heat."
.
The day is coming when all of this will be self-evident. Greg Abbott will be long gone, as will Ted Cruz and all the knuckle dragging congressional and state legislative candidates firing or handling guns in their campaign ads. Be clear that I respect the guns – they're dangerous – but I don't respect those people.
They're not protectors from a tyrannical government, nor do they protect us from immigrants or from anyone else. What they do is to endanger We The People every day.
These chest thumpers are not the opponent; they are the enemy of American public safety. Some day they must be defeated.
We can hasten the arrival of that day. Indeed, we must hasten the arrival of that day, because over 100 Americans are dying by gunfire every day.
From DO SOMETHING! – Part One:
What creative ideas do you have to get candidates elected who are bold enough to pass meaningful, sensible laws to protect our children and grannies and church goers and concert and movie attendees and .  .  .  wait .  .  .  that's all of us.
Which candidates will you phone bank for? Will you send out election reminder post cards? How about kicking in a few bucks to a congressional candidate in a swing state? You can even do something to elect state legislature candidates who think my little granddaughter and other school kids shouldn't have to do active shooter drills. Here's a link to The States Project. These folks are all about that and you can make a difference that just might keep people from getting killed.
Remember: To Fire the bastards! (see below) we have to replace them with good guys. That's about promoting the right people and voting. That's on us.
Key Words: DO SOMETHING!
.
Like

March For Our Lives

– June 11
.
Click the button to be directed to the closest march to you.
.
June 11 – BE THERE!
.
Must Reads
How Greg Abbott and Under 4 Percent of Texans Are ruining the State for the Rest of Us
The Epidemic of Mass Shootings is Neither Inevitable Nor Unsolvable
Post Script

After little kids and grannies were massacred, after dozens of concert attendees were mowed down, after multiple murders in churches, synagogues and mosques, how can it be that there is any political resistance at all to laws to protect us from these killing machines and from homicidal maniacs?
What has happened to us such that we know what to do and yet steadfastly refuse to do it?
Have no misunderstanding, no fog of ignorance: This is a test. It is a test of who and what we care about, what we value, what is precious to us. The answer to the single test question is not yet another string of hollow platitudes or another chest thumping, self-serving speech. The question is critical. I fear the answer.
————————————
Our governance and electoral corruption and dysfunction and our ongoing mass murders are all of a piece, all the same problem with the same solution:

Fire the bastards!
.
The days are dwindling for us to take action. Get up! Do something to make things better.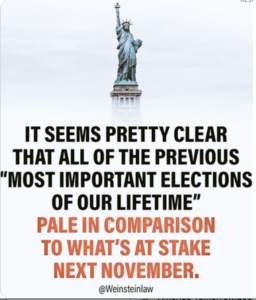 Did someone forward this to you? Welcome! Please subscribe – use the simple form above on the right. And pass this along to three others, encouraging them to subscribe, too. (IT'S A FREEBIE!)

And add your comments below to help us all to be better informed.
Thanks!

The Fine Print:
Writings quoted or linked from my posts reflect a point I want to make, at least in part. That does not mean that I endorse or agree with everything in such writings, so don't bug me about it.
There are lots of smart, well-informed people. Sometimes we agree; sometimes we don't. Search for others' views and decide for yourself.
Errors in fact, grammar, spelling and punctuation are all embarrassingly mine. Glad to have your corrections.

Responsibility for the content of these posts is unequivocally, totally, unavoidably mine.
Book links to Amazon are provided for reference only. Please purchase your books through your local mom & pop bookstore. Keep them and your town vibrant.
JA
Copyright 2023 by Jack Altschuler
Reproduction and sharing are encouraged, providing proper attribution is given.