Reading time – 2:28; Viewing time – 3:43  .  .  .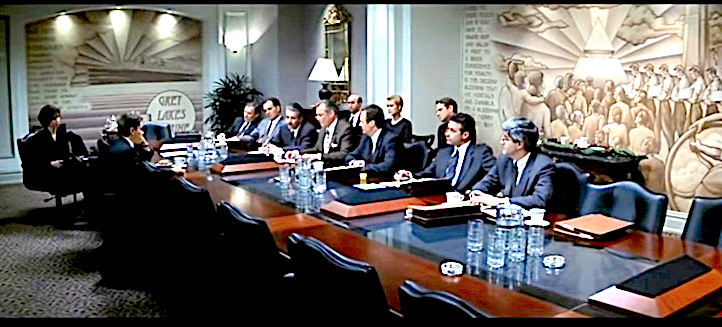 In the 1997 movie The Rainmaker, Matt Damon plays the part of a rookie attorney up against an army of lawyers for the defense. He attempts to take depositions from employees of the company he's suing, but is repeatedly told that the people he intended to depose are no longer with the company. It's clear from the proceedings that the defense is employing slimy tactics to thwart Damon's efforts. At last he asks the chief defense lawyer, "Do you even remember when you first sold out?" That question has sad application today.
In Sheila Markin's current post she writes,
Republican Senators know full well how dangerous Trump is and say so behind closed doors, but they will not act to counter him because they think their constituents support Trump. These Senators believe they need to follow the will of their voters and that if they do not, they will face a primary challenger. They may be right. Notice that Lindsey Graham used to push back against Trump but when he did that his poll numbers with Republicans were in the dumper. It was clear that he could get primaried. Now that he is a Trump sycophant, his approval with Republicans in his state is up to 70%. Instead of defending democracy, instead of teaching his constituents to think differently, Graham has gone to the dark side.
Think about Rep. Devin Nunes (R-CA) and his transparent antics last year. As chairman of the House Intelligence Committee, instead of doing his job of leading a serious investigation into possible nefarious Russian connections to the Trump administration and campaign committee, he put all his efforts into protecting Trump. That included his laughable theatrics about an urgent "newly discovered" memo, which we learned shortly thereafter he had picked up from the White House the evening before. He refused to subpoena or even call many key witnesses and prevented the challenging of witnesses who refused to answer questions, claiming a privilege that doesn't exist. Some witnesses lied and weren't held accountable.
I understand the self-preservation urge these legislators feel, but that wasn't part of their oath of office. They swore quite specifically to protect and defend the Constitution of the United States against all enemies, foreign and domestic.
Even if they don't think the President is an enemy, 17 of our intelligence agencies have stated unequivocally since 2016 that Russia and its agents cyber attacked and are continuing to cyber attack the United States. That shifts them from the category of adversary to enemy of our country.
Many of our Republican legislators have turned a blind eye to that. They have refused to carry out the actions required by the oath of office to which they swore and instead, through their inaction, have supported the obstructions created by this president. And he remains the target of a counter-intelligence investigation for very threatening reasons. Perhaps the refusal of these legislators to stand up to Trump, even for national security reasons, really will ensure they won't get primaried. But what about our country?
These people know exactly what they're doing.
Do they even remember when they first sold out?
Late addition:
Watch the vote in the House on the bill to stop the President's national emergency power grab. There is nothing conservative about such a move; indeed, when President Obama did things far less of a reach he was excoriated by Republicans, so they should vote to stop Trump, one and all. But most won't.
Then watch the delay shenanigans in the Senate on that bill. They will pull every procedural trick out of obscurity to avoid taking a stand. When the delays are exhausted, the bill might pass, but many Republicans will vote against it – or I should say, they will refuse to stand up to Trump. As The Rainmaker attorney asked, "Do they even remember when they first sold out?"
                      ————————————
Ed. Note: I don't want money (DON'T donate) or your signature on a petition. I want you to spread the word so that we make a critical difference. So,
YOUR ACTION STEPS:
Pass this along to three people, encouraging them to subscribe (IT'S A FREEBIE!).

Engage in the Comments section below to help us all be better informed.
Thanks!
Copyright 2023 by Jack Altschuler
Reproduction and sharing are encouraged, providing proper attribution is given.