Stop the Presses!
Before we get to the meat of today's post, please watch this most timely video. You'll know what to do after that. Then, come back here for the aforementioned meat.
‾‾‾‾‾‾‾‾‾‾‾‾‾‾‾‾‾‾‾‾‾‾‾‾‾‾‾‾‾‾‾‾‾‾‾‾‾‾‾‾‾‾‾‾‾‾‾‾‾‾‾‾‾‾‾‾‾‾‾‾‾‾‾‾‾‾‾‾‾‾‾‾‾‾‾‾‾‾‾‾‾‾‾‾‾‾‾‾‾‾‾‾‾‾
Don't Tell Me
You remember Popeye cartoons, I'm sure. Our hero would be going about his business but then would be attacked by the bully, Bluto. Sometimes Bluto would try to kidnap Popeye's girlfriend, Olive Oyl. Bluto would beat Popeye to a pulp. Then, at last, Popeye would down a can of spinach and declare, "That's all I can stands. I can't stands no more!" and he'd proceed to apply some accountability to Bluto.
Well, I've reached my Popeye Point (again), where I can't stands no more. So, put on your thick skin and protective eye wear, strap in and let's go. This is for people who ostentatiously claim that they are Christians, as though that explains and excuses whatever they do.
Don't tell me you're a Christian if you're spewing hatred at innocent people or objecting to a hearing for terrified asylum seekers.
Don't tell me you're a Christian and pro-life if you approve of the death penalty or you applaud the murder of abortion providers. And you're not pro-life if you proudly deny food to poor children. Or you ignore high infant and maternal mortality rates, especially for poor women and children. Or you oppose gun safety legislation. I will concede only that you are pro-fetus and really don't give a damn about kids after the moment of birth, even in the gruesome reality of Sandy Hook and Parkland.
Don't tell me you're a Christian if you plot to assassinate politicians or you lie about elections being stolen. And no, you can't hide behind claiming you were duped. You're not that dumb. You're just horribly lazy, willfully gullible and, pathetically, you need to see yourself as a victim.
Don't tell me you're a Christian if you raised your arm and yelled "Seig heil!" or if you think there were "fine people on both sides" at Charlottesville. Or if you just turned away as babies were ripped from their mothers' arms at the Rio Grande.
Don't tell me that you're a Christian if you voted for Donald Trump even after hearing him brag that he can "grab women by the p%$$y" and after hearing at least 19 women credibly accuse him of sexual assault. Or after his multiple hateful Muslim bans. Or after hearing his idiotic and murderous solutions to Covid, like injecting bleach or taking hydroxychloroquine, distractions that caused hundreds of thousands of extra deaths.
Don't tell me you're a Christian if you're making up "grooming" and pedophile lies in order to get haters to donate to your campaign. Or if you donated to any of the liars making such claims.
Don't tell anyone you're a Christian if you're spouting the insane conspiracy BS that Democrats drink children's blood and are pedophiles and sex traffickers and are in charge of a worldwide cabal against White Christians. Instead, just tell people that you've had severe brain damage.
There's more, of course. But your claim of being a Christian is a lie you use as a self-serving ploy, a cheater's shield and a blinder so that you don't have to look at yourself and see who and what you really are.
I love the question you consistently refuse to answer:
What would Jesus do?
Whatever the right answers are, you're doing the opposite.
One more thing: an open-hearted invitation to redemption.
I know this crap has been crammed into your brain, but it doesn't have to stay there. The invitation is for you to take the bold, daring step to think for yourself. Critically. That means no more sleepwalking through your life. No more goose stepping because some hate spewing moron told you to do that. Think for yourself. All the time.
Until you do that, don't tell me anything.
To Everyone Else:
.
This isn't a diatribe against Christianity. It's a rant against hypocrisy.
Those hypocrites from whom I don't want to hear are irredeemable, my invitation to their redemption notwithstanding. We should waste none of our time laboring to get them to reform and to support democracy, because they are intentionally blind. We must hope that their children and grandchildren can be saved from repeating the fear and anger and hatred these people spit on our country.
30% of Americans are in that irredeemable category. Our future depends upon our reaching the other 70%.
Yet More Don't Tell Me

I also don't want to hear smug assertions of apolitical justice from the five radical Supreme Court justices who lied, dissembled and snow jobbed their way through their Senate confirmation hearings so that they can now eliminate Constitutional rights.
I'm talking about the justices who directly said that Roe and Casey were settled law. And I'm talking about the ones who dumped a blizzard of words to lead us to believe that if challenges to those cases came to the Court that they would defeat those challenges. Instead, they all voted to kill Roe, according to Alito's leaked draft opinion. These are the justices who brought their Roman Catholic and fundamentalist Christian beliefs to the bench and are now imposing them on all Americans.
Check me on this:
.
I thought that judges and justices were supposed to rule on cases based on secular Constitutional and legal precedents. Did I get that wrong?
Perhaps the liars should be impeached.
But maybe we should save up for the impeachments, as this extremist, not-at-all conservative Supreme Court majority opens the door to stripping yet more rights from Americans, like voting rights (already in progress), same-sex marriage rights, birth control rights and all manner of privacy rights. Give some thought to what will happen when this court pushes more decisions down to radical, minority controlled state legislatures, which will then imperil even more Americans. Who will save Texans from Texas then?
The real problem is the injury these justices do to the Court, (see this Twitter feed, too) to our country and to the American people with their self-righteous Puritanism.
A Special Message To American Women from the RNC Inquisition

.
"We're sure the Supreme Court Justices will be sorry for all of you who will die or have your lives ruined because of their ruling on Roe. Clearly, these five or six justices and we here in the RNC Inquisition believe deeply that's just God's way. He (not She) works in mysterious ways, you know.
"So, bummer for you, honey. Things will go better if you just subsume yourself into the patriarchy of today's Republican Party and we'll control you. Just keep your mouth shut and be a good little breeder."
Must Reads
John Pavlovitz writes fine, insightful essays, but this one is brilliant. It's a clarion call to all of us. It truly is the time for us to stand shoulder-to-shoulder and hold up the sky. Read his piece and you'll understand.
And do not miss Maureen Dowd's proper contextualizing of the Republican Puritan insanity in today's op-ed, Marilyn Monroe v. Samuel Alito,
Jokes of the Week
Q. Why did the Republican cross the aisle?
A. Don't be silly – they never do that.
Q. How many Republicans does it take to get to the truth?
A. Nobody knows.
Q. What will women do when they have an unwanted pregnancy?
A. They'll pray for divine intervention for a miscarriage and hope they aren't indicted for murder.
Ear Worm of the Week
We took in a Rogers & Hammerstein concert last week and lots of show tunes have been dancing in my ears since then. One is Oklahoma! Unfortunately, a lyric from that song has become polluted by our politics in this way:
"We know we belong to the land,
"And the land we belong to is grand,
as long as you're a straight, White Christian man.
————————————
The days are dwindling for us to take action. Get up! Do something to make things better.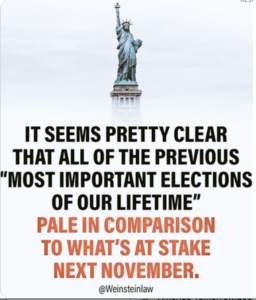 Did someone forward this to you? Welcome! Please subscribe – use the simple form above on the right. And pass this along to three others, encouraging them to subscribe, too. (IT'S A FREEBIE!)

And add your comments below to help us all to be better informed.
Thanks!

The Fine Print:
Writings quoted or linked from my posts reflect a point I want to make, at least in part. That does not mean that I endorse or agree with everything in such writings, so don't bug me about it.
There are lots of smart, well-informed people. Sometimes we agree; sometimes we don't. Search for others' views and decide for yourself.
Errors in fact, grammar, spelling and punctuation are all embarrassingly mine. Glad to have your corrections.

Responsibility for the content of these posts is unequivocally, totally, unavoidably mine.
Book links to Amazon are provided for reference only. Please purchase your books through your local mom & pop bookstore. Keep them and your town vibrant.
JA
Copyright 2023 by Jack Altschuler
Reproduction and sharing are encouraged, providing proper attribution is given.