Bad Moon

John Fogarty and Credence Clearwater Revival sang about it decades ago, perhaps prescient about the dangers that surround us today.
I see a bad moon rising




I see trouble on the way




I see earthquakes and lightning 




I see bad times today


    


Don't go around tonight

 
 

'Cause it's bound to take your life




There's a bad moon on the rise


I always needed an interpreter to understand Fogarty's words. For example, I thought he said that there's a bad moon "on the right," not "on the rise." If he had sung it the way I heard it, he'd be exactly right for today's America, although his way is pretty accurate, too.
That bad moon on the right brings hatred, lies, hypocrisy, lost integrity and an imminent threat to our very democracy and threats of violence and death to our fellow citizens. But you know that, just as Fogarty seems to have known it in my misinterpretation of that line in his song.
We have 6 days left to stop that bad moon on the right and make the difference that must be made.
American Psychosis
Yes, of course we're psychotic. That's what explains all the reality denial and our pronounced sociopathy, like that self-deluded thug smashing Paul Pelosi's head with a hammer. We've been down this Alice in Wonderland rabbit hole many times and somehow we've survived it. All we had to do was to tolerate the death and destruction and voilà! everything was just fine again.
Like the Civil War, when half the country violated its sacred word, violated its oath and attacked the other half of our country. We only had to tolerate over 600,000 dead and many times that number wounded, hobbled, disfigured for life or insane.
Like over 86 years of Jim Crow lynchings – 4,743 of them according to the NAACP – and those are just the documented lynchings. And, of course, there was the terrorizing of millions.
Like the hatred and violence unleashed on various immigrant groups, like the Catholics, Irish, Italian, Chinese and Jews.
That's just some of what we've tolerated.
In David Corn's book American Psychosis he recounts the cruelty and flagrant dishonesty of America's alcoholic senator, Eugene McCarthy (R-WI). A fellow senator, Millard Tydings (D-MD), described McCarthy's claim about the State Department being infested with communists, saying his charges were "a hoax perpetuated on . . . the American people" and "perhaps the most nefarious campaign of half-truths and untruth in the history of the Republic."
Nevertheless, Republicans back then "viewed McCarthy as a potent weapon to deploy against Democrats." McCarthy supported "a popular revolt against the upper classes," and "accused the Truman administration and Democrats of being traitors to America. He had no evidence, only accusations." Put a bookmark in that: no evidence, only accusations.
Gen. Dwight Eisenhower was campaigning for the presidency in 1952 and was to give a speech in Milwaukee. Included was a paragraph excoriating fellow Republican McCarthy, the insanity of McCarthyism and the spinelessness of the followers of his hatred. That paragraph said that to believe McCarthy was to believe that the government was being run by "men whose very brains were confused buy the opiate of this deceit," meaning the deceit of McCarthy.
But Eisenhower needed Wisconsin votes, so he never spoke those words in public. In fact, even as he deplored McCarthy, he remained silent for years about McCarthy's hypocrisy and the cruelty he set upon good Americans and the very fabric of American values. Even the Supreme Court took a swing at what we profess to be our values by ruling that the First Amendment did not cover communists. Surely you're seeing the parallels to today.
Trump is our McCarthy, the liar, the manipulator, the hatred spewer, the accuser of wild conspiracies without evidence. So, too, are his imitators, suck-ups and opportunists for votes who are doing the same thing, just as happened in the 1950s.
Were Sen. Tydings alive today we surely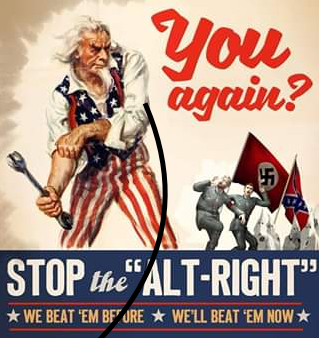 could show him what a real hoax on the American People can look like. He'd have a new take on "perhaps the most nefarious campaign of half-truths and untruth in the history of the Republic," the Nazi-MAGA scourge.
Like the Civil War, lynchings and McCarthyism, our present psychosis – our blood sucking Dracula, in Halloween-speak – will not go away on its own. We've already tolerated too much death and destruction and America's Dracula will continue to attack us and suck the life out of this republic until we take action.
This national vampire must be fought into a coffin and a stake driven through its foul heart so that it can't drain all the blood from America. That's what you're going to do next Tuesday.
From Rep. Adam Kinzinger (R-IL) yesterday:
But I'm also sad this violence [against Paul and Nancy Pelosi] isn't more surprising — just as I wasn't surprised by January 6th.  This is what happens when we're taught that those who disagree with us are existential threats to our survival; when we label our own tribe good and the other evil; when we fail to call out the bad behavior of our own "side" out of loyalty or denial.
We're hearing calls of sympathy, empathy and caring for the Pelosi's from Democrats. The Republicans are made of other stuff and prominent individuals are making up horrible conspiracy stories, they're blaming the victim and refusing even a hint of concern for the Pelosi's. Likewise, they haven't concern for any of the Democrats or their families who receive a near constant stream of death threats prompted by Republicans' dreadful demonizing. Republican politicians can't even muster a, "Sorry that happened to you."
Think about that when you go to vote on Tuesday. Think, "A stake through its heart."
————————————
Our governance and electoral corruption and dysfunction and our ongoing mass murders are all of a piece, all the same problem with the same solution:
Fire the bastards!
The days are dwindling for us to take action. Get up! Do something to make things better.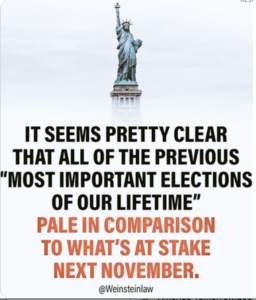 Did someone forward this post to you? Welcome! Please subscribe – use the simple form above on the right. And pass this along to three others, encouraging them to subscribe, too. (IT'S A FREEBIE!) It's going to take a lot of us to get the job done.

And add your comments below to help us all to be better informed.
Thanks!

The Fine Print:
Writings quoted or linked from my posts reflect a point I want to make, at least in part. That does not mean that I endorse or agree with everything in such writings, so don't bug me about it.
There are lots of smart, well-informed people. Sometimes we agree; sometimes we don't. Search for others' views and decide for yourself.
Errors in fact, grammar, spelling and punctuation are all embarrassingly mine. Glad to have your corrections.

Responsibility for the content of these posts is unequivocally, totally, unavoidably mine.
Book links to Amazon are provided for reference only. Please purchase your books through your local mom & pop bookstore. Keep them and your town or neighborhood vibrant.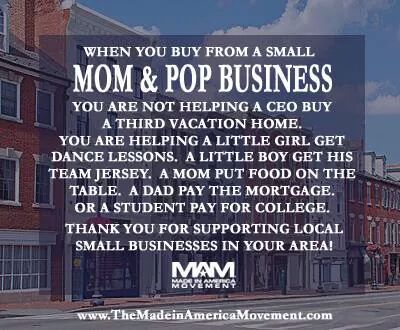 JA
Copyright 2023 by Jack Altschuler
Reproduction and sharing are encouraged, providing proper attribution is given.