Reading time – 4:12; Viewing time – 6:53  .  .  .
My mother was a teen during the Great Depression and came of age during WW II. She was from that generation. Tom Brokaw dubbed it The Greatest Generation and the label stuck, this for obvious reasons.
This was a generation without a sense of entitlement, who followed the rules and simply did what needed to be done, regardless of the risks and hardships. And one of the things that needed to be done was to stop Adolph Hitler from brutalizing  and enslaving the entire world.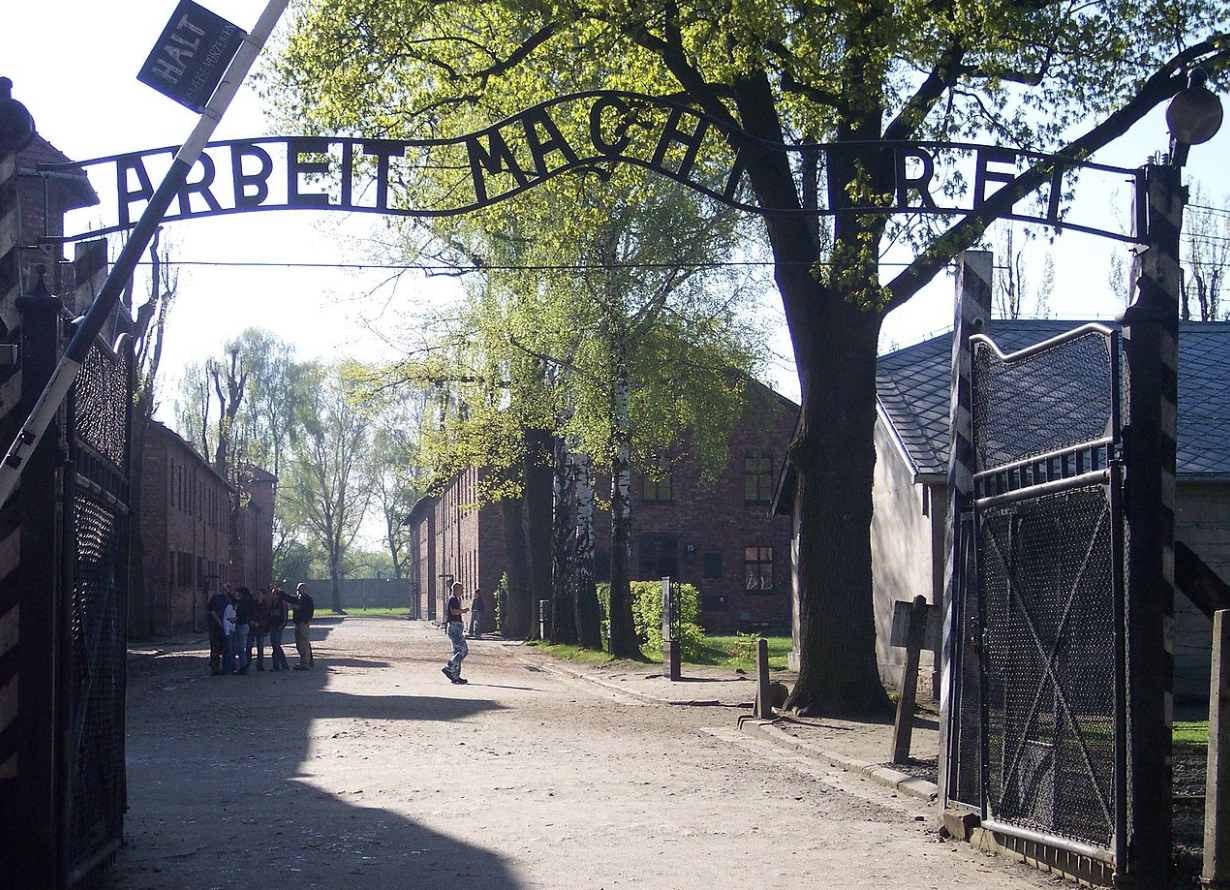 From the late 1940s through early 60s the world repeatedly came face-to-face with the indescribable evil of the Holocaust, as Nazis were found and prosecuted. Most notorious was Adolph Eichmann, the architect of the Nazis' "final solution." The death camps were factories of his design, created to manipulate prisoners so the Nazis' mechanized murdering would be efficient. Efficiency was a proud trait of the Germans, so they put a sign at the entrance to Auschwitz, the murder center in Poland where 1.1 million people were gassed and cremated. That sign still stands and you can see it in the picture on the left.
The words translate roughly to "Work makes you free," suggesting an entirely false and cruel promise for the future, if prisoners would work hard. Both the manipulation and the death were complete.
I recall with frightening clarity a conversation I had with my parents when I was an idealistic teen about those death camp horrors. I was raised in red, white and blue America, land of the free and home of the brave, so I said of the Holocaust, "It's so good that that could never happen here."
My mother gave a start and said (and this is word for word), "Oh yes it could. You better watch out."
I had no idea how she could have said that. I mean this was the country of people wearing the white hats, who are forever the good guys. This is the country that fought and bled and died to kill that hate monster. This is the country of my dad, who, like millions of others, risked his life over and over so we would be free.
Yet now we have a president who proudly tells us that there were good people on both sides in Charlottesville, one side of which was composed of white supremacist Nazis. We have a never ending parade of angry citizens carrying assault rifles to intimidate our people over any and every imagined grievance. And we have protesters who want our entire economy "opened up," regardless of the mortal consequences to tens of millions of us.
They're carrying Nazi flags and declaring how aggrieved they are, this to justify their demands and their hate. The president continues to tell us what good people they are, these swastika brandishing thugs. And not even a single Republican in Congress has the courage or decency to stand up and declare the obvious evil and hate these people are spewing.
There was an "anti-lockdown" protest in Chicago last weekend. It was clearly a temper tantrum aimed at those in government and the dedicated scientists who are working to keep us safe from coronavirus. One woman at that rally carried the sign you see to the right displaying the very words of the sign at the entrance to Auschwitz. Her bottomlessly sad and incongruous companion piece is that her coronavirus face mask is a U.S. flag.
The "JB" on that woman's sign refers to J.B. Pritzker, Governor of Illinois. He's Jewish. I'm thinking that her true message, as for that of the woman in the picture to the left who was at that same protest, has nothing to do with the lockdown and has everything to do with their hatred.
That first woman was asked about her sign and she invoked the "Some of my friends are Jewish" defense, as though that would fully relieve her of responsibility for the vileness of her bigotry. It doesn't. In fact, that claim is proof positive of her hatred, as she carries a replica of the evil, hateful sign at the entrance to Auschwitz. And the President tells us she's one of the "good people."
Don't lull yourself into passivity, thinking these are just fools carrying signs. It's what is in their hearts that matters and we can be confident that they, along with the self-important militias all around the country and the online hate spewers and the Nazi wannabees in their brown shirt costumes and the people who assaulted the Michigan State Capitol building with weapons of war strapped to them as they shouted their hate – all of them long for a totalitarian state aligned with their bigotry.
That's the way genocide starts – every time, everywhere. In other words, we have the seeds of a holocaust right here in America right now.
It turns out that Mom was right. And I'm following her clear direction: I'm watching out.
———————-
Finally,
New projections are in, as two events are happening simultaneously.
The first is that the number of deaths from coronavirus are heading sharply upward. The experts (epidemiologists, not blathering, know-nothing politicians, economists or law professors) tell us that by June 1 over 3,000 Americans will die every day from this disease (a daily 9/11; a Vietnam every 2 months)) and there may eventually be hundreds of thousands of us dead, all things being equal. But all things aren't equal, because at the same time as death counts are skyrocketing, the second event is happening.
At the direction of the President, states are incrementally "opening up," meaning that more people are being allowed to open their businesses. Employees are going back to work and generally lots of us will be exposed to far more people, some of whom are undoubtedly asymptomatic carriers of coronavirus who will unknowingly infect many others. Maybe you.
So, while there is still a moment, I say au revoir to those who are in the coronavirus death bulls eye. Perhaps we knew one another – 'twas great; perhaps we didn't. What's for sure is that now we know that we won't ever meet. One of us will have disappeared permanently. Maybe both of us.
And a large percentage of those who will die long before their time was due will depart thanks to politicians deciding that money and their elections are more important than your life. Too bad for you. And me.
Program note: Look for an explanation on Sunday, May 10 for why we don't do the testing that is mandatory in order to beat this disease.
——————————-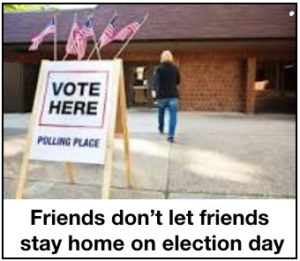 Ed. note: We need to spread the word so that we make a critical difference, so
Pass this along to three people, encouraging them to subscribe (IT'S A FREEBIE!).

Engage in the Comments section below to help us all to be better informed.
Thanks!
The Fine Print:
Writings quoted or linked from my posts reflect a point I want to make, at least in part. That does not mean that I endorse or agree with everything in such writings, so don't bug me about it.
Sometimes I change my opinions because I've learned more about an issue. So, educate me. That's what the Comments section is for.
Errors in fact, grammar, spelling and punctuation are all embarrassingly mine. Glad to have your corrections.

Responsibility for the content of these posts is unequivocally, totally, unavoidably mine.
JA
Copyright 2023 by Jack Altschuler
Reproduction and sharing are encouraged, providing proper attribution is given.