---
Letting loose the behavior geek that resides inside my skin, I'm always trying to figure out what seems impossible to figure out, like understanding why common sense people would say and do self-harming things. Let's start. with an explanation.
The predominant and overriding passion of our time is what Eugene Robinson of The Washington Post labeled "aggrieved victimhood." Whether you agree with the label or the primacy of it, it's here and it's big. I've been 7 years questioning where that comes from.
Here's a piece that was stapled as a late addition onto Part 1:
Maybe you've heard about the song Rich Men North of Richmond. It was written and performed by Oliver Anthony, a guy with no professional music experience and who never had anything on a top 100 chart. But this piece has gone viral – over 47 million listens and over 161,000 comments in less than a month.
Anthony's song tells the story of middle Americans – hard working people – and their suffering at the hands of (in the pockets of) rich guys. The "elite." The cabal of thieves who have taken their country and their dream from them. I urge you to listen to his song and, as important, read the comments. You'll begin to understand the depth of the people's anger that infects this country owing to decades of betrayal .
Did you find yourself doing a "Yeah, but .  .  ." as you read the above or listened to the song? If so, read it again, listen to the song again, and this time imagine that every time you stand up somebody knocks you down, like in those middle America towns that used to have a major employer, but the company moved their production to a foreign country and the town and its families are failing. Rightly or wrongly, people are feeling oppressed.
We human beings don't like getting screwed, which is how so many are feeling, so here's a BFO (Blinding Flash of the Obvious) for politicians and the rich guys who buy them:
People have a Popeye point, the moment when that's all we can stands, we can't stands no more. That's when the spinach hits the fan.
That's what we're seeing from our violent ones.
That's what we're seeing from the ones displaying the hateful and vile hats and signs.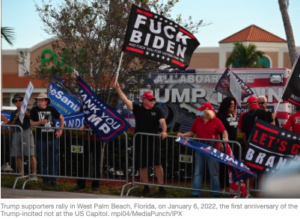 That's what we're hearing in the incoherent insistence that the election was stolen.
That's what the pollsters are finding, even if Trump is in prison on election day.
That's what we're hearing as our fellow citizens crazily insist that it was okay for boxes of stolen documents and Top Secret papers to be hidden in Trump's bathroom, ballroom, unguarded basement storage room and in his desk. They believe it was okay because Trump says the Presidential Records Act says that the documents are his (it says the opposite) and they think that it was okay for him to conspire to defy a subpoena, too.
That's what we saw on January 6 as true believers acted out their anger, believing they were doing a patriotic thing.
Of course, all that and more has happened because valid anger over betrayal was cleverly, deviously, fraudulently channeled inward. So, we must give this fascist devil his due. He is brilliant at mass manipulation, getting otherwise well meaning but angry people to believe lies, that he is one of them, their leader, their savior. They believe that he will lead them to upend the plotters, the conspirators, the thieves who have stolen their country from them. The "deep state." He told them he will be their "retribution." He is the strong man who will defeat the forces of evil and in that way make them strong.
Don't imagine these people are stupid or that they are knowingly acting against their best interests. What they are is duped. Tricked. Manipulated. Cynically used by the manipulator. And they have no idea that a new Trump regime will mistreat them far worse because that's what happens in all authoritarian regimes.
There is a "BUT" to this attempt to understand and it is a sulfurous and dangerous cloud that hangs over all of us. I refer you to Kirk Landers' comment to Part 1 of this series. He wrote,
The only other point I'd add to the conversation is that to understand MAGA, I think you have to start with the concept of the anti-Christ – a religious concept that says the greatest enemy of Christianity is fake Christianity. Trump is the archetypal anti-Christ, even though he's openly stupid and venal. More important, the MAGA hordes are exactly the anti-Christians that the concept feared and loathed.
I agree that these people have a lot to be angry about, but they're looking for validation, not solutions. And that's kind of how we got here – people not wanting facts, just wanting to scream their guts out or shoot off a clip of ammo.
I don't know how you deal with that.
Nor do I. But his construct of fake Christianity echos off the hills telling us a terrible tale, over and over, as we see people doing violent things in the name of the Prince of Peace. As I wrote at the end of Part 1, '.  .  .  there is little as murderous and destructive as fervent religious anger."
What We Have Become is a country where a very large minority has been brilliantly manipulated Mussolini style, Hitler style, Erdoğan style, Orbán  style – charismatic strongman style. A mob energized by the power of anger and hatred. These people feel aggrieved and victimized and they want to hit back and they do so without recognizing that they are hitting back at themselves. As Landers wrote, they want validation, not solutions.
They get their validation in a constant torrent of blood boiling lies and propaganda. That puts fingers on triggers and it's as dangerous as can be.
What We Could Become is limitless. But it can only happen if and when the majority of us stand up to stop the steal of our country by the anti-everything mob. That means that we have to use our power to re-establish that this is a nation laws, not one of high level manipulative criminals. We have to reverse the theft of wealth from the bottom 95% and redirect it to where it belongs. We have to turn the violent, angry monster around and use that energy for what is productive for a democracy. We have to stop allowing ourselves to be used and abused. In short, we have to treat democracy as a verb.
Writes Frank Levy,
I have long since stopped trying to change people's minds. I think the most I can do is get those whose worldview mirrors mine to take action to make the world better for their being born into it.
I think he's talking about you and me.
What We Could Become is the embodiment of the valiant words of our founding documents. So, Teach Your Children Well through your actions, because it will take not years, but generations to set things right. History has shown this to be true. Today is a good day to start.
Need A Dose of Hope?
Read this installment of Steve Schmidt's travelogue and meet Fred. And watch his embedded video all the way through.
---
Today is a good day to be the light
______________________________
Our governance and electoral corruption and dysfunction and our ongoing mass murders are all of a piece, all the same problem with the same solution:

Fire the bastards!

The days are dwindling for us to take action. Get up! Do something to make things better.




Did someone forward this post to you? Welcome! Please subscribe – use the simple form above on the right. And pass this along to three others, encouraging them to subscribe, too. (IT'S A FREEBIE!) It's going to take ALL OF US to get the job done.


And add your comments below to help us all to be better informed.

Thanks!


The Fine Print:

Writings quoted or linked from my posts reflect a point I want to make, at least in part. That does not mean that I endorse or agree with everything in such writings.
There are lots of smart, well-informed people. Sometimes we agree; sometimes we don't. Search for others' views and decide for yourself.
Errors in fact, grammar, spelling and punctuation are all embarrassingly mine. Glad to have your corrections.

Responsibility for the content of these posts is unequivocally, totally, unavoidably mine.
Book links to Amazon are provided for reference only. Please purchase your books through your local mom & pop bookstore. Keep them and your town or neighborhood vibrant.

JA
Copyright 2023 by Jack Altschuler
Reproduction and sharing are encouraged, providing proper attribution is given.