Caution: Offensive and Crude Language
There is an old series of hateful tropes passed along as jokes designed to embolden and inflame the already hateful and to attract new, impressionable recruits. They attack people they see as unworthy and make them an object of scorn. The oldest hatred – thousands of years of it – continues to target Jews.
Here's an example of hate humor that illustrates this. But prepare yourself, because this is truly awful stuff.
Q. What do you call 6 million dead Jews?
A. A good start.
Yes, hatred is as crude and cruel and savage as that. And for those feeling oppressed, marginalized and disrespected, that kind of hate humor is quite appealing. It gives the aggrieved someone to blame – a boogeyman – for their lot in life. It leads to brainlessly shouting "Seig Heil!" and moronically chanting, "Jews will not replace us!" with a bunch of other juiced up skinheads in Charlottesville.
That led to a malicious bigot ramming his car into a protest rally, killing Heather Heyer and injuring 28 others and it led to 11 dead at the Tree of Life Synagogue in Pittsburgh. There are material consequences to hate jokes and hate tropes.
The would-be fascists use violence to get their way. They are increasingly bold and some of them get elected to positions of power. That happens for just two reasons:
Angry people are motivated and they turn out to vote for hateful, angry candidates.
Complacent people, those just going about their lives and not paying attention, don't vote.
That gives the haters the reins of power. And that leads to authoritarians tearing down our democracy, our safety and our way of life. The loss of safety for those hated by the bullies is obvious, but history is full of examples that show that eventually there is loss of safety and freedom for everyone. And all of this leads to radicalized terrorists killing innocent people.
Here's Heather Heyer's final Facebook post:
If you're not outraged, you're not paying attention.
Are you outraged?
Hunter S. Thompson observed during the enormously illegal Nixon years that we were, "America acting on its worst impulses." The same is true for all of the so-called populist tantrums, from the Civil War, to George Wallace standing in the doorway of the University of Alabama to stop Blacks from entering, to the traitorous January 6 insurrection, to today's Republican reality deniers and voter suppressors.
Were Thompson still alive and chronicling our stumbles (some of them forward), he surely would have used his same words for America today. He would have blistering criticism of the reality denial that is rampant in America and the constant claims of victimhood – "America acting on its worst impulses."
Joan Didion said, "We tell ourselves stories in order to live." The haters have their stories that they believe justify their hatred. The fascist lovers have their stories that they believe justify killing democracy and establishing despotic rule. The victimhood lovers always have their fantasies.
And we who believe that America should live up to its promise have our story, too.
.
Our collective safety hinges on the establishment of that story as our true story. The elements required for that include a shared reality, the rule of law and what Thomas Jefferson called "an enlightened citizenry." You already know what lack of an enlightened citizenry does to our country.
Most of us believe in science and learning, knowledge and wisdom, cause and effect. More to the point, too many reject all of that.
Millions more of us are needed for the science, learning, knowledge and wisdom story. Specifically needed are the 33% of eligible voters who didn't vote in 2020 and the 47.8% who didn't show up in 2022.
Without them we are doomed to be repeatedly attacked by the haters and our democracy will always balance precariously on the edge of a cliff – until that balance is lost. Our country, our story, needs all of us right now.
There's good news and there's bad news about this.
The good news is that even in the face of this decades-long assault on reality and our democracy by authoritarian wannabes, our country will continue to stand.
The bad news is that if we don't do something to stop these assaults, this may not be a country you want to live in. The hate jokes and the hate tropes will metastasize and your freedom will be gone.
It seems quite clear – and history teaches us – that under the yoke of despotism We The People would be powerless and cruelly subjugated. Maybe we should ensure that such a thing never happens in America.
Again, Heather Heyer said,
If you're not outraged, you're not paying attention.
So again, are you outraged?
A Bit of Sunshine
Take a look at the updated Gallup tracking poll of how Americans see themselves on social issues. Could it be that Independents and Democrats combined have the muscle to stop the crazies and their war on Social Security, Medicare and trying to jam Christian nationalism and authoritarianism down the throats of all Americans? Do the math for 2023. Add the percents of moderates and liberals. There are more of us than there are haters and despotism lovers.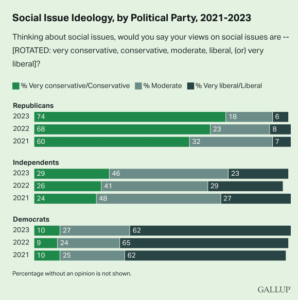 Click me
Required Reading For Every American
Every day we are assaulted by the Republican snake venom of outlandish, idiotic lies, distortions and pretend patriotism, like,
Biden crime family
Weaponized DOJ
Senate candidate Todd Akin's claim, "If it's a legitimate rape, the female body has ways to try to shut that whole thing down."
Anything said by – you know: the usual suspects.
Actual, factual truth is the antidote to Republican snake venom. That's why you're going to read Prof. Heather Cox Richardson's "Letters From An American" of June 15.
Then you're going to share it because you are paying attention and you are outraged and you aren't complacent. To make that easy to do, just forward this post.
---

Today is a good day to be the light.

______________________________

Our governance and electoral corruption and dysfunction and our ongoing mass murders are all of a piece, all the same problem with the same solution:

Fire the bastards!

The days are dwindling for us to take action. Get up! Do something to make things better.

Did someone forward this post to you? Welcome! Please subscribe – use the simple form above on the right. And pass this along to three others, encouraging them to subscribe, too. (IT'S A FREEBIE!) It's going to take a lot of us to get the job done.


And add your comments below to help us all to be better informed.

Thanks!


The Fine Print:

Writings quoted or linked from my posts reflect a point I want to make, at least in part. That does not mean that I endorse or agree with everything in such writings.
There are lots of smart, well-informed people. Sometimes we agree; sometimes we don't. Search for others' views and decide for yourself.
Errors in fact, grammar, spelling and punctuation are all embarrassingly mine. Glad to have your corrections.

Responsibility for the content of these posts is unequivocally, totally, unavoidably mine.
Book links to Amazon are provided for reference only. Please purchase your books through your local mom & pop bookstore. Keep them and your town or neighborhood vibrant.

JA
Copyright 2023 by Jack Altschuler
Reproduction and sharing are encouraged, providing proper attribution is given.