1. Tax Fairness

Everyone likes government programs that benefit themselves; we just don't want to pay for them. Consequently, President Biden's tax plan is hugely popular with we common folk, because it calls for somebody else to pay for the goodies. Good for us!
Not so good for the proposed payers.
On the other hand, those proposed payers are the very people who have consistently benefited from government policy and programs that for many decades have filled their piggy banks with massive wealth. It seems to most of us that turnabout is fair play.
But not to poor, picked on Brendan Bechtel. He runs Bechtel Corporation. It's the same company that was happy to get those no-bid contracts from the George W. Bush administration for construction work in Iraq and still more no-bid contracts following Hurricane Katrina in New Orleans. That Bechtel Corporation.
Mr. Bechtel recently said of the Biden jobs program funding proposal, "it doesn't feel fair."
"Fair" is an interesting concept. From my observation post as a behavior geek it appears that "fair" usually means, "That isn't what I want for me." In other words, there is no link to the concept of even-handedness or a reasonable distribution of responsibility and obligation. "Fair" is solely about "I get what I want." Let's add one more piece of information and then test the concept.
Here's a chart reported by The New York Times, sourced from Gabriel Zucman of UC Berkely.*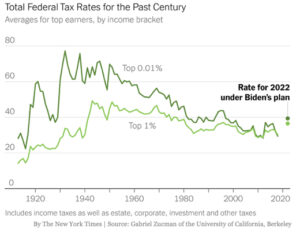 The graphs represent average federal tax rates for top earners, like Mr. Bechtel. Note how low taxes have been in recent decades relative to most of the last century. Note, too, that these are nominal rates, not what anyone actually paid after their highly expert accounting ju jitsu was applied.
Please tell us again, Mr. Bechtel, about how unfair (meaning "not even-handed") a relatively slight increase in your taxes will be. You and your family and your top executives have been bathing in the flood tide of money that you've been able to amass for half a century. And you've been able to keep ever more of it for yourselves, because special tax loopholes and lower top rates have sent your actual, send-IRS-a-check tax bill on a near-constant downward trajectory. So has the employee attrition from the IRS that has minimized scrutiny of tax returns of those at the top of the wealth distribution pyramid.
Another way to say that is that the 99% of the rest of us who don't have those tax loopholes available to us or the cash to pay high priced tax attorneys have borne a higher burden to support the commons because you've skated. I'm talking about the roads, bridges, schools, national defense, emergency services and the rest of the things we do together in this country. You haven't paid your fair share for a really long time. So, "It doesn't feel fair" is just too much for we common folk to hear.
You could take a page from Warren Buffett's book and demand higher tax rates on the ultra-rich. It won't affect your lifestyle a bit and the next generation Bechtel lucky sperm club winner will still inherit enough money to buy a small country.
So, go ahead and publicly demand our legislators and president raise taxes on the ultra-rich so we can fix the bridges, provide pre-K for our little ones and all the rest of the vitally needed actions in the commons that are decried so absurdly by Republicans.
Your gesture would be a most patriotic thing. It still won't be what you want, but we'll be most grateful for your having progressed to something that looks a lot more fair – as in "even-handed" – to the rest of us.
—————————-
2. A Jonathan Swifty Solution for Pandemic Fairness

Extremists have taken full control of the Republican Party. These people are angry and vocal and violent and they show up in huge numbers to vote. They openly carry guns, they like to intimidate others, they refuse masks and vaccines and they're certain they're the true patriots. That's a problem for the rest of us who prefer boring negotiations to settle differences, rather than mob violence. And we'd rather not be infected by the mask and vaccine refusers. Fortunately, I have a modest proposal to tame all of that.
Caution: snark follows.
Let's give them their own country. We'll cede the Dakotas, where they can refuse masks and vaccines and embrace their Second Amendment remedies with wanton abandon. The Dakotas should be enough space, as they'll kill one another in gun fights and die of Covid pretty quickly, so they'll cull their own herd. Tucker Carlson will fit right in.
More immediately important is the issue of the pandemic, as it's estimated that over 905,000 Americans have already died from it and the extremists overwhelmingly refuse masks, social distancing and vaccines. That imperils our ability to achieve herd immunity, which means their stubborn refusal puts the rest of us at risk. Here's how to fix that.
By late summer we will have had sufficient vaccine supply and the distribution network for all of us to be vaccinated. Anyone not vaccinated by then can be considered a refuser. These are the people most likely to wind up in hospitals, then on ventilators and finally in the morgue. These are the people who will put our healthcare workers at risk and overload them. They'll tie up our entire medical system, which compromises everyone else's access to healthcare. Indeed, it's been reported that 94% of cancer screenings over the past year were not done due to the pandemic. Our refusers threaten to make that permanent, which imperils all the rest of us.
I propose that after August 31 that we refuse to deliver medical service to anyone who contracts Covid and can't produce a vaccination card.
It's their choice to refuse to be vaccinated and that choice, like every choice, comes with consequences which shouldn't be dumped on the rest of us. They made their bed; now they can lie in it – at home in the Dakotas, where they can't infect the rest of us with the Covid variants they carry.
This is fair to the rest of us who don't want to deal with the extremists and their Covid threats and their constant threat to our democracy. It provides freedom of choice, a true American value. It's in line with the absolute freedom demands of our rugged individuals. And it gets all of us what we want.
This is another in an ongoing offering of simple Swifty solutions for complex problems and for fairness in our country. Please sign the petition at www.ExtremistsGoAway.com.
—————————-
3. Fairness Quotes of the Week
From David Brooks in the New York Times:
"That [WW II] victory required national cohesion, voluntary sacrifice for the common good and trust in institutions and each other. America's response to Covid-19 suggests that we no longer have sufficient quantities of any of those things."
That's observationally accurate and fair to say.
From John Pavlovitz on vaccine refusal:
"Conservatives: you've been brainwashed. You are afflicted with partisan politics and bad theology, and you are unable to think clearly because of it. You are so intent on validating your vote that you will do anything to feel that way."
Pavlovitz's words actually apply to Trump brain slaves. True conservatives would be demanding that we all get vaccinated, this as a patriotic duty. It's entirely fair to say that.
—————————-
* Click the link on Zucman's name and download any of his papers – say, the top one: Tax Evasion at the Top of the Income Distribution: Theory and Evidence. Just read the abstract. Then give some thought to how the Trump administration's IRS focused on middle income taxpayers and didn't even glance at most of the wealthy.
————————————
Did someone forward this to you? Welcome! Please subscribe and pass this along to three others, encouraging them to subscribe, too. (IT'S A FREEBIE!) Use the simple form above on the right.

Said John Maynard Keynes, "When the facts change, I change my mind. What do you do, sir?" So, add your comments below to help us all to be better informed.
Thanks!
The Fine Print:
Writings quoted or linked from my posts reflect a point I want to make, at least in part. That does not mean that I endorse or agree with everything in such writings, so don't bug me about it.
Errors in fact, grammar, spelling and punctuation are all embarrassingly mine. Glad to have your corrections.

Responsibility for the content of these posts is unequivocally, totally, unavoidably mine.
JA
Copyright 2023 by Jack Altschuler
Reproduction and sharing are encouraged, providing proper attribution is given.