Fixing It
It's likely going to take a new Supreme Court that isn't beholden to extremist ideology and bad influencers to fix our corrupt Congress and state legislatures who refuse the will of We The People, because here is what will be required:
Declare that companies and corporations are not people and do not have the rights of citizens.
clarify that money is property, not speech. It is not protected by the First Amendment. #1 & #2 lead to:
Establish that campaign contributions, whether made directly to candidates or to outside advocate organizations, may be made only by flesh and blood human beings. No company or corporation – no non-human entity – may participate directly or indirectly in electoral politics.
Establish a maximum contribution to any candidate and a total aggregate contribution to all candidates that any individual may make in any election. I.e. fix McCutcheon.
Establish term limits for all elective offices, bureaucracy appointments and for all judges. We have term limits for the president and many governors. I  can't think of a single good reason not to have limits for all elective offices, appointments and judicial appointments – can you?
Establish a long period following elective or appointed office during which elected and appointed officials are prohibited from lobbying activities on behalf of industries and companies they formerly regulated, adjudicated or affected in an way.
Amend the quaint 18th century, fancifully imagined construct of the Senate as a deliberative body of unusually wise men, two per state. That construct gives added power to rural areas and weakens more populous states, making the Senate unrepresentative. Instead, construct the Senate to be proportional to population in order to represent We The People fairly. Wise people will still be welcome. Here's an illustration of the why of this.

Wyoming, Montana and the Dakotas all together have 3.3 million people. That's a third the size of just the Chicagoland population. Give those states 2 senators total, not each.
The same for Vermont, the District of Columbia, Rhode Island and Delaware.
Give California and Texas more senators, because they have 39 and 29 million people, respectively.

Make the District of Columbia and Puerto Rico states.
Eliminate the Electoral College and decide presidential elections solely on the basis of the total popular vote, just as for senators and representatives – really, every other elective office.
Clearly, this needs work by people who will see the intricacies and unintended consequences and who can write precise legislation that will both achieve the desired outcomes and will avoid creating what we do not want. These points are some obvious things that come to mind – surely, there are more. And yes, some of this will require amendments to the Constitution.
To get that new Supreme Court will likely require a super-majority of Democrats in both the House and Senate and a president who is a Democrat, because getting this job will be anathema to Republicans and, to be honest, some Democrats. Plus, this may require packing the Court – four new centrist-to-progressive justices who recognize the primacy of We The People.
And Another Thing
Matthew McConaughey gave a brilliant and impassioned speech to the White House Press Corps on June 7. He made the tragedy in Uvalde clear for anyone listening, leaving no possibility for anyone to miss the reality of the great human suffering this has caused and will continue to cause for a very long time. And he implored Congress to take action to prevent these tragedies from continuing to happen, like common sense gun regulations that will help to keep firearms out of the hands of those who would do us harm.
When he finished speaking and was leaving the lectern, James Rosen from Newsmax, a far right organization, shouted a question: "Were you grandstanding just now, sir?" McConaughey just left the room, but I'll answer Rosen for him.
"Thank you, sir, for your question. You have just made it clear to all of America, indeed to the world, why we have such difficulty making progress in dealing with our challenges. You have demonstrated that sensationalism, destructive reporting and self-serving cruelty guide your actions and the actions of so many more. These are the over-loud voices with a megaphone but no sense of responsibility – really, no common sense – who vie for attention by widening our national divide. They are a vicious minority doing harm to our people and to our nation and you've shown us that you are one of them.
"Shame on you, sir. You could and should know better, but it's obvious that you refuse to know. Shame on you."
Be sure to watch Rep. Eric Swalwell (D-CA) shred Republicans' deadly intransigence on gun safety. His words are clear, compelling, accurate and beautifully impassioned – and they aren't enough. If we're to save our kids – like the Uvalde and Parkland and Sandy Hook and Santa Fe and Columbine kids and more – We The People are going to have to make that happen.
Must Read
Read Sheila Markin's post of June 13. You already know much of the shameful stuff the Rs are doing, but we seem to be living in a post-shame world. More important are her comments about what Dems need to do. Go to a rally or town hall and tell your rep and senators to stop the nice-nice and call things what they are. Tell them that they get points – and votes – for brutal honesty.
————————————
Our governance and electoral corruption and dysfunction and our ongoing mass murders are all of a piece, all the same problem with the same solution:

Fire the bastards!
.
The days are dwindling for us to take action. Get up! Do something to make things better.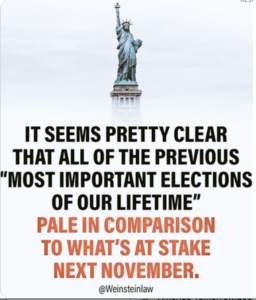 Did someone forward this to you? Welcome! Please subscribe – use the simple form above on the right. And pass this along to three others, encouraging them to subscribe, too. (IT'S A FREEBIE!)

And add your comments below to help us all to be better informed.
Thanks!

The Fine Print:
Writings quoted or linked from my posts reflect a point I want to make, at least in part. That does not mean that I endorse or agree with everything in such writings, so don't bug me about it.
There are lots of smart, well-informed people. Sometimes we agree; sometimes we don't. Search for others' views and decide for yourself.
Errors in fact, grammar, spelling and punctuation are all embarrassingly mine. Glad to have your corrections.

Responsibility for the content of these posts is unequivocally, totally, unavoidably mine.
Book links to Amazon are provided for reference only. Please purchase your books through your local mom & pop bookstore. Keep them and your town vibrant.
JA
Copyright 2023 by Jack Altschuler
Reproduction and sharing are encouraged, providing proper attribution is given.