Freedom
Passover is nearly here. It offers many messages and one of the most important is the message of freedom.  It is the story of a people living without freedom for hundreds of years and they knew that bitterness. It is exactly that bitterness that the Ukrainian people are now fighting to prevent from overwhelming them.
"Injustice anywhere is a threat to justice everywhere. We are caught in an inescapable network of mutuality, tied in a single garment of destiny. Whatever affects one directly, affects all indirectly" – Dr. Martin Luther King, Jr.
Freedom loving people all over the world stand with Ukraine and its people. Now is a good time to help, because these days are desperate for the Ukrainian people.
—————————————
A Platform, At Long Last
It's true. Really.
The Republicans at long last actually have a platform!
Pretty much.
Mitch McConnell has publicly declared that Republicans will not have a platform for the 2022 and 2024 elections, just like in 2018 and 2020 when they refused to take a stand on anything. No policies, no positions, no programs, no nuthin'. But opportunist, Medicare defrauder and presidential hopeful Sen. Rick Scott (R-FL) has made his Look-At-Me! mark with his 11-Point Plan To Rescue America.
This crook (details below) is actually declaring he's for something other than brain-free opposition to the opposition. And what a plan he's proposing! Here's a link to his self-serving, gag-on-the-flag explanation. I encourage you to link through to the details of his "points." CNN had a look and made some comments of their own in their piece, Rick Scott's 'Plan to Rescue America' will do anything but that. Here are some of Scott's key points:
The Rick Scott 11-Point Plan To Rescue America
.
First, we'll raise $1 trillion in new taxes, almost entirely on the backs of the poorest Americans. And o' joy! There won't be any financial impact on Scott's hedge fund buddies. We'll tax the poor to ensure that "every American has skin in the game." Yes, he said that.
Next, we'll end Social Security.
And Medicare.
And the Affordable Care Act.
And Medicaid,
We'll end every social welfare/safety net program within five years. He calls it "sunsetting." What that really means is a knife across the throat of all the programs that help people, so call it "murdering."
Trump stole $15 billion from the Defense Department and built only 80 miles of his wall in places where there wasn't already a barrier. Rick Scott will finish the remaining 1,500+ miles of that wall and name it after Trump ("Felon's Fortification"?). And no, Mexico won't pay for it. You will.
I know you think I'm making this up, but I'm not. This is the Republican dream that they've dreamed for decades. It's been their hearts' fondest desire to kill FDR's New Deal, the collection of programs that led this country and all Americans out of the Great Depression. Rick Scott wants to lead Republicans in stopping all the things that help people.
Did I mention fraud? Before he ran for office, Scott's healthcare company committed the biggest Medicare fraud in U.S. history and had to pay an $840 million fine. Here's the complete fact check.
So, let's see, first Rick Scott defrauds you and me and the U.S. government – he's the Big Kahuna of Medicare cheats. Now he wants to cheat some more by taking from working and poor people who are barely getting by and then he wants to eliminate all the the things that help them. What would you call that?
Now, at long last, we have a clear declaration of what Republicans will do if they get their hands on the reins of power again.
You good with that?
Must Read
"Democrats need to get back to a fundamental message: When in power, they make government work for ordinary people and defend American values (democracy, opportunity, fairness, playing by the rules). They solve real problems. When Republicans are in power, they create division, conflict and chaos. They are not on your side. That's it. A simple dichotomy."                                                                                 Jennifer Rubin, The Washington Post
Gotta add something.
It's time – long past time, really – to take an axe to Republican lies and cruelties. Call these guys out ruthlessly with the truth.
I know, I know – Democrats like to play nice and they don't like to be mean.
GET OVER IT!
Because we can already smell the defeat that's on the way.
————————————
The days are dwindling for us to take action. Get up! Do something to make things better.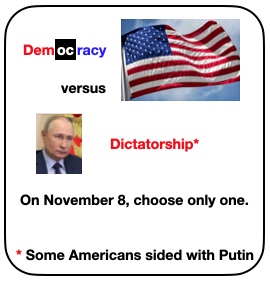 Did someone forward this to you? Welcome! Please subscribe – use the simple form above on the right. And pass this along to three others, encouraging them to subscribe, too. (IT'S A FREEBIE!)

And add your comments below to help us all to be better informed.
Thanks!

The Fine Print:
Writings quoted or linked from my posts reflect a point I want to make, at least in part. That does not mean that I endorse or agree with everything in such writings, so don't bug me about it.
There are lots of smart, well-informed people. Sometimes we agree; sometimes we don't. Search for others' views and decide for yourself.
Errors in fact, grammar, spelling and punctuation are all embarrassingly mine. Glad to have your corrections.

Responsibility for the content of these posts is unequivocally, totally, unavoidably mine.
Book links to Amazon are provided for reference only. Please purchase your books through your local mom & pop bookstore. Keep them and your town vibrant.
JA
Copyright 2023 by Jack Altschuler
Reproduction and sharing are encouraged, providing proper attribution is given.