Cancel Culture
It's about shutting down, shutting up and shutting off opponents.
The power of authoritarians lies in the absolute, unthinking enforcement of their desires and taboos by absolute, unthinking followers who are otherwise average people. We've watched this dynamic in constant replay through all the Trump years, as people did and do unpatriotic things just because Trump wanted them to – and they've believed their actions were patriotic. All such things require is a nod from the authoritarian and people will do destructive, even self-destructive things. And nobody will push back against the authoritarian for fear of being persecuted and even expelled from the group at any time and for any reason.
For example, Rep. Mo Brooks (R-AL) was a Trump sycophant. He regularly carried water for Trump and even talked insurrectionist trash at the rally on the Ellipse on January 6. But he got on the wrong side of Trump and has been kicked to the side by Trump and his followers. Brooks has been cancelled.
That's cancel culture.
The funny thing is that Trump suck-ups point their sinister, threatening fingers at Democrats, accusing them of cancel culture whenever Dems decry bad behavior, like cops killing unarmed Black men. Then these same Trump wannabees proceed to cancel gays, lesbians, Blacks, teachers, doctors and more using legislation to shut them down, up and off. And they seek to end our democracy and our Constitution, which these cancelers falsely claim they are protecting.
The armies of the authoritarians charge ahead without so much as a single critical thought in their heads. That's how Hitler got millions of ordinary and otherwise peaceful Germans to do the most despicable things. Threats and intimidation are all it takes. As Lord Tarkin said in Star Wars – Episode IV, "Fear will keep the local systems in line." And so it does.
Republicans used to be strong advocates for law and order and for the rule of law. Yet on April 6 all but two Republicans voted not to hold Peter Navarro and Dan Scavino in contempt of Congress for having obviously and publicly refused to comply with lawful subpoenas issued to them by the January 6 Committee. Plainly, these guys broke the law. You would be in jail in a heartbeat if you did such a thing, but 203 Republican representatives voted to let these guys skate.
This happened because the House Select Committee is getting ever closer to Trump's involvement in the insurrection, so Trump wants to stymie the committee. His unthinking and absolutist sycophants in the House did his unpatriotic bidding by voting against the contempt resolutions for fear of being persecuted and perhaps expelled from the Trump cult, like Mo Brooks. Ask Adam Kinzinger and Liz Cheney if you need further explanation.
Obeying Trump is more important to most Republicans than obeying the law.
So, they used their NO votes to cancel the rule of law.
.
That's cancel culture.
Here's a reminder from the New York Times' Bret Stevens. Read these words as the marching orders for today's Republicans.
.  .  .  we recall the words of Otter, one of the frat house characters from "National Lampoon's Animal House": "I think this situation absolutely requires a really futile and stupid gesture be done on somebody's part."
Canceling the rule of law is really stupid. Our job is to make sure that effort is futile. We have to cancel the cancelers.
Crayons
I don't know where I found the graphic to the right – at the bottom it says, "Your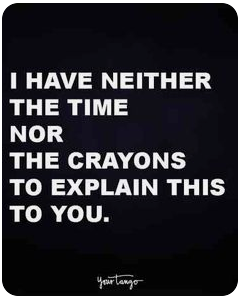 Tango." Feel free to explore.
Meanwhile, this is so simple – and frightening – that it could be written in crayon. If I had crayons.
Somehow, I managed to get to this point in life without having read George Orwell's 1984. While walking the dog recently I came to a house with a Little Free Library in the front yard by the sidewalk. There I found a copy of 1984 and took it home.
Within minutes of starting to read the book I was startled to find a plain description of Trump rallies, the January 6 insurrection and the mindless public recitations of demonstrably and obviously false claims. Here's just a bit of the description of a Big Brother Two Minutes Hate session.
"The horrible thing about the Two Minutes Hate was not that one was obliged to act a part, but that it was impossible to avoid joining in. Within thirty seconds any pretense was always unnecessary. A hideous ecstasy of fear and vindictiveness, a desire to kill, to torture, to smash faces in with a sledge hammer, seemed to flow through the whole group of people like an electric current, turning one even against one's will into a grimacing, screaming lunatic."
" .  .  .  the entire group of people broke into a deep, slow, rhythmical chant of 'B-B! .  .  .  B-B! .  .  .  B-B!" over and over again, very slowly, with a long pause between the first "B" and the second – a heavy, murmurous sound, somehow curiously savage, in the background of which one seemed to hear the stamp of naked feet and the throbbing of tom-toms.  .  .  it was an act of self-hypnosis, a deliberate drowning of consciousness by means of rhythmic noise."
There is a mob mentality that is alive and murderous in our country. From "Lock her up!" to "Beat the hell out of protesters" to "Can we use the guns now?" we are awash in angry people who deny reality and recite the lies and rage they have been taught to chant by the authoritarian. They are ravenous for power and do not care who or what gets trampled by their stampede, even those things that allow them to rage.
Sometimes, their violence is thinly veiled. Sometimes, they make death threats and they menace voters and school boards. Sometimes, they shoot people.
Would that Orwell were wrong.
Abraham Lincoln and You

No, that isn't the title of Heather Cox-Richardson's April 15 post, but it could be.
She begins her post with this: "Early in the morning of April 15, 1865, President Abraham Lincoln breathed his last." With him could have gone the glue holding the states together and our very democracy, even as the Civil War was all but over.
But it wasn't over – not really – and we see it being waged today in sneaky, dishonest ways. Except for slavery itself, all the divides of those awful years are with us and they are as threatening and corrupt today as they were then. Richardson's post is a must-read – here's a link.
Lemonade
Friday night I found the flyer you see at the right stuffed into my mailbox. The next day I stopped by to find that 3 first grade girls, 7 years old, had created the flyer and had set up a lemonade stand, complete with cookies, surprise packages and bags of dog treats. They and several of their friends flagged down cars, sold their goodies and were devastatingly cute.
"Just a kid thing," you might say. But when that cold spring day was over these kids had raised almost $800 to send to an outfit doing humanitarian work for Ukrainians.
And the kids had learned a lesson about helping those who need help. They're a great example for all of us.
Girls, YOU ROCK!
————————————
The days are dwindling for us to take action. Get up! Do something to make things better.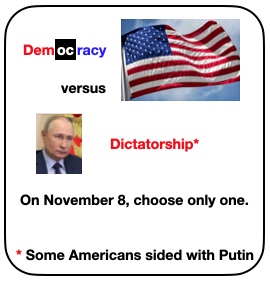 Did someone forward this to you? Welcome! Please subscribe – use the simple form above on the right. And pass this along to three others, encouraging them to subscribe, too. (IT'S A FREEBIE!)

And add your comments below to help us all to be better informed.
Thanks!

The Fine Print:
Writings quoted or linked from my posts reflect a point I want to make, at least in part. That does not mean that I endorse or agree with everything in such writings, so don't bug me about it.
There are lots of smart, well-informed people. Sometimes we agree; sometimes we don't. Search for others' views and decide for yourself.
Errors in fact, grammar, spelling and punctuation are all embarrassingly mine. Glad to have your corrections.

Responsibility for the content of these posts is unequivocally, totally, unavoidably mine.
Book links to Amazon are provided for reference only. Please purchase your books through your local mom & pop bookstore. Keep them and your town vibrant.
JA
Copyright 2023 by Jack Altschuler
Reproduction and sharing are encouraged, providing proper attribution is given.