Reading time – 3:56; Viewing time – 8:42  .  .  .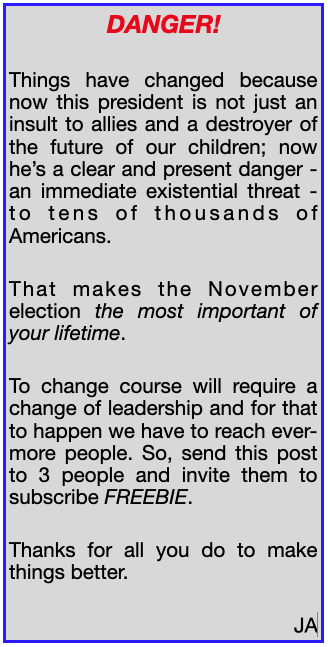 CAUTION: CONTAINS SNARK. Sensitive readers should close their eyes while reading this post. You've been warned.
——————-
I have never heard a Democrat or Independent make an accusation of voter fraud. Criminal voter suppression, yes, but  not voter fraud. That leaves Republicans as the sole finger pointers at the ballot box.
They use words like "rampant" and "pervasive" and "un-American." They profess to be patriotically opposed to mail-in voting, claiming it will be an invitation to massive voter fraud, but they never seem to be able to present evidence of significant voter wrongdoing to substantiate their assertions, whether through the mail or any other way to vote.
No worries. The very conservative Heritage Foundation has come to the rescue to bring this voter poison to democracy to light. You can download their 390 page report here.
They document state-by-state "proven instances of voter fraud" – those are their words, whatever "proven instances" means. The report is not date stamped, but in a cursory review I found that it provides a listing of "instances" that cover roughly the period of 1997 – 2013 and they claim that the number of these "proven instances" is 1,088. For the purpose of examination, let's accept their numbers and look at what they mean.
First, their data might have covered 1996, too; it's not clear. We'll include 1996 for our analysis because that appears to be the basis for the case the Heritage Foundation attempts to make.
886,000,000 votes were cast in that period. Simple math tells us that the 1,088 "proven instances" of voter fraud sprinkled among 886,000,000 voters, means that the cases of voter fraud are just 1 in 814,338 votes cast. That's 0.0001227%. More simply, it's one ten-thousandth of a percent.
If we are to correctly understand Trump, the decades of flaming Republicans and the Heritage Foundation, they passionately believe that fraud at the rate of one in 814,338 votes cast constitutes "rampant" voter fraud. It is because of this "rampant" fraud that they are certain that they're justified in their voter suppression programs in North Carolina, Georgia, Texas, Wisconsin and elsewhere. They're certain they have it right when they close most polling places in poor areas, remove voters from voter rolls for not returning a post card within 2 weeks and require voter ID that is difficult for many poor people to secure. Isn't it just the oddest coincidence that nearly all of that goes on in poor and non-white areas?
If one in 814,338 incidents of claimed fraud qualifies for being labeled "pervasive" and "un-American" as they declare, we have to catch and punish that one guy in 814,338 who cheated. Lock him up, I say! And if we're to have fraud-free elections we must suppress voters, too, because we can't tolerate our basic democratic right being polluted at the rate of one in 814,338 votes.
Besides, if fewer people vote (translation: no poor people or non-whites), Republicans can then win. We know that, because Trump just said that very thing. Paul Weyrich, co-founder of the Heritage Foundation, made that clear a long time ago and said that was why he didn't want everyone to vote. So, for just a smidgen of integrity for just a moment, next Trump rally I want to hear those true believers chanting, "SUPPRESS THE VOTE! SUPPRESS THE VOTE!"
Republicans make their fatuous claims of voter fraud and they suppress the vote wherever they can. Theirs is a most perverse claim of protecting democracy, but one vote in 814,338 is enough for them to do their dishonest best to make sure aging, soon-to-be minority white guys stay in power.
More Fun With Numbers
Courtesy of KL, watch this video to get a perspective on the flyovers performed by the Blue Angels and Thunderbirds to honor our healthcare workers. They have flown over at least 29 cities so far. Apply that number to the math per Dr. Bill in the video to get an idea of the good we might have done instead to help people in more concrete ways.
Most of us love watching those guys and appreciate the honoring of our front line people, but after doing the math, check how you feel about those flyovers.
Trump's CCC
The Republican National Convention was scheduled to be held in Charlotte, NC from August 24 – 27. I say "was" because it will not be held in Charlotte.
Donald Trump is desperate for the visual of thousands of MAGA hat wearing zealots thundering support and heaping praise upon his orange head. He detests the optics of N95 masks (did I mention that it's all about the optics?) and needs a packed stadium of bare faces as a visual of the adoring, fervent love and support he knows he so rightly deserves. He won't tolerate masks or social distancing. Bad optics. That's why he told Roy Cooper, the Democratic governor of North Carolina, that he wants his packed stadium and he wants it his way. But that's now a problem for Trump.
Call him crazy, but Cooper thinks it's a medically bad idea to pack thousands of yelling, sweating, coughing, non-masked people shoulder-to-shoulder for hours, this in the face of the world's worst pandemic right here in the world's most highly infected country. It's an "out there" notion, I know, but Crazy Roy Cooper is just that way, thinking that protecting his people is more important than another hate-fest Trump rally in North Carolina.
So, Trump and the RNC jellyfish are shopping for a new venue in another state. There's lots of talk that Jacksonville, FL is the likely site for Trump's infection rites. Makes sense. There's a compliant Republican governor there – Ron DeSantis – and Florida is a swing state with a lot of electoral college votes. Besides, they still haven't taken the coronavirus seriously in Florida.
Recall that this is the state whose governor welcomed thousands of spring breakers as the body counts of the pandemic dead were mounting at the rate of 2,000 per day. Florida pretty much never "shut down" and was among the first to "reopen" and enable full coronavirus transfer. Pandemic, schmandemic. Who cares?
So, let's pack Jacksonville's TIAA Bank Field with thousands of sweating, yelling, sneezing, non-masked MAGA hat wearing Truckers for Trump, The WWWDCABG For Trump (White Women Who Don't Care About Being Groped), White Supremacists for Trump, The IHOSIHB for Trump (I Hated Obama, So I Hate Biden) and, of course, TOTBG for Trump (The Only Two Black Guys). Let them thunderously chant to lock up Hillary and Biden. Let them pump muscled, Confederate flag tattooed arms as they chant their demand to, "PAR-DUN FLYNN! PAR-DUN FLYNN!" O' the rush of it all!
So, let the spittle fly and the sneeze and cough mist spew unrestrained in the sublime reverie of the cult. Right there in Jacksonville at Donald Trump's Coronavirus Contagion Convention (The CCC).
Many thanks to Donald Trump for making massive infection possible through his complete abdication of his responsibility as President.
Last thought about this: If we were to go full Machiavellian, we might say that a massive MAGA rally is a most effective way to suppress the Republican vote. That oughta battle that "rampant" voter fraud they whine about constantly.
——————————
Ed. note: We need to spread the word so that we make a critical difference, so
Pass this along to three people, encouraging them to subscribe (IT'S A FREEBIE!).

Engage in the Comments section below to help us all to be better informed.
Thanks!
The Fine Print:
Writings quoted or linked from my posts reflect a point I want to make, at least in part. That does not mean that I endorse or agree with everything in such writings, so don't bug me about it.
Sometimes I change my opinions because I've learned more about an issue. So, educate me. That's what the Comments section is for.
Errors in fact, grammar, spelling and punctuation are all embarrassingly mine. Glad to have your corrections.

Responsibility for the content of these posts is unequivocally, totally, unavoidably mine.
JA
Copyright 2023 by Jack Altschuler
Reproduction and sharing are encouraged, providing proper attribution is given.