Reading time – 4:43; Viewing time – 8:05  .  .  .
"The arc of the moral universe is long,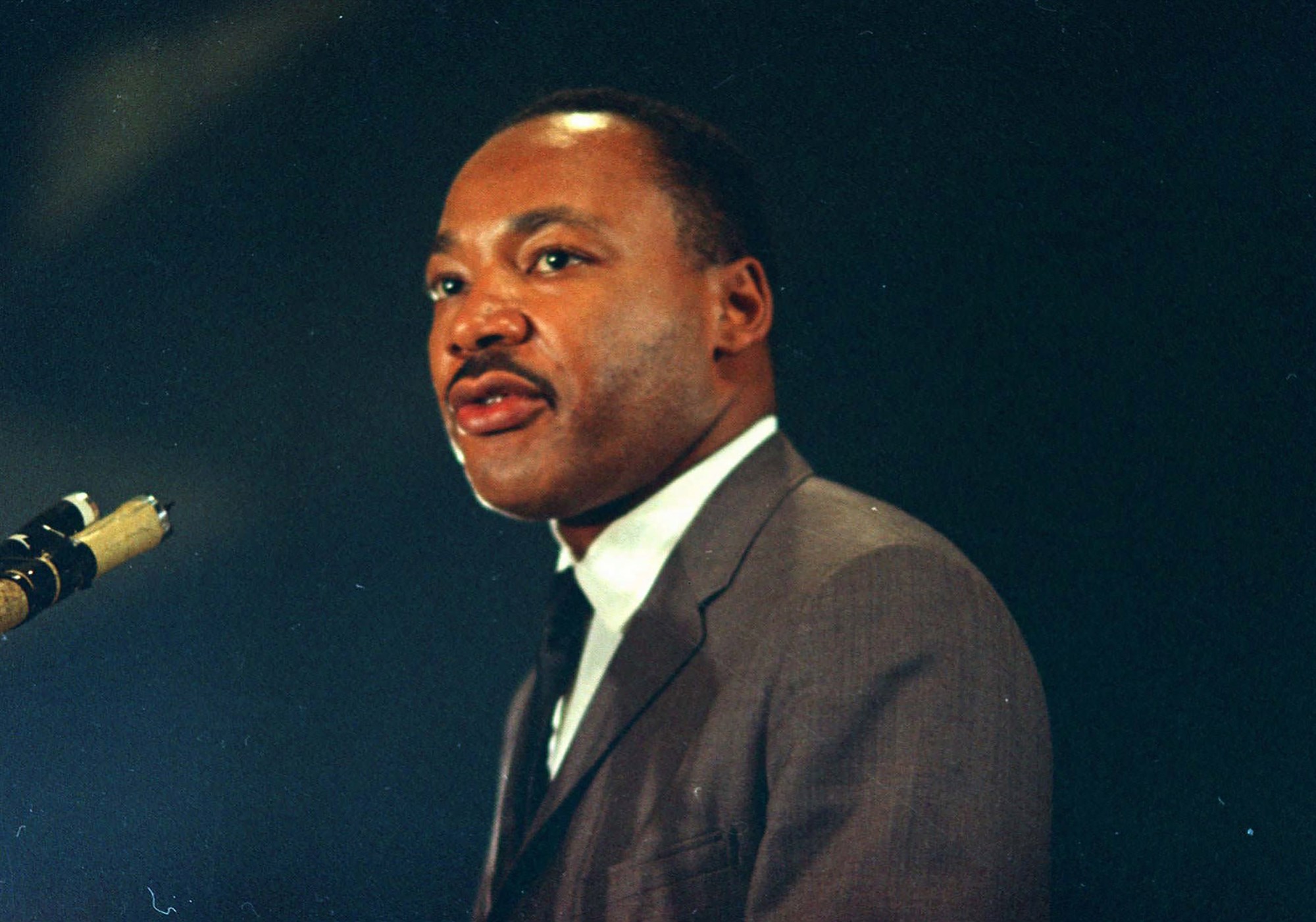 but it bends toward justice," said Dr. Martin Luther King, Jr., paraphrasing 19th century clergyman Theodore Parker.
He was right, of course, but that bending isn't guaranteed and it doesn't happen accidentally. The moral arc will only bend toward justice if we make it bend that way.
There is nothing pre-destined about justice. Bad guys sometimes win. Despots sometimes create dynasties that oppress people for centuries. Evil has terrorized people throughout recorded history. Justice doesn't just happen. Ask any person in the U.S. of any color other than white for confirmation of that.
The only way that justice prevails is when good people bear down and do what is necessary, especially in perilous times. It happens when they demand justice. It happens when they refuse to condemn their children and grandchildren and great-grandchildren to the cruel slavery of injustice.
This is the time to demand justice. And I don't mean only because of what's happening in our streets now, triggered by the murder of George Floyd. There is an even bigger picture that we must focus on and it bears heavily on the Floyd tragedy. If we don't do that, all the protesting in the world will fail to make the changes we need and things will become far worse. Besides, we largely know what to do about racial injustice. It's been studied again and again. It's the take-action part that we haven't done.
The President of the United States doesn't want his job. He wants something far bigger, like the despots he admires, Putin, Xi, Duerte, Kim and Erdoğan. He wants to be an autocrat with absolute power. A dictator. A monarch. A god. He's told us that plainly.
We decided in 1775 that such an arrangement just doesn't work for us. We said that we would be peasants to no one and we threw off the tyrannical rule of King George III and set out on an audacious journey of self-government. To be sure, the road has not always been easy nor has it always been just, but it has become better over time.
Now, though, we are standing face-to-face with that president who wants to be a god. If we don't stop him now, he will grab absolute power, because grabbing everything for himself is what he always does. We will be peasants once again and that glorious journey of self-government will end. There will no longer be a path toward a more perfect union.
Trump has already deployed the U.S. military to DC in a brutal act of martial law and is threatening to do the same in our states. Is that okay with you? It isn't okay with George Will. It isn't okay with Gen. James Mattis. It isn't okay with Gen. John Kelly or with Gen. John Allen. It isn't okay with Adm. James Stavridis or with Steve Schmidt or with Sen. Lisa Murkowski (R-AK) or with Gen. Martin Dempsey or with Gen. Douglas Lute or with Gen. Tony Thomas or with Adm. Mike Mullin or with Adm. William McRaven. And it surely isn't okay with the peaceful protesters in Lafayette Square Park who were beaten, gassed, shot and flash-banged by anonymous thugs in anonymous police and military uniforms. That injustice stands in perfect perverse harmony with the fact that slaves were once sold in that very park.
With one moronic, corrupt declaration after another this president is stealing all that you hold dear, all that you believe in and he will get away with it if we are passive toward his thievery. Look up and you'll see that this isn't the flag to which you pledged allegiance in elementary school. That flag has been hijacked and the president and his flunkies are wiping their dirty Gucci loafers on it for a power grab and a photo-op. They're self-justified by a tyrannical tear everything down mantra and they want you to salute their flag of fear, obedience and powerlessness.
We all have our private lives and we ordinarily focus on our own personal issues, but these times aren't ordinary. These times are ringing an alarm and it is we who must answer the call.
The First Amendment tells us that we have the right to petition our government for redress of grievances, which, of course, is exactly what the demonstrators in Lafayette Square Park were doing. You and I better exercise that right while we still have it, because we surely have grievances: our country is being stolen from us. And this president is being aided and abetted by Republican invertebrates in the Cabinet, the Senate and the Justice Department. They don't have the spine to stop him.
Our own senators and congressmen are the very ones for us to petition. So go to Senate.gov and House.gov, find the contact information for your legislators and call them. Demand that they stop this mad tyrant wannabee before military boots hit your streets and the tear gas fogs your park and the intimidating Black Hawk helicopters hover low over your town square as they did over Lafayette Square Park. Those actions are what this president has threatened to do to you.
Do those calls to your legislators seem like a futile gesture amid Trump's crushing avalanche of lies, his calls to hatred and violence and Trump's vile power grabs? Consider this.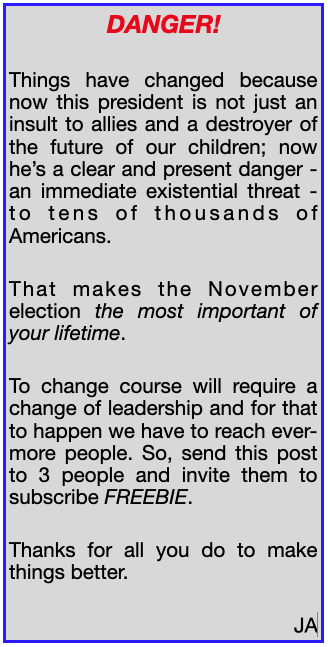 Howard Reich's book, The Art of Inventing Hope: Intimate Conversations with Elie Wiesel, is a very personal and complex narrative that speaks to us in a way perhaps not intended by the author. Nevertheless, Reich wrote,
"Taking action even when you think it may be futile – especially if you think it will be futile – was not only Wiesel's definition of active pessimism but also, I believe, his statement of hope amid sorrow. When the quest is failing, he seemed to be saying, we need to work that much harder, not only to try to effect change but also as a statement of who we are."
"In effect, we create hope by pushing forward in the face of failure."
If we are to have hope that the arc of the moral universe will bend toward justice, we have to take action especially if we think it will be futile. We must try that much harder and say clearly, unequivocally that this who we are.
Do you need inspiration?
Download this piece that I recently received as an email from the Chicago Urban Prep Academies. Tim King is working miracles there, inventing hope and changing lives for the better every day. Download and read the Urban Prep Creed. These high school students recite it every day and they make every word of it ring true, right there on Chicago's dangerous south side. Perhaps those kids have something to teach us.
When you question whether you can make a difference, repeat Tim King's words in his emailed message: Either WE do or WE don't. It's up to us. And BTW, feel free to help keep the Urban Prep magic going by kicking in a few bucks.
Finally, inspired by the song Teach Your Children, by Crosby, Stills, Nash & Young:
You, who are on the road, must have a code that you can live by  .  .  .
It's time to sing your code. It is your own personal guide and this is the time to sing the words out loud and fully live them to bend that long arc of the moral universe toward justice.
——————————
Ed. note: We need to spread the word so that we make a critical difference, so
Pass this along to three people, encouraging them to subscribe (IT'S A FREEBIE!).

Engage in the Comments section below to help us all to be better informed.
Thanks!
The Fine Print:
Writings quoted or linked from my posts reflect a point I want to make, at least in part. That does not mean that I endorse or agree with everything in such writings, so don't bug me about it.
Sometimes I change my opinions because I've learned more about an issue. So, educate me. That's what the Comments section is for.
Errors in fact, grammar, spelling and punctuation are all embarrassingly mine. Glad to have your corrections.

Responsibility for the content of these posts is unequivocally, totally, unavoidably mine.
JA
Copyright 2023 by Jack Altschuler
Reproduction and sharing are encouraged, providing proper attribution is given.