Reading time – 3:15; Viewing time – 5:04  .  .  .
In reviewing my posts of the past couple of years I find that there's a lot of "This ain't right" stuff and a much smaller offering of "Hey, this is cool!" or "Aren't we humans oddly interesting?" Sadly, the reason is obvious: the dangerous and harmful Trumpian outrages are all around us and push-back is critical.
So, once again I long for our country to be "re-saned" (no, that's not a word, but you get it) so that we can get back to being America and stop playing defense against the full time Trumpian assaults on reality. Meanwhile, it's our duty to attend to these outrages in order to minimize damage. Here's just one from this past week.
Mark Esper was a vice-president of government relations for Raytheon, a defense contractor. Apparently, being a lobbyist was just the right experience to make him the very best person to be Secretary of Defense under Trump. He brought the lobbying skills he honed at Raytheon to his present gig at the White House in order to be an official Trump Swamp Cootie.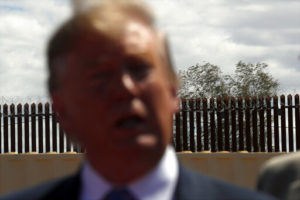 Trump insists on building his useless vanity wall on our southern border, the one we were told that Mexico was going to pay for. Not so strangely, Mexican President Andrés Manuel López Obrador said, "Nuh-uh" to Trump's ridiculous demand of payment.
After that Congress also refused to fund his (did I mention?) stupid wall, so Trump declared a state of national emergency in order to undermine Congress. He got Esper to agree to give him $3.6 billion from the Defense Department budget for his wall. The money will come from much needed construction projects for our military, including readiness projects in support of our NATO allies.
Vladimir Putin likes that we'll be one step behind. That gives him the opportunity to seize yet more eastern European nations. And Putin continues to pursue his nuclear explosion producing, Mach 8 nuclear powered cruise missiles. The complete lack of U.S. push-back means that he faces no international condemnation for the radiation from his exploded folly that's poisoned the area next to Finland.
If you'd like to see which national defense needs will be abandoned, click here. Be sure to look for the idiotic comments of Rep. Mac Thornberry (R-TX), which he said in support of Trump's Defense Department thievery, including this contorted gem:
"It is important that Congress now restore the military construction funding diverted for border security. Failing to do so only forces our troops to pay for political discord in Washington."
It may have hurt your brain to read that. That's because it's bat-shit crazy.
Trump also is diverting emergency funds from FEMA in order to build his purposeless wall. He's specifically withholding disaster relief from Puerto Rico, which hasn't recovered from Hurricane Maria two years ago, largely because – wait for it – Trump has withheld about 80% of the funds that Congress allocated for disaster relief for those people.
As of this writing the southeast coast of the U.S. is taking a pummeling from Hurricane Dorian following the devastation it caused to the Bahama Islands. The Bahamians endured almost two days of cat 5 winds – over 185 miles per hour – torrential rain and hurricane ocean storm surges.
In addition to the Puerto Rico money he plans to steal, Trump is going to further deplete FEMA in order to fund his vanity wall, making relief and recovery for those were hurt worst anywhere from difficult to impossible. We might have enough left in FEMA's piggy bank for the Carolinas. As for the Bahamians and Puerto Ricans, I'm sure those people can wait until next fiscal year for funding to help them. Just tell the Bahamians to take a number and get in line behind the Puerto Ricans. It's really no problem, because most of those people aren't from Norway, anyway.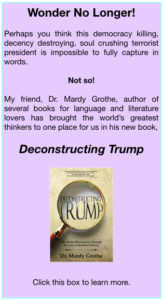 Sarcasm aside, Trump is preparing to build 175 miles of unneeded wall by sacrificing desperate hurricane survivors, NATO, our 3-branch governmental structure, national defense, our military people and world order. This isn't just more of his stupid lies. We can ignore what he says, even his idiotic Sharpie-modified hurricane map. But we better pay attention to what he does, because he is intent upon assaulting American values, our safety and our democracy itself.
That's why we pay attention to his outrages.
————————————
Ed. Note: I don't want money or your signature on a petition. I want you to spread the word so that we make a critical difference. So,
YOUR ACTION STEPS:
Pass this along to three people, encouraging them to subscribe (

IT'S A FREEBIE!

).

Engage in the Comments section below to help us all to be better informed.
Thanks!
NOTES:
Writings quoted or linked from my posts reflect a point I want to make, at least in part. That does not mean that I endorse or agree with everything in such writings, so don't bug me about it.
Errors in fact, grammar, spelling or punctuation are all embarrassingly mine. Glad to have your corrections.
Responsibility for the content of these posts is unequivocally, totally, unavoidably mine.
Copyright 2023 by Jack Altschuler
Reproduction and sharing are encouraged, providing proper attribution is given.