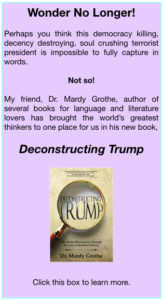 Reading time – 47 seconds  .  .  .
Whether you are a bible-thumper or a critic of bible-thumpers; whether you think of yourself as a Christian in good standing, an occasional Christian or a non-Christian; whether you've wondered how evangelical Christians could consistently support a president and legislators who routinely espouse and do anti-Christian things; whether you fret or roll eyes over anyone declaring themselves to be "the chosen one;" you must read John Pavlovitz's stunning piece, Excerpts From The MAGA Bible. Do that now.
Final Note
We kill around 100 people per day with guns – seven in Odessa, TX and five in Elkmont, AL this week, and the week is just half over. Ten were shot at a high school football game in Mobile, AL on Saturday. And nothing that might make things safer will change because .  .  .  you know why.
Cameron Kasky, student survivor of the horrific Marjory Stoneman Douglas High School shooting in Parkland, FL a year and a half ago wrote this:
"I just want people to understand what happened and understand that doing nothing will lead to nothing. Who'd have thought that concept was so difficult to grasp?"
What is true remains true:
If you always do what you've always done, you'll always get what you always got.
So, when we don't do anything to stop the shooting and bleeding, we just keep on bleeding and dying.
Fellow Douglas High School shooting survivor David Hogg has left Parkland, FL and is attending Harvard, but his college studies haven't and won't stop him and his Parkland pals from continuing their quest to stop gun violence. Click here to donate and save the lives of some school kids.
————————————
Ed. Note: I don't want money or your signature on a petition. I want you to spread the word so that we make a critical difference. So,
YOUR ACTION STEPS:
Pass this along to three people, encouraging them to subscribe (

IT'S A FREEBIE!

).

Engage in the Comments section below to help us all to be better informed.
Thanks!
NOTES:
Writings quoted or linked to my posts reflect a point I want to make, at least in part. That does not mean that I endorse or agree with everything in such writings, so don't bug me about it.
Errors in fact, grammar, spelling or punctuation are all embarrassingly mine. Glad to have your corrections.
Responsibility for the content of these posts is unequivocally, totally, unavoidably mine.
Copyright 2023 by Jack Altschuler
Reproduction and sharing are encouraged, providing proper attribution is given.