STATUS ALERT!
This is a proud JaxPolitix moment, as we have officially received our first vile, disgusting and politically inane troll message.
To the troll:  We wish you a full recovery from the multiple head traumas you obviously have sustained.

---
It started decades ago, but that was just laying the ground work for what has now happened. We pick up the story in the recent past.
When President Obama and his Justice Department decided not to prosecute for the torturing of prisoners done by the CIA or pursue the higher-ups who okayed and directed torture during the Bush II wars in Iraq and Afghanistan, something profound happened.
Obama avoided dispiriting and alienating the CIA. He avoided giving the far right lunatics an easy launch point for an all out assault on him. He prevented the law and order muscleheads from using their self-certain, righteous indignation to attack his administration. All that and more was true and accurate and it completely misses the most important and self-destructive point.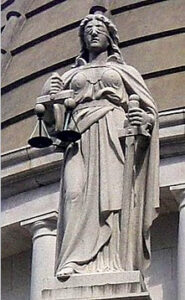 In refusing to prosecute obvious criminal behavior, Obama and his Justice Department became complicit in those crimes. Their hands were as dirty as those of the torturers and George W. Bush, his Attorney General Alberto Gonzalez and his law twisting accomplice, John Yoo, he of the "Torture Memo." That memo gave cover for the U.S. to violate all the Geneva Conventions against torture of enemy combatants, the U.S. Constitution and our own Military Code of Conduct. That was a dozen years ago, but don't imagine that kind of complicity is all in the past, because it's happening right now.
Trump's wrongdoing has been on public display for over four years and the list of his corruptions is so long that you may be forgiven for having forgotten most of it.
He started with various versions of his Muslim ban. Then he ripped babies from their mothers' arms at our southern border. The Mueller Report lists at least 10 prosecutable instances of Trump's obstruction of justice (see Section 2). He orchestrated his people to refuse subpoenas to testify at the impeachment hearings. He attempted bribery of the President of Ukraine. He led a conspiracy to defraud the United States in Post Office-gate. And there are all those campaign finance violations, multiple violations of the Hatch Act, federal tax fraud, violations of the Voting Rights Act and more. For a more comprehensive documentation of Trump's horribles, click here.
And President Biden and his Justice Department are doing nothing about any of it. They are even defending Trump against the defamation lawsuit filed against him by E. Jean Carroll.
When we look to the Democrats to restore norms, to play by the written rules and the spirit of those rules we are fooling ourselves, because their refusal to hold Republicans' feet to the fire makes them complicit in their crimes. They're colluding with the perps because they don't have the political courage to do what needs to be done. What is even more frightening is that today's Republican crimes are focused on destroying our democracy. And this is set up to get worse.
Trump is a buffoon, a carnival sideshow barker who's good at fooling the rubes. That's us. That his blatantly phony "stop the steal" campaign still has breath only means that those who want to be angry and vent their rage with violence feel justified. "Trump sent me," is what they told us on January 6. But Trump will at last go away. What will not go away are those who would continue the attack on our democracy, the dismantling of what we say we hold dear.
The next megalomaniac won't be a buffoon. The next guy – it won't be a woman because these people are all about white male supremacy – will be smart and smooth and won't make Trump's stupid mistakes. The next guy will end our democracy because we will have refused to hold people accountable. We will have failed to protect and defend the Constitution against all enemies, both foreign and domestic. The Republicans will end our republic. Read Dahlia Lithwick's piece in Slate, The Price of No Consequences for Trump.
There's another chapter to this story.
We fought the Korean War in the same way we fought WW II, which made sense, in that we fought against a nation state backed by another nation state, both with standing armies. It was our uniforms versus theirs. But then Viet Nam came along, a guerilla civil war, peasant-versus-peasant, and our WW II tactics were all wrong. We intervened completely unprepared to fight such a war and the result was a disaster. We fought the last war instead of the present war.
And that is what Democrats are doing in Congress.
The Republicans are fighting a guerilla war, ignoring precedent, norms, the intent of the Constitution and even basic morality in order to gain power. The Democrats are using quaint, gentlemanly tactics, singing paeans to bipartisanship and are somehow surprised when they get steamrolled yet again.
That's going to continue to happen (thanks, JN for the link), as we experience what President Biden has called "Jim Crow on steroids" and Republicans – Americans, mind you – eliminate majority rule,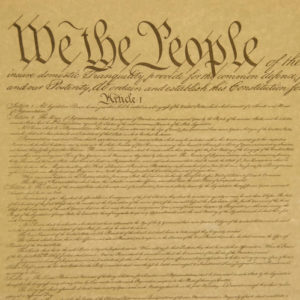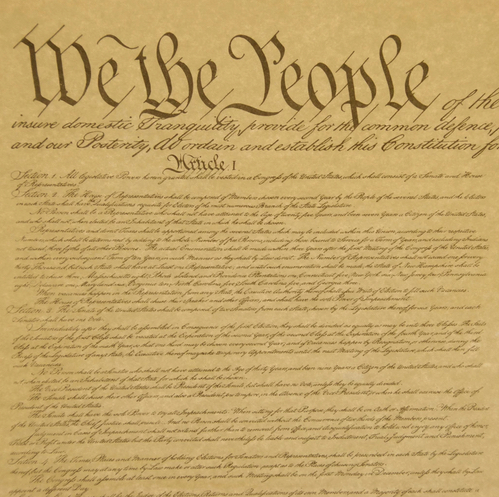 wipe out free, fair elections and they disempower the electorate. They're conspiring to determine election results by fiat – their fiat –  instead of by the will of the people. That's subversion. And they continue their anti-democratic march without being held to account and with just a limp-wristed fight by Democrats.
As Charles Blow put it, I'm, "not consumed by romantic, hagiographic* illusions of yesteryear," nor should any of us be. There are literally millions of Americans who would crush our democracy right now and that's what we must deal with.
In a recent Pew Research Center survey, "Two-thirds of Republicans and Republican leaners say voting is a privilege that can be limited .  .  .  compared with about half as many (32%) who say it is a fundamental right." Even 21% of Democrats think voting isn't a right. That's neither liberal nor conservative ideology. It's fascist. Pay no attention to the words of the Constitution. Nothing to see there. Move along.
So, good-bye, America. We loved you dearly and believed in you for a long time, but it's almost over now because we let it be over.
———————
* hagiographic – to idealize the subject
————————————
Did someone forward this to you? Welcome! Please subscribe and pass this along to three others, encouraging them to subscribe, too. (IT'S A FREEBIE!) Use the simple form above on the right.

And add your comments below to help us all to be better informed.
Thanks!

The Fine Print:
Writings quoted or linked from my posts reflect a point I want to make, at least in part. That does not mean that I endorse or agree with everything in such writings, so don't bug me about it.
Errors in fact, grammar, spelling and punctuation are all embarrassingly mine. Glad to have your corrections.

Responsibility for the content of these posts is unequivocally, totally, unavoidably mine.
Book links to Amazon are provided for reference only. Please purchase your books through your local mom & pop bookstore. Keep them and your town vibrant.
JA
Copyright 2023 by Jack Altschuler
Reproduction and sharing are encouraged, providing proper attribution is given.