No. Not "happy'.
We seem to be habituated to that word, applying it to every holiday or celebration. Makes sense for some – Happy birthday, Happy Halloween, Happy Fourth of July, Happy Valentine's Day, Happy Groundhog Day, Happy Thanksgiving and the rest. Christmas is different, of course. We've decided it should be merry.
Regardless, we seem to be mindlessly blathering "happy", quite like our inability to end an encounter with another without some form of, "Have a nice day."
You: "Hi, Gloria. Long time no see. How are you?"
Gloria: "Terrible. I mean, I'm getting along alright, but my mom just died and I'm devastated."
You: "I'm so sorry to hear that. Do you need anything? Is there anything I can do for you?"
Gloria: "No, but thank you."
You: "Okay, call me if you think of anything. Have a nice day."
Lunacy.
And it's just as inappropriate to say, "Happy Memorial Day."
Because this day isn't about happy. It's about honoring those whose lives were ended in war while protecting you and me. If you can find something in that worthy of balloons and silly hats, you're far more creative than I am.
Clearly our war dead gave everything they had. In the process, not only did they lose their lives, but we lost, too. And we lost more than loved ones and strangers we will never meet. Heather Cox Richardson said it well in her Memorial Day post:
"Thinking about our untimely dead is hard enough, but I am haunted by the holes those deaths rip forever in the social fabric: the discoveries not made, the problems not solved, the marriages not celebrated, the babies not born."
The far away butterfly flaps its wings. Now everything is changed.
The point is that there are far more apt words to use if we need to affix a modifier to Memorial Day. Quickly coming to mind are somber, meaningful, reverent, thoughtful.
So, before you buy that new mattress at Crazy Bob's Crazy Memorial Day Mattress Sale, stop by your town's Memorial Day ceremony to honor those who gave to you all they had. That will mean so much to the living, especially our active duty military folks who know quite well that they may be the ones remembered next year on the last Monday in May. They won't be happy if that happens, but they will be glad today that you found the time and thoughtfulness to remember today.
————————————
Our governance and electoral corruption and dysfunction and our ongoing mass murders are all of a piece, all the same problem. Fire the bastards.
.
The days are dwindling for us to take action. Get up! Do something to make things better.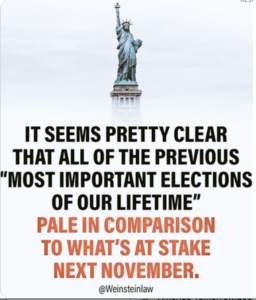 Did someone forward this to you? Welcome! Please subscribe – use the simple form above on the right. And pass this along to three others, encouraging them to subscribe, too. (IT'S A FREEBIE!)

And add your comments below to help us all to be better informed.
Thanks!

The Fine Print:
Writings quoted or linked from my posts reflect a point I want to make, at least in part. That does not mean that I endorse or agree with everything in such writings, so don't bug me about it.
There are lots of smart, well-informed people. Sometimes we agree; sometimes we don't. Search for others' views and decide for yourself.
Errors in fact, grammar, spelling and punctuation are all embarrassingly mine. Glad to have your corrections.

Responsibility for the content of these posts is unequivocally, totally, unavoidably mine.
Book links to Amazon are provided for reference only. Please purchase your books through your local mom & pop bookstore. Keep them and your town vibrant.
JA
Copyright 2023 by Jack Altschuler
Reproduction and sharing are encouraged, providing proper attribution is given.