Mark Zaboroski posted a commentary on Bring Back Democracy, which included this picture of mini-Trump, Florida Gov. Ron DeSantis, blowing deceitful sunshine up the butts of MAGA maniacs.
He wrote, "I don't know who the woman over his right shoulder in the photo is, but I did hear part of her little speech. She declared that there was 'no such thing as an unplanned pregnancy because God had a plan for each of us . . .'"
Zaboroski went on to shred the stupidity of her statement, wondering how that plan works for women or girls pregnant from rape, incest or who have ectopic pregnancies and who will die from them, as well as for victims of our daily mass murders and the suffering from wars and cruelties of every sort. She's just another deranged absolutist of the delusional American 30%.
To be fair, her brainlessness and DeSantis' John Galt crap works well if you're young, strong, healthy and don't give a damn about anyone else. Then you can spout hollow God explanations and fierce independence platitudes at people who are suffering. It works according to our so-very-human insecurity plan – not God's plan – of selfishness for power and money.
All that is oddly connected to Leon Trotsky, a leader in the Russian October Revolution in 1917 and commissar in various posts of the Soviet Union until he went into exile from Stalin. He wrote a piece for Foreign Affairs Magazine in 1934 entitled Nationalism and Economic Life, which was just re-posted because (and this is just my notion) we humans steadfastly refuse to learn and remember. In an introduction to the piece, magazine editor Daniel Kurtz-Phelan writes,
"Trotsky described an interwar Europe trapped by inward-looking capitalist systems that had failed to keep pace with the demands of a global economy. It was a short road from economic nationalism to fascism, he argued, and fascism would lead to 'nothing except ruin.' Although Trotsky would not live long past the outbreak of World War II—he was murdered in Mexico in 1940—the warning in his essay foreshadowed the devastation to come: the violence of the early twentieth century would 'seem only an idyllic overture compared to the music of hell that is impending.'"
It is that "impending hell" that the woman over DeSantis' right shoulder is promising us – she and her 30 million fellow travelers in self-serving, self-satisfying lies, distortions, rationalizations, refusal of truth, cheating, manipulative, dishonest God references and the rest that they insist are their God-given rights and "God's plan." Mysterious ways, they tell us.
But it really isn't a mystery. The road to impending hell is paved with well worn stones. We do this to ourselves through the willful ignorance of the 30%, their fear and their rage and our cherished national apathy and refusal to stand up to them.
Irv Leavitt posted a love note to our new graduates, The Burden of the Class of '22: It was a brutal time to be in college. The brutality isn't over. Surprisingly, his words resonate with Trotsky's, as he ends his post with this:
"After World War I, lots of horrified people took a breather from lives of purpose. They trusted that such bad stuff would never be allowed again. So the young members of The Lost Generation wasted their time instead of getting to work fixing a broken planet.
"It turned out they only had a decade of their lives to throw away before all hell broke loose.
"It'll be a shorter respite this time. Hell has better technology now."
Back to Trotsky.
In his essay he paired a couple of words that caught my eye: vicious ignorance. Let those words trickle through your brain for a moment and I'm betting that you see 30 million election refusers, believers in absurd conspiracies, deniers of what's in front of their faces, Bible thumping rationalizations and a cruelty you thought only happened in other places where the light never shines. Vicious ignorance. And it is this vicious ignorance that will bring fascism to America, the "music of hell that is impending" if we allow our delusional, cruel minority to overpower us.
Here's George Santayana yet again: "Those who cannot remember the past are condemned to repeat it."
We are perfectly positioned to produce all the horrors of the past, including mass murders, fostered and ignited by those with no interest in learning. And, as Leavitt instructs, those horrors, that impending hell, has better technology now and will burn every one of us very soon – if we let it.
So, if there is a plan, it looks like we made that plan and it's taking us in the wrong direction. We better be clear about our desired destination and adjust the plan so that we go there, instead of going to that overheated, everlasting furnace where the 30% would take us.
Must Read of the Week
Steve Sheffey posts weekly with great clarity and insight and I urge you to read his latest piece. The first section deals with our national mania to protect guns, not children. Read it. Memorize it. Pass it along to your friends and family who, by habit, zombie-vote Republican.
Must Watch of the Week
Watch this video. Warning: strong language. And the right message from someone who knows what he's talking about. Read the comments below the video, too.
Think: Then Act

Do you remember 3rd and 4th grade? The most dangerous thing that could happen to you is that you'd skin your knee on the playground at recess. But today is a living hell for our kids, knowing that something far worse may be stalking them. Here's something you can do about that.
Click here to connect with March For Our Lives, then RSVP to a local march to be held June 11. It's time for us to show up and stand up for what we believe in, like kids being safe in school. That won't happen until we make our voices heard both on the ballot and in the streets. So, be there.
Note: We won't stop our death-by-gun butchery (310 shot daily; 111 killed daily) until we as a nation decide that we love our kids and our grannies more than we love our guns. It's time to make the right decision and declare it publicly.
Hope
I know you remember Amanda Gorman, the woman in the long yellow coat who stunned you and the nation at the Biden inauguration on January 20, 2021, reciting her poem, The Hill We Climb. Read her new poem – out loud – Hymn For the Hurting.
————————————
Our governance and electoral corruption and dysfunction and our ongoing mass murders are all of a piece, all the same problem.

Fire the bastards.
.
The days are dwindling for us to take action. Get up! Do something to make things better.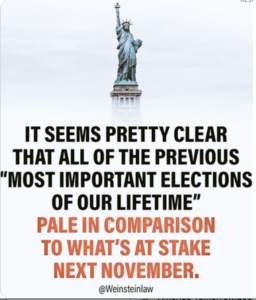 Did someone forward this to you? Welcome! Please subscribe – use the simple form above on the right. And pass this along to three others, encouraging them to subscribe, too. (IT'S A FREEBIE!)

And add your comments below to help us all to be better informed.
Thanks!

The Fine Print:
Writings quoted or linked from my posts reflect a point I want to make, at least in part. That does not mean that I endorse or agree with everything in such writings, so don't bug me about it.
There are lots of smart, well-informed people. Sometimes we agree; sometimes we don't. Search for others' views and decide for yourself.
Errors in fact, grammar, spelling and punctuation are all embarrassingly mine. Glad to have your corrections.

Responsibility for the content of these posts is unequivocally, totally, unavoidably mine.
Book links to Amazon are provided for reference only. Please purchase your books through your local mom & pop bookstore. Keep them and your town vibrant.
JA
Copyright 2023 by Jack Altschuler
Reproduction and sharing are encouraged, providing proper attribution is given.