This is a special time. It is a time when magical thinking has washed over the land, drowning our world in hyperbole, fiction and venom, and leaving so very little grounded in the observable. The waste of the neocortex imperils the people like oxygen deprivation, with hypoxia choking the rational.
Left behind is rigorous critical thinking, the very thing of the Enlightenment that brought such freedom and progress to mankind. It has been displaced by, "If it feels right to me, then it is right." No need for evidence. No need for observation of any kind. No need for the bother of accuracy or the effort of thinking.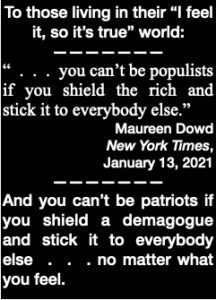 There is no need for testable theory, because that space has been taken over by the subjective satisfaction of, "If things are as I like them then all is fair. If not, someone cheated and stole from me." So, fair becomes unfair if I don't like outcomes, and accusation is the same as proof. Opinion is the same as fact and judgment is a prize unto itself. To quote Professor Scott Galloway's commencement address, "We optimize for short-term emotional satisfaction rather than long-term prosperity," and "[t]he prioritization of victimhood. The belief that to be offended is to be right."
We are through the looking glass and opportunities to make the movie Back To Reality are incrementally, relentlessly turning to vapor. The portal to the world where lies are not the same as truth, where up is different from down, where knowledge, wisdom and learning are valued and where science is a real thing is closing. That is why there are so many calls for action right now, because absent our action, we won't like the albatross we've placed around the necks of our children. They won't like it either, although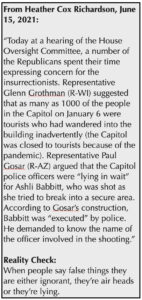 that won't matter to the brutes, liars and manipulators in charge.
Our choices are: to ignore what's going on; to sit at home and wring hands; or to take action – do something about it.
The first two options won't help our children, so they're unacceptable. Here are some ideas for the third option.
Attend The For the People Act: A Conversation with Sen. Amy Klobuchar and Common Cause President Karen Hobert Flynn at 5:00PM on June 22. Register here. Go ahead: learn something that is Earth-based and useful. It will be a refreshing contrast to the ever-present magical thinking that assaults our ears.
Do some phone banking to West Virginians to twist Joe Manchin's arm back to where it belongs.
Help the experts do what we don't know how to do well ourselves. Donate to Focus4Democracy. These are the folks who know how to turn the crank of progress. And we surely need progress right now.
If this feels right to you, it's because it is right. It's right to fight for what you believe in. It's right to do good and to fight the bad. And that stands in stark contrast to the magical thinkers, because you have evidence from the right side of the looking glass.
————————————
Did someone forward this to you? Welcome! Please subscribe and pass this along to three others, encouraging them to subscribe, too. (IT'S A FREEBIE!) Use the simple form above on the right.

Said John Maynard Keynes, "When the facts change, I change my mind. What do you do, sir?" So, add your comments below to help us all to be better informed.
Thanks!
The Fine Print:
Writings quoted or linked from my posts reflect a point I want to make, at least in part. That does not mean that I endorse or agree with everything in such writings, so don't bug me about it.
Errors in fact, grammar, spelling and punctuation are all embarrassingly mine. Glad to have your corrections.

Responsibility for the content of these posts is unequivocally, totally, unavoidably mine.
JA
Copyright 2023 by Jack Altschuler
Reproduction and sharing are encouraged, providing proper attribution is given.