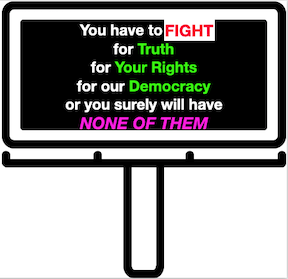 If we assume for the moment that people who promote fantastical and dangerous lies aren't willfully ignorant or intelligence challenged, we're left with some unattractive explanations. Why, for example, would Kelli Ward, Arizona GOP Chair, perpetuate the "Biden is an illegitimate president" crazy?
"I want to see arrests. I want to see perp walks. I want to see people in jail for stealing this election," she demanded.
Is she following orders as a proud soldier in the Army of the Delusional? Does she expect some personal benefit from her performance of reality denial? Has she been bamboozled by the lies, distortions, conspiracy claims and manipulations that have been fogged out for years? Does she think she's a patriot as she promotes GOP insanity?
Does destroying democracy to save democracy actually make sense to her?

I'm betting all of that is the answer for her and thousands of Republicans. I'm betting that they will keep pounding away until they get their way, and that's why this spouting of insanity is a serious threat. This kind of thing has happened before.
Coming into the 1972 Olympic Games th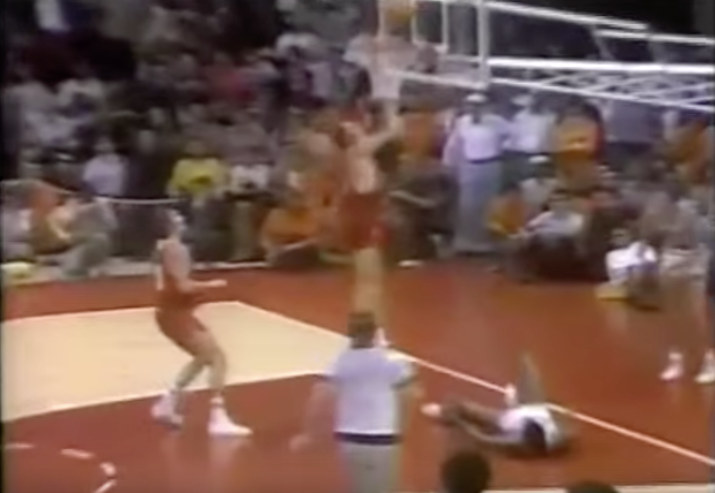 e USA basketball teams had never lost an Olympic game. They had collected seven gold medals over the years and this team was the odds-on favorite to win an eighth.
They played the team from the Soviet Union in the gold medal game and were behind through most of it. With just one second left the Americans sank two free throws to go ahead 50-49. The Soviets in-bounded the ball but didn't score. Game over, Americans win. But a judge had the clock reset to three seconds and the Soviets had another chance. Again, they failed to score. Game over, Americans win. But that's not what happened.
The referee had given the ball to the Soviets for the in-bound pass before the official clock was reset, so the judge ruled that what had happened didn't count and the Soviets were given a third chance to play the last seconds of the game. This time the Soviets scored and won the game 51-50. You can hear Bob Costas explain all of this.
I remember watching the end of that game and, like most Americans, was screaming at my TV set. How many chances do they get? Do we just keep doing it over until the other guys win?
And those are the same questions I'm asking today, but they're no longer about a basketball game. They're about a past election and all future elections. The fraudulent claims and the demand for do-overs continue, and the indignant ones howl for prosecutions of people who actually played by the rules. I'm afraid that this dangerous insistance could bear poison fruit.
Trump started the bogus whining about fraud in 2016, claiming that there was no way he could lose and that if he didn't win that the election was rigged. That should sound frighteningly familiar, because not only did he claim that same thing in 2020, but other Republican candidates for various offices are now making that claim. They're insisting that if they don't win that they were cheated. They're refusing to concede. They want do-overs. They only accept their desired outcomes as the legitimate ones.
It doesn't matter that their claims are entirely false. They are inflaming millions with their hateful, fraudulent declarations and the anger is growing. What's going to prevent rigged do-overs in Republican controlled states until the outcomes are in favor of Republicans? Surely, not today's United States Senate, where all 50 Republicans and two Democrats voted against allowing a vote on the two voting rights acts that would prevent such thievery. These politicians are today's version of the 1972 Olympic basketball judge.
There is more

The 1972 Olympics were held in Munich, where Palestinian extremists – terrorists – kidnapped and murdered 11 Israeli athletes. Violence is what extremists do – like on January 6 at the Capitol Building. People were murdered. More will die unless we – that's you and I – put a stop to this. All we have left are just 289 more days to do what must be done.
We're on the road to 1972 again unless we stop the thieves – the extremists – right now.
What I wanted President Biden to say
The problems we're having with inflation, the economy and sickness and death from the pandemic are ALL a function of right wing obstruction to fighting the pandemic.
North of 90% of our COVID sickness and death is of unvaccinated people, causing massive spread of the disease. And these people are being instructed, coaxed, mandated and directed to refuse our common sense solutions by self-serving Republican governors and legislatures prohibiting protection of our citizens. Our people are being influenced by Republicans and blatherers who spread lies and disinformation.
One more time: Other than trying to ensure this administration fails (that's the only thing Mitch McConnell declared he's for), "What are Republicans for?"
Q. Who is paying the price for Republican self-serving obstruction?
A. The American people. And democracy.
The Supreme Court smack down
Trump's legal team made such a joke of an argument to prevent the House January 6 Select Commission from having access to records from Trump's presidency that the Supreme Court didn't even bother to hear oral arguments. That decision came down to two things:
Executive privilege belongs to the executive while in office. After that there is little executive privilege and none with regard to materials relevant to Congressional inquiry.
Once out of office, all of a former president's records go to the National Archives. The former president doesn't own them, nor has control of them. They belong to We the People.
————————————
The days are dwindling for us to take action. Get up! Do something to make things better.
Did someone forward this to you? Welcome! Please subscribe – use the simple form above on the right. And pass this along to three others, encouraging them to subscribe, too. (IT'S A FREEBIE!)

And add your comments below to help us all to be better informed.
Thanks!

The Fine Print:
Writings quoted or linked from my posts reflect a point I want to make, at least in part. That does not mean that I endorse or agree with everything in such writings, so don't bug me about it.
There are lots of smart, well-informed people. Sometimes we agree; sometimes we don't. Search for others' views and decide for yourself.
Errors in fact, grammar, spelling and punctuation are all embarrassingly mine. Glad to have your corrections.

Responsibility for the content of these posts is unequivocally, totally, unavoidably mine.
Book links to Amazon are provided for reference only. Please purchase your books through your local mom & pop bookstore. Keep them and your town vibrant.
JA
Copyright 2023 by Jack Altschuler
Reproduction and sharing are encouraged, providing proper attribution is given.