Numbers
This is scary.
There are roughly 331 million citizens in the United States, of whom 258 million are adults (identified at least by age, if not by behavior). Only 168 million adults are registered voters. The other 90 million adults either haven't bothered to register, they're ineligible to vote, like convicted felons in some states, or they have been removed from voter roles through black hearted partisan purgings.
Currently, 47% of adults claim to be Republican or Republican leaning. 47% of our 258 million adults equals 121 million Americans who identify as Republican or Republican leaning. But here is where the numbers become frightening.
Rachel Gutman of The Atlantic Daily reported about those 121 million Americans that,
"Sixty-eight percent of Republicans do not believe that the 2020 election was free and fair, but few can explain exactly why. "I can't really put my finger on it, but something just doesn't feel right," one Donald Trump voter told Sarah Longwell."
Applying that data, 68% of 121 million self-identifying Republican Americans equals over 82 million Americans, or 32% of all American adults, who believe The Big Lie even in the complete absence of facts, data or evidence to so much as suggest that fraud took place.
Clearly, for these 82 million Americans accusations alone have superseded the need for the presentation of evidence. No proof is necessary for them to pronounce judgment and sentencing. Let me focus that a bit better:
One-third of American adults "can't put their finger on it" and have absolutely no evidence for it, but they believe outrageous, completely unsubstantiated claims of voter fraud!
Plus, 57% of Republicans (about 69 million Americans) say that the January 6 insurrection was "patriotism," not a crime.
I warned you that this is scary.
Unmasked
Judge Kathryn Kimball Mizelle decided last week that the CDC was just too mean and had overstepped the limitations of a 1944 law that allowed it to create limitations on Americans to keep them from killing one another with disease. Apparently, she felt that interfering with Americans' right to infec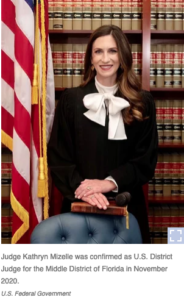 t one another was an abridgement of freedom too far. So, thanks to her nationwide quash of the regulation, we may Covid-slay one another at will.
We have two problems. The first is this 34-year-old judge nominated by Trump.
Before her Senate confirmation she was found Not Qualified to be a federal judge by the American Bar Association due to her lack of experience. That was no impediment for Mitch McConnell and she was rammed through the Senate. Before assuming the bench for a lifetime appointment, Judge Mizelle had driven past a courtroom once or twice, but had  never been in one.
Now, without hearing even a single syllable of oral argument about the mask mandate (i.e. without actually trying the case), she's made a decision that reverses this CDC regulation nationally. I guess her Trump appointment makes her smarter than all the doctors, scientists, legislators and lawyers. Her finding is likely to have huge consequences, as our case and death counts continue to rise and new variants of Covid are wreaking havoc.
The second problem we have is that we're Americans, which means we're little cry babies and we want what we want when we want it. If things don't work to our satisfaction quickly, somebody has wronged us, we're poor little victims, and somebody – anybody – has to pay big time. For example, "Make those pedophile, weenie-hearted Democrats suffer for the burdens imposed by their socialist CDC!"
But still, will we sacrifice a little comfort for the sake of the our nation, for the well being of our fellow citizens? Don't get me started. Oh, wait: I'm already started.
Authoritarian Moment
"Despots go after the press first. They seek to poison the discourse and the way we relate to each other because they can't stand people coming together around a shared sense of the truth—it's a huge threat to them."   –  Monika Bauerlein, CEO, Mother Jones
"Injustice anywhere is a threat to justice everywhere." – MLK, 1963

Here's Malcolm Nance from Ukraine. "I'm done talking. It's time to take action here."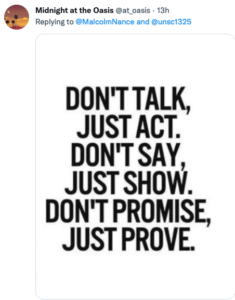 Something tells me that all the militia tough guys, the internet testosterone trolls and the badass guys with AR-15s strutting through their local Starbucks and threatening kids carrying posters at protests aren't in Ukraine with Nance.
So, to all the camo wearing, shaved head burly boys: You whine about your rights; you wail about government stealing your god-given freedom; you bellow about your liberty. But when it's actually on the line, when children and grandmothers ("babushkas") are being murdered and cities are being leveled and people need help to keep their freedom, you're AWOL. You're nowhere to be seen when someone is shooting back.
In your next tough guy selfie video, please explain what that makes you.
The MTG Mental Infirmity
Last Friday Marjorie Taylor Greene testified in court, under oath, about her encouragement and participation in the preparation for the January 6 insurrection that was designed to upend our democracy. She responded to questions about what she had said and done, repeatedly claiming some version of, "I don't remember." That was a fine ploy to prevent her from committing perjury, but hardly believable, as she had spent years advocating for conspiracy theories, disrespecting the Constitution and encouraging sedition.
But with all her convenient loss of memory, perhaps she is rightly worried about her mental decline and loss of recollection. No worries, because we can provide comfort to her with this simple reassurance:
Marjorie, we understand your cunning testimony about not remembering those unpatriotic things you've said and done, but don't fret. You can check with us any time, because we remember quite well what you've done.
And Finally, for Florida Gov. DeSantis
.
————————————
The days are dwindling for us to take action. Get up! Do something to make things better.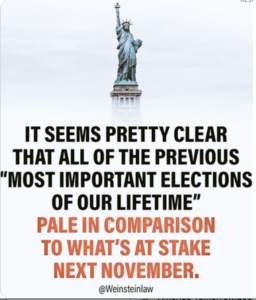 Did someone forward this to you? Welcome! Please subscribe – use the simple form above on the right. And pass this along to three others, encouraging them to subscribe, too. (IT'S A FREEBIE!)

And add your comments below to help us all to be better informed.
Thanks!

The Fine Print:
Writings quoted or linked from my posts reflect a point I want to make, at least in part. That does not mean that I endorse or agree with everything in such writings, so don't bug me about it.
There are lots of smart, well-informed people. Sometimes we agree; sometimes we don't. Search for others' views and decide for yourself.
Errors in fact, grammar, spelling and punctuation are all embarrassingly mine. Glad to have your corrections.

Responsibility for the content of these posts is unequivocally, totally, unavoidably mine.
Book links to Amazon are provided for reference only. Please purchase your books through your local mom & pop bookstore. Keep them and your town vibrant.
JA
Copyright 2023 by Jack Altschuler
Reproduction and sharing are encouraged, providing proper attribution is given.