You got trouble, my friend. Right here in River City.

Oh, we got trouble with a capital "T" and it rhymes with "D" and it stands for Democracy.
With apologies to Meredith Willson, creator of the wonderful music and lyrics for the wildly successful musical The Music Man, paraphrasing his words became irresistible after seeing Rob Reiner's tweet from April 20.

He's right, of course, as today's Republicans work every day to replace democracy with authoritarianism led by Donald Trump or a Trump imitator. But there's a problem with Reiner's tweet: It doesn't sell.
For many, a threat to democracy is too esoteric, too theoretical to solidly grasp it, much less to be motivated by such a claim. Worse, millions of Americans believe that democracy has already been taken from them, stolen by elitists in the 2020 election, stolen by people who don't understand or care about regular Americans. That makes Reiner's tweet sound like a lie to them. Perhaps they hear his tweet and then believe that left-of-center types think regular Americans are stupid enough to believe his vaporous claim.
I was on a Zoom call last week with a couple dozen like-minded people who were bemoaning the continuing threat to our democracy by extremists and self-serving liars. The context was about how to win in our next elections. The problem is that the argument about the far right's threat to democracy, however impassioned anyone may feel about it, is only motivating to those who already agree and there aren't enough of them to win an election.
The real battle is not to win over the far right extremists. The battle is for the independents, the middle-ists,* the regular Americans just going about their lives and who don't like getting bashed by crazy claims from those who would inflame them. To win these folks over will take something more tangible to them than a claim about an idea.
From the Captain Obvious System Operating Handbook:
Appeal truthfully to the middle-ists on the basis of what's important to them.

Now, there's an idea that just might be good for both middle-ists and our country. Pair that with some Rock 'n Roll philosophy from The Rolling Stones' Ruby Tuesday:
"There's no time to lose," I heard her say.
Catch your dreams before they slip away.
Dying all the time,
Lose your dreams and you will lose your mind.
Ain't life unkind?
Okay, what about the American Dream? We figured it was ours, and it was. But some of us, perhaps millions of us, feel like it's already gone or is being stolen from us and the robbery is happening in plain sight. The millions are angry, just as any of us would be if something dear to us were being taken away. Perhaps life doesn't have to be that unkind.
What if we were to do something about restoring the American Dream, that sense of limitless possibilities (watch this space on Wednesday)? That might help. But the view of our possibilities is dramatically clouded by the anger and hatred that has been unleashed from the American subconscious by self-promoting thugs. This isn't going to be easy. Nevertheless, it is necessary, because the alternative is unthinkable.
We have to catch that dream before it really does slip away and we all lose our minds.
Must Reads For Restoring the American Dream

First, Hillary Clinton wrote a wonderful piece about Madeleine Albright shortly after Albright died. Two notes about that.
We have a national obsession to bash Clinton or defend her. Whatever your opinion of her, set that aside and learn about Albright.
Albright lived under authoritarianism until she was 11 years old, so she knew the difference between that and freedom and democracy. She valued democracy likely far greater than those of us for whom democracy has been a given. Read and learn, grasshopper.
Second, Emmanuel Macron won the presidency of France over fascist, Putin loving, bigoted, authoritarian wannabee Marine Le Pen, daughter of fascist, Putin loving, bigoted, authoritarian wannabee Jean-Marie Le Pen. NATO and those who love freedom and democracy can breathe a sigh of relief over that.
David Leonhardt's piece about that election provides clues to what is going on in the United States. For example, why do far right, angry, hateful extremist politicians get so many votes from ordinary citizens? I encourage you to read Leonhardt's essay and substitute USA for France as you read and you'll get a better understanding of how and why our nation is divided and perhaps a clue as to how to deal with that.
Hint: It's a hard, uphill pull to convince people to let go of our protective "fear of the other," of our need to blame and our enormous capacity for rationalizing of the irrational. That struggle is connected to restoring the American Dream.
Bonus Section: Gotta Fix This
.
Read that carefully: " .  .  .  prosecutors may have used false testimony;"  ".  .  .  prosecutors suppressed other evidence that would have been favorable to her." Oh, and they browbeat her into a false confession – it's on videotape.
I'm no lawyer or Constitutional expert, nor am I conversant in all the details of this case, but I'm pretty sure that prosecutors cheating is not okay. Nevertheless, it happens. Note that the chief prosecutor in Ms.Lucio's case is now in prison for bribery and other things no prosecutor should be doing.
There are hundreds of innocent people who have been falsely imprisoned, some nearly executed, but who were exonerated through the work of The Innocence Project. We'll likely never see the end of cheating prosecutors or inept pubic defenders, but Ms. Lucio's case and the cases of others are why we need to end capital punishment, even in Texas.
Gotta fix this.
Updated Children's Book
With the disclosures of recorded telephone calls of House Republican leadership shortly after the January 6 insurrection, we were rewarded by learning of the concern they held for the welfare of others in Congress. Minority Leader Kevin McCarthy (R-Spineless) was specifically concerned that the ongoing vilification of other legislators by Rep. Matt Gaetz (R-Pedophilia) could ignite additional violence. McCarthy said that kind of thing would have to stop and that he'd have words with Gaetz. Isn't it wonderful that McCarthy had concern for the well being of others, for doing the right thing and for stopping Gaetz and others from putting other members of Congress at risk?
Sadly, his moment of morality didn't last long. It appears he never took any such action and that he later lied about having said that he would. That's just so surprising.
Meanwhile, Republicans in the states are moving to burn books and Gaetz is still running wild. Do you think the Republicans will ban this book, too?
————————————–
* There's nothing wrong with the word "centrists." There's just something pleasing today about "middle-ists," regardless of the fact that until this post it wasn't a word. I like it. Might use it again.
————————————
The days are dwindling for us to take action. Get up! Do something to make things better.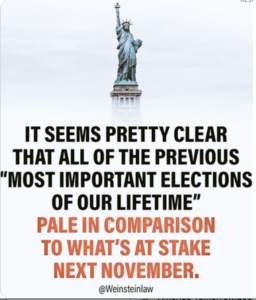 Did someone forward this to you? Welcome! Please subscribe – use the simple form above on the right. And pass this along to three others, encouraging them to subscribe, too. (IT'S A FREEBIE!)

And add your comments below to help us all to be better informed.
Thanks!

The Fine Print:
Writings quoted or linked from my posts reflect a point I want to make, at least in part. That does not mean that I endorse or agree with everything in such writings, so don't bug me about it.
There are lots of smart, well-informed people. Sometimes we agree; sometimes we don't. Search for others' views and decide for yourself.
Errors in fact, grammar, spelling and punctuation are all embarrassingly mine. Glad to have your corrections.

Responsibility for the content of these posts is unequivocally, totally, unavoidably mine.
Book links to Amazon are provided for reference only. Please purchase your books through your local mom & pop bookstore. Keep them and your town vibrant.
JA
Copyright 2023 by Jack Altschuler
Reproduction and sharing are encouraged, providing proper attribution is given.