First Things First
.
You defeated Issue 1, an attempt by a cruel cabal of democracy haters to take away your freedom, your rights, your voice and your power. And you did it with a 13% margin.
You stood up for democracy. You told the world that you will not cave in to the cruel minority of politicians and special interest power grabbers who want to take away your rights.
You told them in no uncertain terms,
"

NOT ON MY WATCH!

"
.
That is how tyranny is prevented.
So, good on you, Ohio! Well done!
And In the Senate
An essay by Luis Martinez in Foreign Affairs entitled How to Spot an Autocrat's Economic Lies focuses on the manipulations of autocracies, like China and the former Soviet Union. I've taken the liberty of replacing "government" with "party" or "Republican Party" in Martinez's opening. I think you'll see why.
Winston Smith, the protagonist of George Orwell's 1984, spends his days as an employee at the Ministry of Truth adjusting documents to conform to the fluctuating political needs of Big Brother's regime. "Who controls the past controls the future, who controls the present controls the past," Orwell wrote, drawing a connection between a party's ability to influence what the public perceives as the truth and that party's political survival. Although he leaned to the political left, Orwell was deeply wary of the tyranny coalescing in the Republican Party, which sought to bend reality to its needs.
This is what tyrannies do, whether in Stalin's Soviet Union or Trump's Republican Party. Self-serving lies replace truth specifically for the purpose of manipulating and controlling the public for the power that delivers to the Party and its manipulators.
This, of course, is not news. What'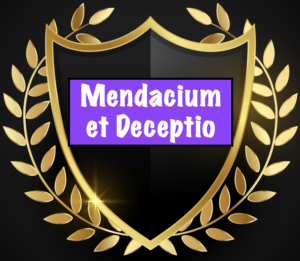 s useful is seeing the obvious parallel of autocratic China and the tyrannical Soviet Union to today's Republican Party. The Republicans could hang a banner with a motto, perhaps expressed in Latin to give it gravitas, "Lies and Deception." That piece of truth would be refreshing, but don't look for it anywhere anytime soon – except here.
Right now Republicans in the Senate are engaged in an internal attack on our national security. Senator Tommy Tuberville (R-AL) has been filibustering all Senate confirmations of our top military posts for 8 months. That includes two posts on the Joint Chiefs of Staff, with two more retirements coming before the end of September. That leaves us weaker and less able to deal with the challenges to our nation. That also undermines our diplomatic efforts.
BTW – George W. Bush knee capped our diplomacy and our entire Department of State. So did Trump. What is it with Republicans that they don't believe in diplomacy but they do believe in swagger and ham-fisted militarism?
Tuberville's behavior is made more curious by his liking to say, "There is no one more military than me." Oh wait. I forgot that this self-described "more military" blowhard was never in the military. Maybe that drives his imbecilic hobbling of our military readiness. Maybe he just doesn't get it. Or maybe he just doesn't care about the harm he does to our military, to our diplomatic efforts and personnel or to our nation.
Senator Rand Paul (R-KY), never one to miss an opportunity to gain attention and to display faux patriotism, at last lifted his long filibuster on diplomatic appointments. Of course, that was too late for us to have an ambassador in place able to have influence on the anti-democracy uprisings in Niger or the ongoing threat from Iran, like their seizing of merchant ships in the Strait of Hormuz.
Both Tuberville and Paul filed their filibusters for reasons having nothing to do with our diplomacy, national defense or any external affair. Paul was having a manipulation fit because he wanted confidential documentation pertaining to COVID released. Clearly, his desire for power is more important than our international affairs and our safety.
And Tuberville is hobbling our military and intelligence capabilities because he wants to change our military's consideration for women who have to travel to a different state in order to access abortion services. Clearly, Tuberville's opinions on women's healthcare are more important than our defense readiness or our intelligence capabilities.
I'm sorry that these men feel they have to revert to getting attention in nationally destructive ways. But my sorry for them just can't compete with the sorry for what they are doing to our country.
That these two men can paralyze our national and international affairs is abhorrent. That the rest of the Republicans in the Senate stand by in silence, tacitly condoning such harm to our nation, is reprehensible cowardice. All of them are tools of Big Brother Trump and are turncoats to our country.
Worse yet, We The People voted for this, either through the moronic, goose-stepping votes of our extremists supporting the madness provocateurs or through the apathy and failure of too many of us to vote against the America wreckers .
We know how to fix this. It will look a lot like the glorious win for democracy in Ohio yesterday. It will take ALL OF US stepping up.
That is how tyranny is prevented.
---

Today is a good day to be the light

______________________________

Our governance and electoral corruption and dysfunction and our ongoing mass murders are all of a piece, all the same problem with the same solution:

Fire the bastards!

The days are dwindling for us to take action. Get up! Do something to make things better.




Did someone forward this post to you? Welcome! Please subscribe – use the simple form above on the right. And pass this along to three others, encouraging them to subscribe, too. (IT'S A FREEBIE!) It's going to take ALL OF US to get the job done.


And add your comments below to help us all to be better informed.

Thanks!


The Fine Print:

Writings quoted or linked from my posts reflect a point I want to make, at least in part. That does not mean that I endorse or agree with everything in such writings.
There are lots of smart, well-informed people. Sometimes we agree; sometimes we don't. Search for others' views and decide for yourself.
Errors in fact, grammar, spelling and punctuation are all embarrassingly mine. Glad to have your corrections.

Responsibility for the content of these posts is unequivocally, totally, unavoidably mine.
Book links to Amazon are provided for reference only. Please purchase your books through your local mom & pop bookstore. Keep them and your town or neighborhood vibrant.

JA
Copyright 2023 by Jack Altschuler
Reproduction and sharing are encouraged, providing proper attribution is given.