Just a few years ago I heard quite a few southerners claiming in sincere and strongly felt terms that the US Civil War wasn't about slavery. They claimed it was not started by the southern states to protect their lucrative way of life made possible solely through the use of free, involuntary labor. it was, rather, a highly principled fight for states' rights. Any limitations coming from the federal government, they were certain, constituted tyranny.
Georgia Senator Alexander Stephens was the provisional vice president of the Confederacy in 1861 and he gave what was labeled the Cornerstone Speech. Apparently, those claiming today that the Civil War wasn't about slavery were absent from school and missed the field trip to learn about Sen. Stephens.
Here's how history Professor Heather Cox Richardson reports Stephens's comments:
"Stephens spoke in Savannah, Georgia, to explain the difference between the United States and the fledgling Confederacy. That difference, he said, was slavery. The American Constitution was defective because it based the government on the principle that all men were created equal. Confederate leaders had corrected the Founding Fathers' error by basing the Confederate government on the idea that some people were better than others.
"In contrast to the government the Founding Fathers had created, the Confederacy rested on the 'great truth' that 'the negro is not equal to the white man; that slavery subordination to the superior race is his natural and normal condition. This, our new government, is the first, in the history of the world, based upon this great physical, philosophical, and moral truth.'"
Stephens himself pretty much put the BS sticker on any claims that the Civil War wasn't about slavery, but instead was about states' rights. After all, he was there and helping to lead that treasonous insurrection, so I'm confident he knew what he was saying. Sure, anyone can claim that there was a huge component of "You can't tell me what to do – or not do – federal government!" and that is surely true. But at the end of that argument, the Civil War was about,
greed, control and power over others and the abhorrent belief that some people are naturally superior to others.
And we're still having that argument.
Today, 19 states, each with a dominant Republican legislature, have passed onerous, discriminatory voting restrictions designed to prevent from voting every citizen who doesn't look like their ancestors came from Europe, like Black people and Brown people. They also happily extend their discrimination to young citizens of voting age and to poor people. These laws and the over 100 additional proposed laws in those 19 and other states are about,
greed, control and power over others and the abhorrent belief that some people are naturally superior to others.
Building on the morally repugnant foundation of Sen. Stephens, these Republican controlled states aren't content with simply preventing citizens from voting. It may be fairly claimed that they have perfected their quest for greed, control and power over others by enacting legislation that gives Republican dominated state legislatures the power to ignore the will of the people. They get to claim that a Republican loser of any election has won.
So much for majority rule, democracy, rule of law, integrity, all men are created equal and a bunch of other things we commonly call fair, moral and honest.
Which is why it is critical that the Senate passes the John Lewis Voting Rights Advancement Act and the For the People Act. These will have the power to stop the Republican states' decapitation of democracy. They are the the true "Stop the Steal" acts.
Professor Cox Richardson goes from Sen. Stephens's immoral Confederate rant to the importance of Judge Ketanji Brown Jackson being confirmed and sent to the Supreme Court. Read her essay and note the similarity of today's efforts at human suppression to that of the 19th century.
Drowning
The Senate Judiciary Committee hearings regarding the appointment of Ketanji Brown Jackson to the Supreme Court were what we should have anticipated. The Republicans spewed demagoguery, false accusations and hypocrisy so thick you could drown in it.
This is how we now vet candidates for a lifetime appointment to the highest court in the land. It's a confidence builder, but not confidence for what is best for our nation. It's confidence that yet worse toxic tribalism and threats to democracy are on the way, and we're already drowning in those, too.
Be sure to send a note to the mothers of Lindsay Graham, Ted Cruz, Josh Hawley and Tom Cotton, advising each of them that their son tells huge whoppers that disrespect and demean others and that he is very rude, interrupting other people when it's their turn to talk. Let her know that her son is focused on creating sound bites in order to get on Hannity's show, instead of doing his proper job. Suggest to them that they wash out their son's vile mouth with laundry soap to clean out the dirty lies and that they once again teach them to take turns.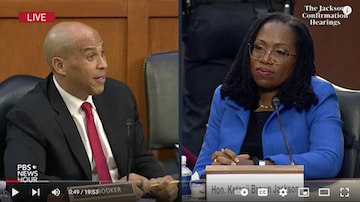 In contrast, send Sen. Cory Booker's mom a note of thanks for raising a clear, bright, heartfelt son who hangs out in public what he knows to be right and good. True, he didn't interrogate Jackson – he gave fawning praise. Still, if you didn't hear his remarks to KBJ, watch here. If you did, watch again. He speaks to America about being America, about a more perfect union. And if your eyes stay dry as you listen, see your cardiologist immediately.
Finally
Have a look at this. It's a Les Misérables flash mob in Adelaide, Australia. It's all wonderful, but more important, consider the second song the anthem of Ukraine today.
————————————
The days are dwindling for us to take action. Get up! Do something to make things better.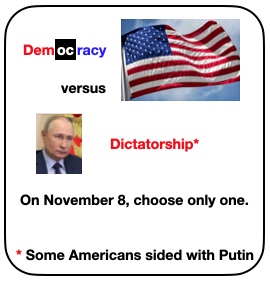 Did someone forward this to you? Welcome! Please subscribe – use the simple form above on the right. And pass this along to three others, encouraging them to subscribe, too. (IT'S A FREEBIE!)

And add your comments below to help us all to be better informed.
Thanks!

The Fine Print:
Writings quoted or linked from my posts reflect a point I want to make, at least in part. That does not mean that I endorse or agree with everything in such writings, so don't bug me about it.
There are lots of smart, well-informed people. Sometimes we agree; sometimes we don't. Search for others' views and decide for yourself.
Errors in fact, grammar, spelling and punctuation are all embarrassingly mine. Glad to have your corrections.

Responsibility for the content of these posts is unequivocally, totally, unavoidably mine.
Book links to Amazon are provided for reference only. Please purchase your books through your local mom & pop bookstore. Keep them and your town vibrant.
JA
Copyright 2023 by Jack Altschuler
Reproduction and sharing are encouraged, providing proper attribution is given.