Holy crap, Batman!
There's a lot of scary stuff going on, like the Ukrainian genocide done by that Putin beast and his threat to use weapons of mass destruction, with all of their end-of-the-entire-world implications. He's Hitler in the 21st century, and we all know how well the 20th century version worked for us. Be sure to check the Required Viewing section at the end of this post about that.
The scariest part, though, is our national craziness, the absolute conviction of right-ness of the toxic, extremist right and our smoldering civil war.
A March 24 WaPo story (this is a must read, &/or Jane Mayer's report) exposed the radical, extremist views of Ginni Thomas, wife of Supreme Court Justice Clarence Thomas. She was strongly connected to Trump's attempt to upend our democracy. Her husband, Justice Thomas, was the only one to vote to keep hidden from the January 6 committee an important cache of documents, this in an extremist attempt to obstruct the investigation. Dan Rather asks the Watergate questions:
What does Clarence Thomas know? And when did he know it?
What do you suppose the Thomas' talk over dinner sounds like? "Don't ask, don't tell" isn't an acceptable explanation. And, with his clear appearance of impropriety at a time when public approval of the Supreme Court is down to only 50%, why hasn't Justice Thomas recused himself from all Supreme Court issues related to the January 6 investigation?
The WaPo story revealed Ginni Thomas' mind numbingly wacko certainty that the 2020 election was stolen, calling it, "the greatest Heist of our History" in a November 10 text to then White House Chief of Staff Mark Meadows. He went Biblical, texting back, "This is a fight of good versus evil…. Evil always looks like the victor until the King of Kings triumphs."
This is (currently) a free country where people can believe what they want to believe. If Ms. Thomas and Mr. Meadows want to believe her heist lunacy or if they believe that the moon is made of green cheese or that butterflies are evil spirits sent to carry them to a place of everlasting pollen irritation in their noses, they get to think that. What is far more worrisome is Meadows' reply.
He and millions of Americans who believe the Stop the Steal fiction don't believe they're in a political brawl. They believe down to their bones that this is an existential battle of good against evil, against the devil, ungodliness, unholiness, lies, impurity, sexual deviance and more. Again, Meadows said it plainly. And, like all religious extremists, he invoked the "King of Kings." Ya gotta believe Ginni Thomas is mainlining that drug. That isn't the problem.
The problem is that at least 73 million Americans are mainlining it. They think their Stop the Steal delirium is an existential battle for the glory of the King of Kings. There is almost nothing in the history of the world as murderous as a religious zealot, let alone millions of them. Their story is fully set in concrete and no assemblage of facts or presentation of reality will dissolve their holy concrete. *
They are fed self-justifying, cruel fictions by manipulators in order to reinforce their hateful certainties, like that Democrats drink children's blood (an old anti-Semitic trope) and that they traffic children and that they will bring in socialism to poison the pure heart of our godly republic or that they will bring aliens (meaning immigrants) to take away their god-given jobs – the list of their lies is endless. The 73 million hear these perversions of reality and their rage gets amped up.
Given all the putrefaction they believe is assailing them, why wouldn't true delusionals storm the Capitol intending to murder Pelosi, Pence and any member of Congress they could find? Why wouldn't they crush democracy in the states, steal from the unbelievers, send asylum seekers back to be snuffed out, conspire to kidnap and murder a governor, withhold medical care from millions of undeserving "others" and more? They believe they see so much appalling and vile contamination that all of their actions are justified as purification in the name of God. That's the holy crap, Batman.
And that's the scariest part.
And they aren't alone
I've always had to hold my nose whenever authoritarianism loving William Barr was so much as mentioned. His smug self-certainty and absolutist (read: terrorist) beliefs and actions are anathema to our Constitution. Plus, there is his lying by misdirection, like his summary of the Mueller Report. It bore no resemblance to the actual report, but his summary did manage to claim exoneration of Trump by falsely saying that the Report says Trump was innocent of all wrongdoing. Then he withheld the full Report for months, leaving his phony summary to infect the public consciousness.
He did lots more reprehensible stuff, but his motivations are the scary thing. Professor Heather Cox Richardson's post details his fundamentalist views. She reports Barr's warped notions about self-government.
The Framers clearly intended that there would be no king of this country, no authoritarian for life. They were clear that we the people would pick our leaders through periodic free and fair elections. You know: democracy. In contrast Barr thinks that self-government means individual morality. "And, since people are inherently wicked, that self-government requires the authority of a religion: Christianity."
Whoa!
.
Judgements heaped on others commonly are projections of oneself, so from Barr's own mouth we learn that he is inherently wicked. Worse, he jumps to Christianity as the cure for inherent wickedness. Yet Vladimir Putin is said to be deeply religious. It doesn't appear that the authority and impact of Christianity on him is helping the world or the Ukrainians much. Barr is deeply wrong in both his judgement and his conclusion.
The more important point is that Barr makes up James Madison quotes (things Madison never said) on which to base his dishonesty and arrives at a conclusion that endorses theocracy – there's that fundamentalist thing. Again.
There are a lot of people with sincerely held religious beliefs who would gladly transform our democracy into a theocracy, perhaps like Ginni Thomas and Mark Meadows. Worse, they have a former United States Attorney General on their side.
And that goes along as a piece of the scariest part.
Feckless – Who dat?

Righties have been exulting in demonizing Democrats with imaginary awfuls at least since the Newt Gingrich hysteria over Bill Clinton in the '90s.
(Impossible to resist parenthetical: That's when Gingrich thumped Bible at Clinton over his sexual dalliances. That continued until Gingrich got caught with his pants down – just ask his third wife. She was "with" him. O' the delicious irony!)
To give credit where it's due, Righties expanded their vocabulary during the Obama administration by adding a new term of demonization. Their ubiquitous labeling of him and all Democrats was and still is, "feckless." **
Be honest: had you even heard that word before the constant attacks on Obama and now Biden? And have you heard any credible examples of fecklessness from them that don't deal with very complex situations using moronically simplistic notions? Neither have I.
feck·less| ˈfekləs | adjective – ineffective; incompetent; futile; having no sense of responsibility; indifferent; lazy.
Wait, now. No sense of responsibility? Incompetent and ineffective? – who does that describe?
That's pretty scary, too.
———————————————-
Required Viewing
Julia Ioffe did an interview on March 9 for a Frontline episode, Putin's Road to War, which aired on March 15. I recommend watching both. Ioffe's conclusions are stark and frightening.
———————————————-
* That certainty and immobility is actually thicker than that and is bound up in the human reaction of disgust. Read Molly Young's piece, How Disgust Explains Everything. Then read Jonathan Haidt's book The Righteous Mind to better comprehend the implications of disgust to our politics. First see note 5 below.
** Isn't it odd that Republicans are so facile at spewing the "feckless" label at Democrats, but when George W. Bush and his White House Halliburton cabal lied us into two unprovoked wars, that word was never uttered. And it could have been used accurately on every day of the Trump administration, too, but we never heard it then either. Odd, indeed.
————————————
The days are dwindling for us to take action. Get up! Do something to make things better.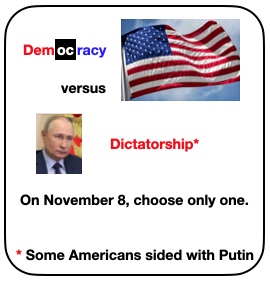 Did someone forward this to you? Welcome! Please subscribe – use the simple form above on the right. And pass this along to three others, encouraging them to subscribe, too. (IT'S A FREEBIE!)

And add your comments below to help us all to be better informed.
Thanks!

The Fine Print:
Writings quoted or linked from my posts reflect a point I want to make, at least in part. That does not mean that I endorse or agree with everything in such writings, so don't bug me about it.
There are lots of smart, well-informed people. Sometimes we agree; sometimes we don't. Search for others' views and decide for yourself.
Errors in fact, grammar, spelling and punctuation are all embarrassingly mine. Glad to have your corrections.

Responsibility for the content of these posts is unequivocally, totally, unavoidably mine.
Book links to Amazon are provided for reference only. Please purchase your books through your local mom & pop bookstore. Keep them and your town vibrant.
JA
Copyright 2023 by Jack Altschuler
Reproduction and sharing are encouraged, providing proper attribution is given.