Maybe you remember that experiment in science or biology class where they zapped a leg of a freshly killed frog and the leg extended like the frog was jumping. Then your teacher zapped it again, and once more the leg sprang to full extension. But soon you saw that additional zaps resulted in less and less leg movement, until at last the leg didn't even twitch when it was zapped. That's known by science brainiacs as the "Zap the frog too much" experiment. The reason it's too much, at least in part, is because of the overload of stimulation.
Turns out, we're just like that frog leg. You may have become desensitized to things like extremist right wing insanity because of the incessant pummeling you've taken over the past few decades and especially now. You've learned that there is no bottom, no low that's too low for these people, so that what was once scandalous and provoked you to yell at your TV, now just stimulates you to grab another handful of popcorn. And that's dangerous.
Maybe you're sick of Covid – who isn't? – so you turn away from news and discussion about the pandemic. That's understandable. But there's a new variant on the way here from Europe and my understanding is that it's as contagious as the Omicron variant. I don't know how lethal it is or whether our current vaccines will protect us against serious illness and death from it. That's because I'm sick of hearing news about Covid and have left myself ignorant. And that's dangerous.
Late addition: Here's a good report on the new variant. You need to see this.
Let's connect that to another piece of dangerous human craziness.
I was noodling about our uncivil discourse, our toxic tribalism and our extremists calling for a new civil war. That evolved into some back of the envelope calculations and I discovered a shocking number.
The population of the United States in 1861 was 31,429,891. Our Civil War resulted in approximately 620,000 dead Americans. If we were to have another Civil War and we were as efficient at killing one another as our antecedents were, our current population of 329,500,000 citizens would produce about 6,500,000 dead Americans. It would be the equivalent of the Covid pandemic more than six times over.
So, to those who are calling for secession or a new Civil War, is that what you really want? Seriously? You want six-and-a-half million dead bodies? Are your rage and hatred so enormous that you want to trigger another Holocaust, but this time entirely of Americans?
Maybe it's time to ratchet down the demonizing of neighbors. Maybe it's time to turn off your QAnon feed. Yes, I'm aiming at the far right, because whatever far lefties are saying I'm not hearing any them calling for violence upon those who disagree. I'm not hearing preposterous lies from them.  They have some out-there opinions, yes, but not lies. I really don't think this is a both sides issue. I may well be wrong about that, so I welcome your enlightenment via the Comments section below.
Yes, we should turn down the rhetoric, but here's the thing. You and I have had our froggy sensibilities zapped so many times by what are demonstrably outrageous lies intended to infuriate that it's easy, even demanding, that we ignore the stimulus and not even twitch in our disagreement. That's very dangerous.
If we fail to stand up to the attacks we will invite far worse. It's like the failure of the world to stand up to Vladimir Putin's murderous ways in Chechnya, Georgia, Syria, Crimea and the Donbas. That we sat on our hands while he committed war crimes led to his invasion and the laying waste of Ukraine.
Challenging as it is, we have to stand fast for what we know is right. We don't have to respond to every lie or every absurd conspiracy theory intended to stoke hatred. But we humans are designed to act when we sense danger, so we have to recognize it even when we're saturated and our froggy legs want to remain unresponsive.
Passive is not our job. Our job is to protect and defend, because our Constitution is supposed to be a living document and it only lives if we make it live. It's time for all of us to extend a leg.
That means taking action, which is the exact intention of the sentences in green that lead the bottom section of all my posts. It's about full leg extension. Indeed, pass this along to three friends, because they and we need their legs extended, too.
Quote of the Week
This week's quote comes from Frank Bruni of the New York Times, writing about extremist Ginni Thomas, wife of Supreme Court Justice Clarence Thomas. She was caught flagrante delicto in insurrectionist text messages that the January 6 committee is investigating.
"What a terrifying moment, in which the wife of a serving Supreme Court justice unabashedly exploits her insider access, ignores the idea of checks and balances, promotes conspiracy theories and essentially endorses insurrection. Her conduct isn't some passing curiosity. It's a sign of the times. And it's a warning to us all."
————————————
The days are dwindling for us to take action. Get up! Do something to make things better.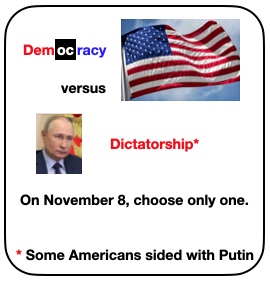 Did someone forward this to you? Welcome! Please subscribe – use the simple form above on the right. And pass this along to three others, encouraging them to subscribe, too. (IT'S A FREEBIE!)

And add your comments below to help us all to be better informed.
Thanks!

The Fine Print:
Writings quoted or linked from my posts reflect a point I want to make, at least in part. That does not mean that I endorse or agree with everything in such writings, so don't bug me about it.
There are lots of smart, well-informed people. Sometimes we agree; sometimes we don't. Search for others' views and decide for yourself.
Errors in fact, grammar, spelling and punctuation are all embarrassingly mine. Glad to have your corrections.

Responsibility for the content of these posts is unequivocally, totally, unavoidably mine.
Book links to Amazon are provided for reference only. Please purchase your books through your local mom & pop bookstore. Keep them and your town vibrant.
JA
Copyright 2023 by Jack Altschuler
Reproduction and sharing are encouraged, providing proper attribution is given.