Reading time – 3:29  .  .  .

I don't get "pro-life." Republicans overwhelmingly call themselves pro-life, perhaps to make anyone disagreeing with them get labeled "pro-death." Good sloganeering, but  .  .  .
They are overwhelmingly anti-abortion. Okay, if a fetus is considered a person, that's understandable. But the anti-abortion thing – we've always had abortions. Before they were legal they were mostly done in alleys and filthy rooms equipped for little more than spreading disease. Complications and possible death awaited a woman having an abortion. Women at severe risk of dying from complications due to pregnancy were kept from having an abortion and some of them died, too. Is any of that pro-life?
Republicans are also overwhelmingly in favor of capital punishment – the death penalty – killing bad guys. I have trouble seeing how our state sanctioned murder is pro-life. That's made more poignant by the huge number of innocent people released from prison and death row through the marvelous work of The Innocence Project. Nevertheless, the current President is rushing to get half a dozen people executed before he leaves office. I don't suppose those people would view that as very pro-life.
And what about our concentration camps on our southern border that were built at the direction of the President and tolerated by meek Republicans in Congress? People in those camps have died from heat, malnutrition and more and we've been stingy with our healthcare for them. Are those camps pro-life? Is our indifference to the suffering and death of our concentration camp prisoners pro-life?
From a CR report about the Safe Water Drinking Act of 2005 (AKA "The Halliburton Loophole" – you'll want to read both of these reports), passed during the Bush-Cheney administration:
"[The act] exempts industry from having to disclose the chemicals it uses in fracking and prevents the EPA from regulating fracking fluids.
"The purpose of the [Safe Drinking Water Act] is to protect our drinking water, and the industry that is pumping toxic chemicals, carcinogenic chemicals underground doesn't even have to tell us what those are."
Those toxic chemicals are consistently leaked into the drinking water resources for human beings. And, "The oil and gas industry is also exempt from federal EPA hazardous waste regulations and Superfund regulations," meaning they can make a toxic mess and never have to clean it up, leaving pollution and the health dangers to the rest of us. Does any of that sound very pro-life to you?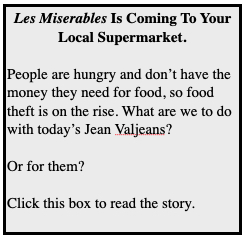 I don't understand those pro-life Republican legislators who refuse to provide relief to hungry Americans, including 1 out of every 6 children in the country. Is that pro-life? Is the refusal to prevent upcoming evictions caused by unemployment due to the pandemic pro-life? It sure isn't going to look that way in January when millions may be tossed out of their living quarters and onto very cold streets. That's going to look very pro-death.
Is it pro-life to enact legislation that protects Monsanto from accountability for their product, Roundup, that has poisoned people, given users cancer and killed them?
Is it pro-life for the Republican President of the United States to refuse to lead and only do minimal things to protect Americans from the pandemic? Several studies have shown that between 75 – 99% of death from Covid could have been prevented by strong federal leadership, but that leadership never showed up and more people died unnecessarily – at least 200,000 more. That doesn't sound very pro-life to me.
During this lame duck period the President hasn't even mentioned the pandemic that is killing 3,000 Americans every day. And there hasn't been a peep from Republican lawmakers calling for desperately needed leadership to mitigate the worst of this pandemic. That doesn't sound very pro-life to me, either.
Our government repeatedly turned down opportunities to secure another 400 million doses of Pfizer's vaccine, leaving us with a huge shortfall of protection for Americans and only fingers crossed that other vaccines will prove to be safe and effective. That doesn't sound pro-life at all.
In fact, from what I can see, once a baby is born our pro-lifers don't seem to care much about life. Perhaps they should make an honest attempt at accurate labeling and call themselves "pro-fetus only."
Something else I don't get  .  .  .
Literally, millions of Americans think that the pandemic is a hoax. I'm not sure what they mean by that. I have my own definition of the word "hoax" and it's pretty much in accord with Webster's: an act intended to trick or dupe. But I don't get how that fits with our medical crisis.
Frank Bruni detailed this claim of Covid hoax in his piece, "Death Came for the Dakotas." He told the story of a nurse working in a South Dakota ER. That's South Dakota, the place with the third highest rate of death from Covid in the world. He wrote,
"She was reeling from tending to dying Covid-19 patients who continued to insist that the coronavirus was some kind of hoax.
"'They 'scream at you for a magic medicine' and warn that Joe Biden will ruin America even as they're 'gasping for breath,' she wrote. She added, 'They call you names and ask why you have to wear all that "stuff" because they don't have Covid because it's not real.'
"'They stop yelling at you when they get intubated,' she wrote. 'It's like a horror movie that never ends.'"
That doesn't sound to me like the pandemic is a hoax.
I have asked dozens, perhaps hundreds of people to help me understand how Americans can call this pandemic a hoax, even with death all around. My question became almost silly upon hearing about people denying coronavirus even as they themselves were dying from it.
I wonder what the reaction of the deniers might be to hearing what this looks like from the point of view of a few more nurses. My notion is that if you can read that piece of reality without tearing up, if you can read it and still deny this wicked sickness, you should check your pulse immediately, because something is terribly wrong.
Let's make a reasonable assumption that the people who deny the disease, or whatever it is that they think is a hoax, are reasonably functional adults in other aspects of their lives. They made it through school, they care for themselves and their families and are law abiding folks. Still, they deny what is right in front of their eyes and perhaps what is right in their veins and their lungs. Somewhere, somehow they are seeing a hoax. I don't get that.
Of course, there are lots of other things I don't get, like quantum physics, the meaning of life and whatever happened to tongue-shaped Saf-T-Pops, the ones on a loop of rope instead of a stick. Root beer was the best flavor.
But those topics are for another day. For the moment I'm more interested in explanations for the pro-life and hoax issues. Can you help?
—————————————-
—————————————-
Ed. note: We need to spread the word so that we make a critical difference, so,
Did someone forward this to you? Welcome! Please subscribe and pass this along to three others, encouraging them to subscribe, too. (IT'S A FREEBIE!) Use the simple form above on the right.

Engage in the Comments section below to help us all to be better informed.
Thanks!
The Fine Print:
Writings quoted or linked from my posts reflect a point I want to make, at least in part. That does not mean that I endorse or agree with everything in such writings, so don't bug me about it.
Sometimes I change my opinions because I've learned more about an issue. So, educate me and all of us. That's what the Comments section is for.
Errors in fact, grammar, spelling and punctuation are all embarrassingly mine. Glad to have your corrections.

Responsibility for the content of these posts is unequivocally, totally, unavoidably mine.
JA
Copyright 2023 by Jack Altschuler
Reproduction and sharing are encouraged, providing proper attribution is given.