The Election
The electors have voted, the election vote totals are in and they are final.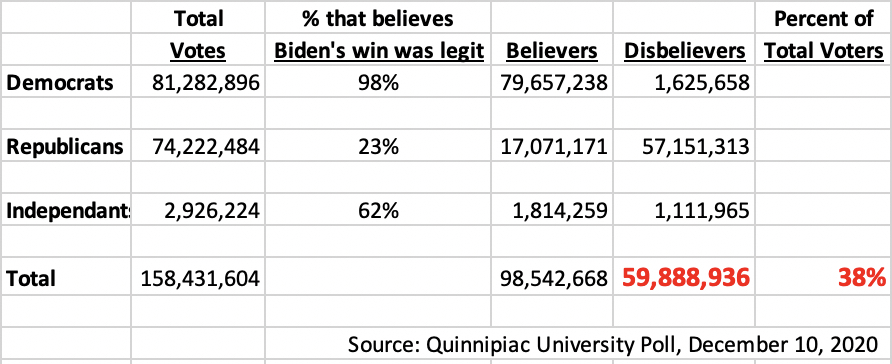 The good folks at Quinnipiac have a detailed breakdown of this information, so have a look if you're interested. Plus, updated vote totals can also be seen here. For our purposes, what's important is in red, because it begs the question:
How can we govern ourselves when almost 60 million Americans prefer to believe lies and don't trust what is in front of their eyes?
I'll phrase that in another way, this time addressing the 60 million:
You've been fed lies for decades from elected officials, Fox News, conspiracy nutballs*, propagandists, Breitbart, and more. For the last 4 years (plus the campaign year of 2015) the President of the United States has stuffed your head with fantastical lies, lies claiming his greatness, lies demonizing hundreds of people who he didn't think were sufficiently loyal to him (although their job was to be loyal to the Constitution), lies slandering millions of people, lies citing false statistics and made up facts. The President lied to you over 17 times per day for over 4 years – over 25,000 lies. Here's your question:
How do you feel about being played for a sucker?
Perhaps you'll hear it better this way:
How do you like being lied to?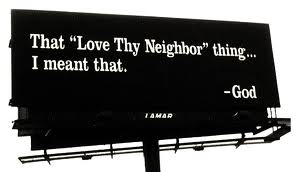 Note that if you don't care about being played for a sucker and you don't mind being lied to, there's nothing you need to do. Just go along as before, being fed lies that stoke your fear, that fire your anger, that make you distrust your neighbors and hate anyone who isn't exactly like you. No need for that E Pluribus Unum stuff.
On the other hand, if you're sick of being played for a sucker and you've had it with being lied to, welcome to Planet Earth #1. Glad to have you aboard.
Regardless of Trump's vacuous claims, even his attorney general couldn't find any evidence of voting fraud. The same is true for the guy who protected our election from cyber hackers. There isn't even one state election official who could find illegal voting activities – that includes all 50 states. The election was clean. Joe Biden won fair and square. The number of frauds committed in the election is zero.
To be clear, there was cheating. There were tens of thousands of voters purged from voting roles when they should not have been. Polling places were closed, making voting difficult for many thousands of voters. There were dirty tricks to confuse voters into not voting. But all of that was done by Republican operatives for the benefit of Trump. There is no "both sides" argument. There is no room for whataboutism. That number is zero, too.
Back to the original question: How can we govern ourselves when 60 million Americans prefer to believe lies and don't trust what is in front of their eyes? Those 60 million people are largely angry, resentful, certain theirs is a just cause, believe they are the true patriots and oh, by the way, they own most of the guns in private hands. Did I mention that they're angry? Plus, their elected representatives in both Congress and the state houses are terrified of them, so the number of Republican legislators those folks both listen to and who will provide leadership in the direction of the aforementioned E Pluribus Unum is zero.
Those are the numbers. President Biden, how will you govern?
The Pandemic
Here is how this killer pandemic stacks up against events we have universally called tragedies, monstrous killers and national disasters. The charts below are from December 10.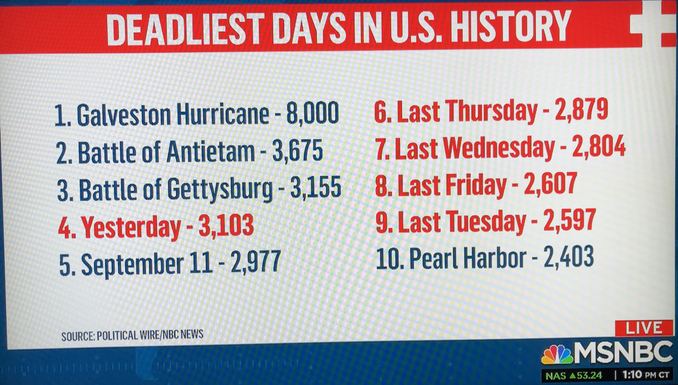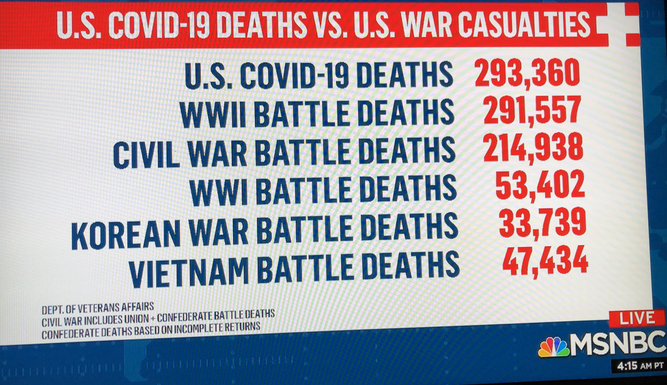 Those are, indeed, awful numbers. Day after day, week after week we're given nothing from any of our Republican national leadership (the President and those in Congress) to indicate even a little concern over our massive suffering and death. Instead, we get over 50% of Republican House members signing onto the gigantically stupid lawsuit filed by the pardon-seeking attorney general of Texas, seeking to invalidate the votes of millions of citizens of four states in order to give the election to Trump. That was their focus, instead of the suffering of the American people.
As for how we're doing relative to other countries, we already know that we're just 4% of world population and but we have 19% of worldwide Covid deaths. It's noteworthy that densely populated India has the second highest number of Covid deaths. Their number is 38% fewer deaths from Covid than the U.S., yet India has over 4 times as many citizens. This is not a good way for the U.S. to be number one.
Now vaccines are beginning to be available, but at least 25% of Americans are either skeptical of them or outright hostile to them. If you have reservations about taking a vaccine, given the manipulation, lying and grandstanding of the President about vaccines, given the pressure he's put on the FDA to approve vaccines without any reasonable review, even for an Emergency Use Authorization, there is some hope.
It comes in the form of a clear explanation of what's gone on to make it possible to develop a vaccine so quickly. It wasn't done by cutting corners or succumbing to political pressure. It was done by years of hard work borne of developing vaccines for other pandemics, like Ebola, MERS and SARS. For some confidence building and satisfaction of your curiosity, read this piece from the BBC News. It explains the good things that happen when we trust facts, knowledge and science, instead of populist rage and manipulation.
As for interim relief for Americans suffering from personal economic devastation, Republican leadership in the Senate continues to refuse to help We the People. We have the means to alleviate much suffering, but Republicans, who couldn't wait to give $1.5 trillion to rich people and corporations, are suddenly horrified that we might run up some debt feeding our hungry and protecting our soon-to-be-homeless people. Help was created over half a year ago, but these programs all go away within a few weeks. There are rumors that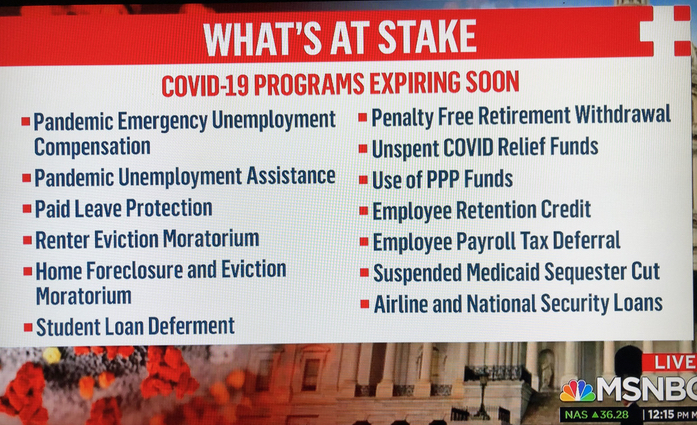 McConnell has come out of his shell and that there may be a little relief coming. But right now those are just rumors. If you have a Republican senator, be sure to lean on him/her to refuse to be stingy and instead take proper action to relieve suffering. Even if you're doing okay, millions of others are not.
Finally, that swelling of passion you feel when you see vaccines being delivered to our heroically courageous front line healthcare workers is testament to how gut wrenching this pandemic has been. Still, the number of available vaccine doses is small and it will be months before you and the people you love will be able to be vaccinated. So, boring as it may sound at this point, keep that mask on, socially distance, wash your hands, avoid all but small gatherings and sanitize everything. We're starting the last lap of this marathon race. This isn't the time to stop running.
—————————-
*No, there wasn't a child trafficking scheme operated by Hillary in the basement of a pizza parlor in DC. The massacre at Sandy Hook Elementary School did happen. There is no plot for Jews to control the world. The Denver International Airport does not sit above an underground city housing The New World Order. The moon landing wasn't faked. There is no evidence to support the notion that Jesus and Mary had offspring, many generations of which have been hidden in Europe. George Soros doesn't fund Antifa and it is not a single far-left militant group. Democrats aren't molesting and selling children. Global warming is real. The Israelis don't use animals to spy or attack. Fluoride in our drinking water isn't a communist plot to poison us. The earth is not flat. Elvis and JFK really are dead and are expected to stay that way for a while.
—————————————-
—————————————-
Ed. note: We need to spread the word so that we make a critical difference, so,
Did someone forward this to you? Welcome! Please subscribe and pass this along to three others, encouraging them to subscribe, too. (

IT'S A FREEBIE!)

Use the simple form above on the right.

Engage in the Comments section below to help us all to be better informed.
Thanks!
The Fine Print:
Writings quoted or linked from my posts reflect a point I want to make, at least in part. That does not mean that I endorse or agree with everything in such writings, so don't bug me about it.
Sometimes I change my opinions because I've learned more about an issue. So, educate me and all of us. That's what the Comments section below is for. Please use it to help everyone

Errors in fact, grammar, spelling and punctuation are all embarrassingly mine. Glad to have your corrections.

Responsibility for the content of these posts is unequivocally, totally, unavoidably mine.
JA
Copyright 2023 by Jack Altschuler
Reproduction and sharing are encouraged, providing proper attribution is given.