I've been a fan of Art Friedson for a while and he recently posted 5 great tips for making change that we need. He's given me permission to reprint his essay and you'll find it below (ever so teeny-tiny edited). It's a refreshing change from worrying and wringing hands.
As you read you'll notice that Art is a genius. You'll know that because he agrees with you and me. The trick lies in our putting that genius to work.
—————————
What Art Friedson Has On His Mind
It seems like the sequel to Alexander And The Terrible, Horrible, No Good, Very Bad Day came out last week and it starred President Joe Biden. There's plenty of blame to go around, but I'd rather focus on what we can do to turn things around.
We have about six months before voter opinions for 2022 are baked in. Lest you think things don't change much over six months, let me remind you that Omicron was first listed as a Variant of Concern in the United States on November 20, 2021. Yep. Just two months ago. We've got three times that long to change the narrative for the midterms, so let's get started.
Scanning the punditry over the past two weeks, here are five things the Biden Administration and Democrats across the ideological spectrum can do to create real change:
1. Just stop talking. WaPo's Jennifer Rubin, always a sane voice, urges us to stop talking about mega-bills that have stalled. And while you're at it, stop talking about the filibuster and all the other things we can't change right now. It is not only unhelpful, it actually hurts us by making it look like not achieving the impossible is a failure.
It's also not helpful to keep bashing Manchin no matter how richly he deserves it. He's a Democrat from the former guy's second-strongest state (after Wyoming). Without Manchin, we don't have a majority in the Senate. Period.
2. Accentuate the positive. 529,000,000 Covid vaccine doses have been administered in the U.S. since Joe Biden became president. 63% of the population is fully vaccinated representing 208,000,000 Americans. 96% of K-12 schools are open for in-person learning today, versus 46% a year ago. All of that happened in one year, despite a well-organized, highly motivated (and astonishingly stupid) opposition. That's a BFD.
The $1.8 Trillion American Rescue Plan was passed without a single Republican vote. Not one. Yet, pretty much every American – Republican or Democrat – benefited directly. The economy didn't tank thanks to payments to American families. Restaurants, hotels, small businesses, churches, synagogues and mosques survived the shutdown thanks to it. Poverty rates were slashed at the very moment employment was at its nadir.
The largest investment in infrastructure since the 1950s was passed (with a handful of R votes, no less!) and is being implemented even as we speak. It will repair our roads and bridges, improve our ports and rails, and bring broadband to the farthest reaches of our country.
This is an astonishing list, my friends. If we could focus on what we accomplished rather than what we're lacking, we'd be doing a whole lot better politically.
3. Draw the contrast. Like the Obama Administration, the Biden White House has been 100% free of the corruption and constant chaos of life under the former guy.
.
Want to throw out Democratic control of Congress? Get ready for non-stop Jim Jordan, Paul Gosar, Marjorie Taylor Green and Lauren Boebert. Is that what you really want, America? I don't think so.
Remind everyone endlessly that every single infrastructure project they see was done almost solely by Democrats.
.
4. Play small ball. The Administration has been swinging for the bleachers for 12 months, and while it worked in the beginning on the wave of the election, it has not proven sustainable. But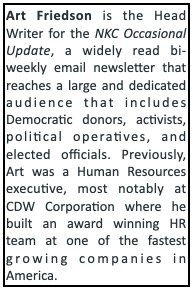 singles and doubles can score runs as well. He can probably get enough Republican support to protect what happens after elections which is crucial. Of course, we care about what happens with voting itself, but don't sacrifice a crucial election reform because we can't get more. Go for it. He can get two or three very big-ticket items packaged in a new Build Back Better bill that Manchin and Sinema will sign on to. Do it. Find the wins, and make the R's force the losses to establish the contrast in the midterms.
5. Pursue the Abundance Agenda. Derek Thompson has a great piece in The Atlantic that very effectively argues for increasing the supply of essentials America needs. We need to increase the supply of healthcare, housing, college, transportation, clean energy, and I would add, legal immigrants in order to create a sustainably strong American economy. Let's go for it.
—————————
.
The Infrastructure Plan will do all of what Art said PLUS it will put millions of Americans to work in good paying union jobs with good benefits and will give them the dignity that comes from working.
If you'd like more from Art and some other insightful commentary, subscribe to Nancy Kohn's NKC Occasional Update. Guaranteed to get your thinking machine lubricated.
Meanwhile, the days are counting down and we're all counting on us.
Stop the Presses!
From Indivisible Illinois Voting Rights Gazette, January 25, 2022:
DeSantis Proposes Creation of Police-like Office to Hunt Out Suspected Voter Fraud
Florida Gov. Ron DeSantis is proposing spending $5.7 million to create a new Office of Election Crime and Security, a first in the country.
Envisioned as an investigative unit, it would be authorized to look for violations of state election law and supposed election irregularities and would have the power to take control over any investigation conducted by local police or prosecutors.
With a proposed staff of over 50 investigators, the agency would have a larger staff than most police departments have to solve murders, even though only five Floridians have been arrested for alleged voter fraud in the 2020 election. It would be the first in any state dedicated to investigating and prosecuting election-related crimes. https://bit.ly/3Ib7cD0
Not to be outdone, a bill in the Arizona legislature would authorize the state's auditor general to investigate state and local election administrators' performance of their election duties. Normally the auditor general investigates financial practices, and has no election law expertise. Now, that office would be investigating voter registration and mail voting processes at the state and local level. 
The bill would also give the Legislative Audit Committee, another entity with no experience, the task of shaping the auditor's investigations. https://bit.ly/3IDkoAX
"Arizona legislature proposes funding for an entity with no expertise in election law to investigate voter registration. " [all emphasis original]
That's $5.7 million and 50 investigators to deal with 5 Floridians accused – NOT convicted – of voting irregularities. Nothing draconian and fascist to see here, folks. Move along. Same "no worries" for Arizona – the Brownshirt thugs are on duty!
————————————
The days are dwindling for us to take action. Get up! Do something to make things better.
Did someone forward this to you? Welcome! Please subscribe – use the simple form above on the right. And pass this along to three others, encouraging them to subscribe, too. (IT'S A FREEBIE!)

And add your comments below to help us all to be better informed.
Thanks!

The Fine Print:
Writings quoted or linked from my posts reflect a point I want to make, at least in part. That does not mean that I endorse or agree with everything in such writings, so don't bug me about it.
There are lots of smart, well-informed people. Sometimes we agree; sometimes we don't. Search for others' views and decide for yourself.
Errors in fact, grammar, spelling and punctuation are all embarrassingly mine. Glad to have your corrections.

Responsibility for the content of these posts is unequivocally, totally, unavoidably mine.
Book links to Amazon are provided for reference only. Please purchase your books through your local mom & pop bookstore. Keep them and your town vibrant.
JA
Copyright 2023 by Jack Altschuler
Reproduction and sharing are encouraged, providing proper attribution is given.