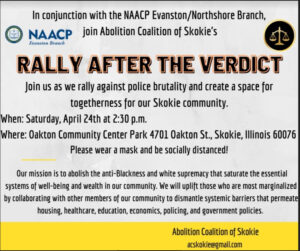 On Saturday I attended the Rally After the Verdict, organized by the Abolition Coalition of Skokie, IL and supported by the NAACP of Evanston. The point, of course, was to open eyes to the need for action, that the verdict isn't the end of the story.
Indeed, some don't even see it as a victory. One speaker told us she's a school teacher and one of her students told her – and this is close to verbatim – that celebrating the jury's guilty verdicts against Derek Chauvin was like applauding a fish for swimming.
Chauvin was so obviously guilty of murder – we all know what we saw – that it's something of a wonder that there could be a question in anyone's mind of his guilt. And I know in my bones that this verdict is just a small stepping stone on a very long path, but it is movement. So much is needed in mankind's eternal struggle and our ongoing national struggle for freedom and justice, which leaves me with a notion of what is required.
Last week I taught a class for a friend who is a professor at Florida Gulf Coast University. I focused on how our politics work and how that affects whether we Americans are getting what we want. For example, since the slaughter of those little kids at Sandy Hook Elementary School in 2012 over 90% of us have wanted universal background checks before the transfer of ownership of any firearm. That we don't have that speaks both to the power of the gun lobby and the enormous amounts of money legislators have to raise in order to win an election. The point is that there are powerful reasons why we aren't getting what we want – including liberty and justice for all – and things will remain this way until we make things change.
So, I told the students that they must speak up if they're to get what they want, and that applies to you and me as well, of course, because,
If you don't make your voice heard, people who want a very different America from the one you want will be heard, because they will be the only ones talking.
That's right: If you go silent, they won't shut up. They'll continue pushing for what they want and you'll have disempowered yourself. That's why we all must speak up,
In 1966 Dr. Martin Luther King spoke at the Ebenezer Baptist Church in Atlanta, saying,
"I don't know what the future holds, but I know who holds the future."
So do I. Go look in the mirror and you'll know, too. That's especially true for our younger people, our Millennials and Gen Zs. They are going to live much farther into the future and we are right now, right this minute, crafting the America they and all of our descendants will inherit.
So, give some thought to a definition of your vision for America, the one you want to leave to your dear ones, especially those who will be here long after you and I are gone. They will be "We the People" then. What do you want their America to be?
As an example – and just a guess – you surely want them to have full voting rights. There are a lot of people working day and night right now to make sure that they don't have those rights and that they will never have a voice. That's why our future "We the People" need you to speak up for them right now.
Speak. And keep on speaking. Let your voice ring out for the America you believe in.
——————————
Bonus Section
Here's a Star Wars prelude to the prediction of Gianna Floyd, George Floyd's daughter, who said, "My daddy is going to change the world."
————————————
Did someone forward this to you? Welcome! Please subscribe and pass this along to three others, encouraging them to subscribe, too. (IT'S A FREEBIE!) Use the simple form above on the right.

Said John Maynard Keynes, "When the facts change, I change my mind. What do you do, sir?" So, add your comments below to help us all to be better informed.
Thanks!
The Fine Print:
Writings quoted or linked from my posts reflect a point I want to make, at least in part. That does not mean that I endorse or agree with everything in such writings, so don't bug me about it.
Errors in fact, grammar, spelling and punctuation are all embarrassingly mine. Glad to have your corrections.

Responsibility for the content of these posts is unequivocally, totally, unavoidably mine.
JA
Copyright 2023 by Jack Altschuler
Reproduction and sharing are encouraged, providing proper attribution is given.